Live comments
---
Saturday 10, 19:44:22
That's the end of our live coverage from the Royal Albert Hall where Cory have become the National Champion Band of Great Britain for 2015.
Congratulations to Cory and look out for our usual post contest news and views in the days ahead.
Goodnight from Kensington.
---
Saturday 10, 19:25:23
Results
Saturday 10th October
Test Piece: 'Spiriti' - Thomas Doss
Commence: 10.00am
Adjudicators: Stephen Roberts, Howard Snell, Rob Wiffen
1. Cory (Philip Harper)*
2. Brighouse and Rastrick (Prof. David King)**
3. Fairey (Prof. Garry Cutt)*
4. Flowers (Paul Holland)*
5. Tredegar (Ian Porthouse)
6. Camborne (Kevin Mackenzie)
7. Zone One Brass (Richard Ward)
8. Reg Vardy (Russell Gray)
9. Co-operative Funeralcare (Allan Ramsay)
10. Grimethorpe Colliery (Dr Robert Childs)
11. Black Dyke (Prof. Nicholas Childs)
12. Whitburn (Michael Fowles)
13. Foden's (Allan Withington)
14. Carlton Main Frickley Colliery (Phillip McCann)
15. Virtuosi GUS (Adam Cooke)
16. Northop Silver (Thomas Wyss)
17. Tongwynlais Temperance (John Berryman)
18. NASUWT Riverside (Stephen Malcolm)
19. Desford Colliery (LCIWTF) (Tom Davoren)
20. Friary Guildford (Chris King)
Best Instrumentalist: Paul Richards (soprano) Flowers
* Top 4 pre-qualified for 2016 National Final
** Denotes Qualification for 2017 European Brass Band Championships in Ostende as highest placed English representative

---
Saturday 10, 19:07:25
The concert with Flowers is now at an end. The stage will now be reset for the results ceremony.
---
Saturday 10, 18:48:18
We are listening to a concert from Flowers Band before the formal results ceremony will start with the announcement of this years National Champion Band of Great Britain.
The highest placed English representative will receive an invitation to compete at the European Brass Band Championships in 2017.
---
Saturday 10, 18:32:59
Chris Thomas's Final Summing up and Prediction
What a fascinating contest it has been on a truly fine test piece that has clearly made a powerful impact in the Royal Albert Hall today.
There have been a select handful of very fine performances indeed but for us only one that has fully combined absolute technical brilliance with the pre-requisite musicality, interpretative brilliance and the organ like sound that it is so critical to to the score and that band is Cory.
Chris Thomas goes with a top six of:
1. Cory
2. Brighouse and Rastrick
3. Grimethorpe
4. Foden's
5. Flowers
6. Black Dyke
Dark horses Tredegar, Reg Vardy and Zone One
---
Saturday 10, 18:30:29
Nigel Clarke's composer view
One of the great successes of today has been the quality of the solo playing - although Spiriti is much more an ensemble piece than most modern test pieces.
Bravo to everyone though - from soprano to triangle and all instrumentalists between.
As a composer You cannot ask for anything more than audience appreciation - and it has come like a tidal wave today. Bravo Mr Doss.
---
Saturday 10, 18:22:23
SECTION COMPLETE
---
Saturday 10, 18:21:30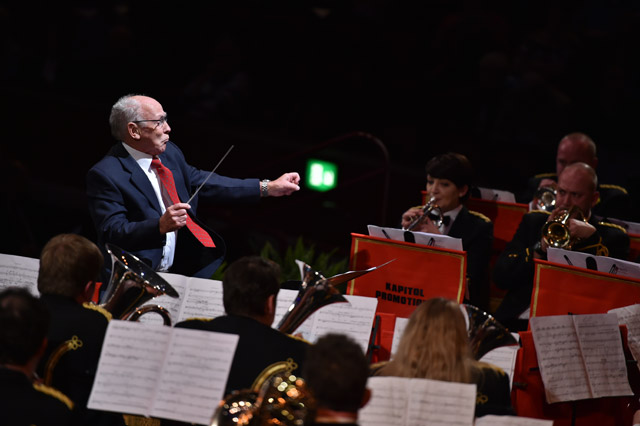 20. Tongwynlais Temperance (John Berryman)
The first bars are effective but there is a weightiness about the effects that serves to unsettle the atmosphere.
Like so many performances today though there are moments of real musical merit heard as we progress into the Allegro.
There's a tendency for percussion to dominate the musical picture at times and the clarity of technical detail through the band is not always evident, particularly as the complexity increases approaching the grinding discord that heralds the Grave religioso.
Soprano is not always entirely comfortable and there is also a hint of strain in the euphonium leading to a solid but not entirely convincing statement of the 'blues' passage.
The opening riffs of the final Allegro are scrappy and the ensemble is getting looser as we approach the closing paragraphs and tiredness appears to play a part.
As Wales play out their last group match against Australia however, it seems appropriate that Wales should get the last word in the RAH.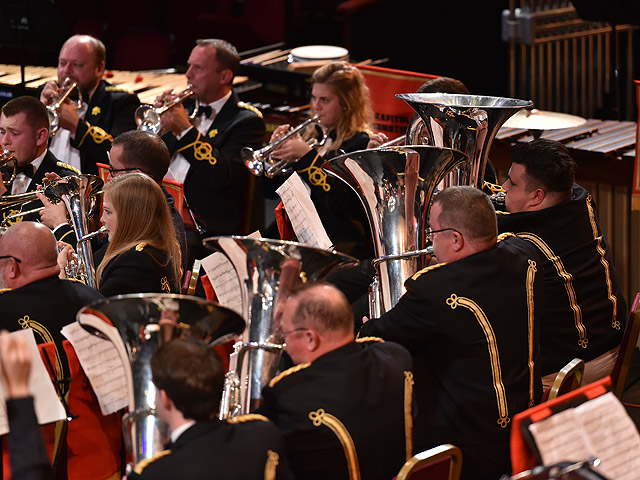 Overall
A performance that had its moments but will struggle to hold its own amongst some very tough competition today.
---
Saturday 10, 18:03:35
On Stage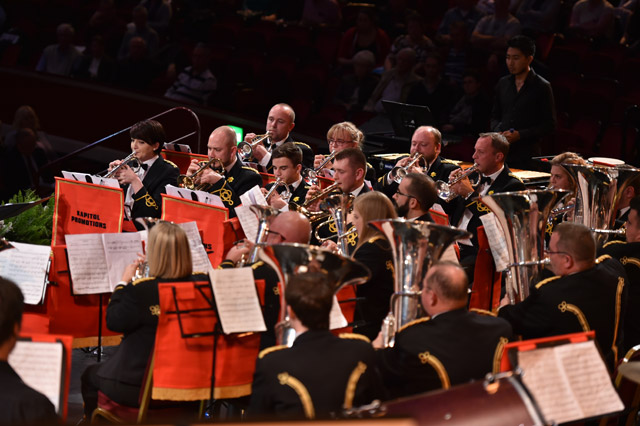 Tongwynlais Temperance
Conductor: John Berryman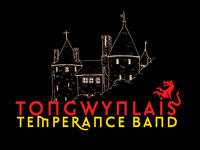 4BR Ranking: 19
2015 Qualification:
4th at Welsh Regional Championship (John Berryman)
Principal players:
Principal Cornet: Charlote Chambers
Principal Euphonium: Matt Rowe
Soprano Cornet: Lee Elliot
Solo Trombone: Dafydd Thomas
Solo Horn: Emily Evans
Flugel: David James
Baritone: Alice Jones
Eb Tuba: Chris Eveson
Bb Tuba: Andrew Robins
2015 Form:
Welsh Open: 2nd
Regionals: 4th (Wales)
Grand Shield: 11th
Appearances: 5th time
Debut: 2010
Best Result: 4th
Last Year: 17th
Last 15 Years: (Position, MD, Draw)
2014: 17th (Brett Baker (11)
2013: 19th (Steve Sykes) (10)
2012: 4th (Steve Sykes) (18)
2011: DNQ
2010: 11th (Nigel Seaman) (2)
2009: DNQ
2008: DNQ
2007: DNQ
2006: DNQ
2005: DNQ
2004: DNQ
2003: DNQ
2002: DNQ
2001: DNQ
2000: DNQ
Overall Record:
Fourth Place: 1 time - 2012
Unplaced: 3 times - 2011 (11th), 2013 (19th), 2014 (17th)

---
Saturday 10, 18:02:21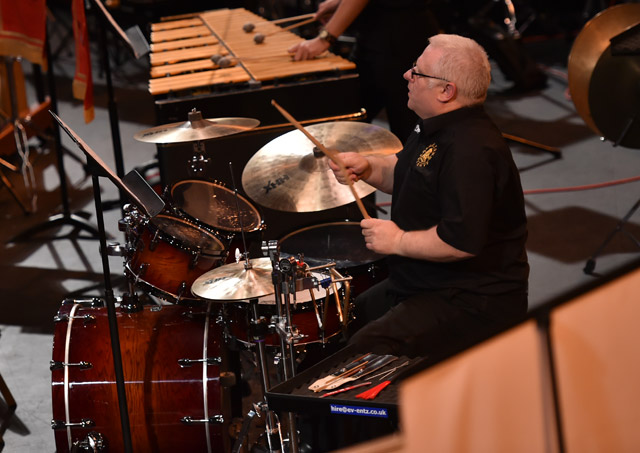 19. Tredegar (Ian Porthouse)
A luminous opening and the transparency of texture is evident from the start. We don't quite sense the creeping eeriness that has marked the very best of the openings today but this remains very fine playing indeed.
The Allegro is a powerful statement of intent imbued with latent drama and a driving sense of energy.
The band sound is a huge factor as the 'organ like' direction of the score is evoked to telling effect. Tred's big sound remains one of its hallmarks.
The opening of the Grave religioso is so delicately done in the accompaniment with gently brushed sounds in the accompaniment underpinning a fine soprano solo that is played at the perfect dynamic.
There's a big boned feeling to the blues passage before the repose of the Grave leads into a bracing final Allegro.
This has such driving energy and certainly takes the score by the scruff of its neck.
It's hugely exciting stuff played out in big yet balanced band sounds and leads to a final statement of triumphant affirmation.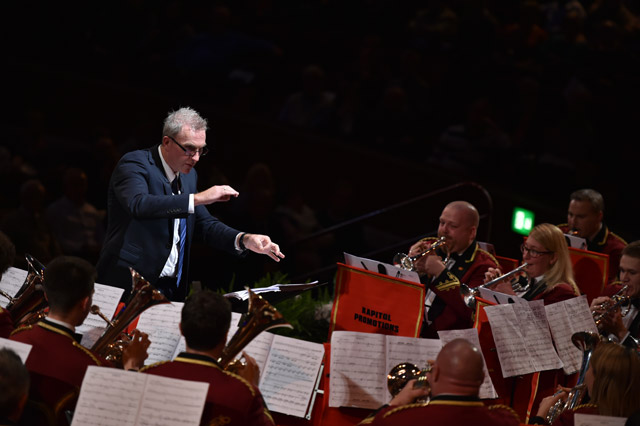 Overall
Another stirring account at the end of the day from Tredegar, not perfect and perhaps a little overdone at times but played with so much energy.
---
4barsrest Classifieds
Dronfield Genquip Band
We are a Yorkshire 3rd Section Band conducted by Rob Straw and require the following players:. . Front Row Cornet. Trombone. ...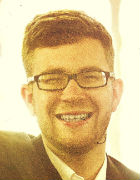 Dave Collins
BA (Hons) (Dunelm) I, FSCO
Composer and Arranger