London and SC • Sunday 22, 20:31:37
So that is it, after four weekends, the 2015 Regional Series is over. Congratulations to all bands for competing and the winners and qualifiers.
We hope you have enjoyed our coverage from the past month.
The usual news reports and reviews to come, that's it, good night from Stevenage.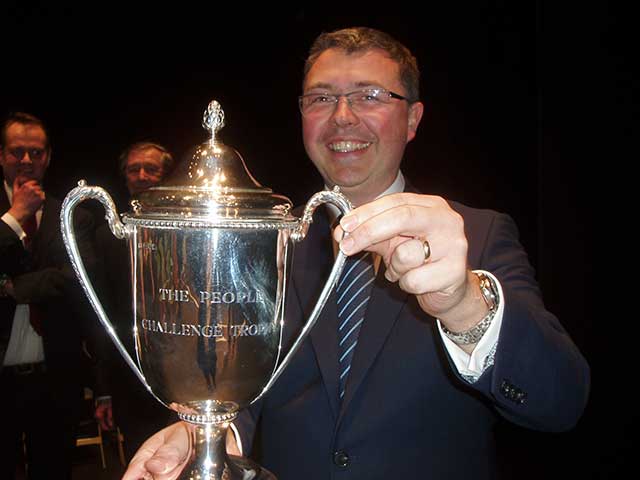 Winning MD Chris King - Friary Guildford
---
London and SC • Sunday 22, 20:29:48
Championship Section:
Test Piece: 'The Torchbearer' - Peter Graham
Sunday 22nd March
Gordon Craig Theatre
Adjudicators: Stan Lippeatt & Alan Morrison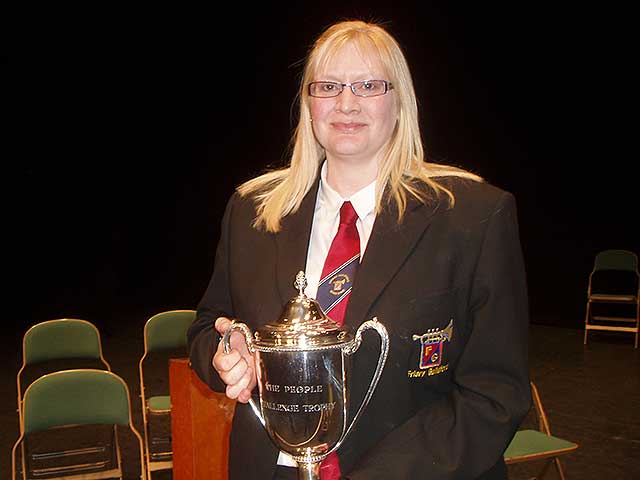 Winners - Friary Guildford (Chris King)
1. Friary Guildford (Chris King) *
2. Zone One Brass (Richard Ward)*
3. Redbridge Brass (Alan Duguid)
4. Staines Brass (Jonathan Pippen)
5. Medway (Melvin White)
6. East London Brass (Jayne Murrill)
7. Sandhurst Silver (Ian McElligott)
8. Thundersley Brass (Nigel Taken)
9. Aveley & Newham (John Ward)
10. Wantage Silver 'A' (Phil Bailey)
11. Regent Brass (Paul Archibald)
12. Kidlington Concert Brass (Duncan Wilson)
Best Cornet: Redbridge
Best Euphonium: Sandhurst
Best Tenor Horn: Medway
*Top 2 bands qualify for National Final

---
London and SC • Sunday 22, 19:35:51
Championship Section: Overall Thoughts
It's been an interesting contest where being honest, it's only briefly caught fire and ignited today. Peter Graham's piece has sorted them out good and proper, where the overall standard has been variable.
The top end though will be tight and we mean tight, and personal preference could well come into play in the box.
Alan Morrison & Stan Lippeatt will know what they want and Alan has judged here, North West & Midlands over the past month.
Very little to choose between Friary, Zone One and the late charge from Staines, an individual reading that could simply win it
Redbridge, Aveley & Newham & Wantage Silver 'A' could also feature top 6.

4BR Prediction:
1. Friary Guildford
2. Zone One
3. Staines
4. Redbridge
5. Aveley & Newham
6. Wantage
Dark Horse Regent Brass

---
London and SC • Sunday 22, 19:26:18
Championship Section:
12. Staines Brass (J. Pippen)
It's a fine opening for sure, measured and well judged, just a few tiny blemishes. The cadenzas are nicely done, thoughtful and allow the players to express themselves musically, well done all.
There's a nice pulse to this, it energises and has self belief. Var. 3 is quick, but its not beyond them, although not all detail comes through.
There is some fine playing on displaying here, it's controlled with common sense coming from the MD—Jonathan Pippen is letting his ensemble play with freedom and that is coming through.
Cornet does ok, a few tricky moments, but doesn't detract too much and there's a confidence in the reprise—effective closing section.

---
London and SC • Sunday 22, 19:10:59
Championship Section:
And so after 4 weekends, over 500 competing bands we have reached the final band in this years Regional series.
The honour of bringing it to a close, goes to Staines Brass.
---
London and SC • Sunday 22, 19:08:11
Championship Section:
11. Thundersley Brass (N. Taken)
It's an unsettled start that takes time to recover and it needs a touch more dynamic contrast for us. There is an edgyness and uncertainty within the ensemble that doesn't help and its heavy dynamically.
The cadenzas are very hit and miss affairs and there's a nervousness within the ensemble that is stopping the solidity and flow of the music.
It's more of the above, edgy, nervous, scrappy and untidy at times and we lose clarity in var.3—too fast
Cornet does well, nerves hold, nice sound and at last we hear the music coming through—this is there best section without a doubt. Reprise is nice too, decent close.
If only……but overall today not a contender

---
London and SC • Sunday 22, 18:49:58
Championship Section:
10. Wantage Silver "A" (P. Bailey)
Blimey, what a fine tasty opening this is that is nicely settled and constructed by Philip Bailey. There's a lovely warmth in the ensemble—there is some good stuff on show here.
The good playing continues, with neat cadenzas. Impressive variations although var.3 is brisk and clarity not always heard.
Cornet delivers the goods, lovely tone there's a really good feel to this, it's measured, not pushed beyond the musical boundaries and has nice flow.
Great close, to a fine show. This really is going to be tight.

---
London and SC • Sunday 22, 18:40:07
Result:
Fourth Section:
Test Piece: 'An English Pastorale'- Dean Jones
Sunday 22nd March
Main Concert Hall
Adjudicators: Nick Garman & David Hirst
1. City of Norwich (Aandrew Craze)*
2. Castleton Brass (Peter Ryan)*
3. East Coast Brass (Paul Speed)*
4. Watford Band (Ian Graves)
5. North London Brass (Patrick Dodds)
6. Tadley Concert Brass (Paul Chapman)
7. Letchworth Garden City (Tim Welch)
8. Woodbridge Excelsior (Chris Lewis-Garnham)
9. Brighton & Hove City (Matthew Hackett)
10. Crystal Palace (Michael Gray)
11. Bradwell Silver (Brian Keech)
12. Snowdown Colliery (Christer Aberg)
13. Wantage Academy (Nikki Jones)
14. Godalming (James Haigh)
15. Abbey Brass (Abingdon) (Rob Tompkins)
16. Cottenham Brass (P. Mackley)
17. Witney Town (Rhys Owens)
18. Hadstock Silver (Lisa Jardine-Wright)
19. Royston Townd (Steve Earley)
20. Bletchington Silver (S. Barwick)
21. Ampthill Town (Chris Benger)
22. Marsh Gibbon Silver (Andrew Allcock)
Withdrawn: M.K. Development (M. Nevin)
*Top three bands qualify for National Final
---
London and SC • Sunday 22, 18:30:51
Championship Section:
9. Kidlington Concert Brass (D. Wilson)
Opening takes too long to settle after some uncertainties in the ensemble—it's very tense and nervous, nobody really relaxed—the cadenzas are a little cautious, euphonium does well.
There's some effective stuff in Var.2 but its also overwrought at times, and Var.2 is taken at a tempo that is too quick, we don't hear clarity, just sound!
The cornet does a fine job but the ensemble is insecure and uncertain and it really impacts on the picture painted.
Once again the cornet digs very deep to deliver and tiredness is in the ranks to close. Not one to make real impression today.

---
London and SC • Sunday 22, 18:10:27
Championship Section:
8. Zone One Brass (R. Ward)
It's a lovely restrained opening, so neat and compact, with some excellent sounds around the stand. The MD is letting his band play with freedom, but has clear and precise direction—the cadenzas are not bad, not quite nailed though.
There's a nice glow to how this is unfolding, it's well judged although just as we say that, the foot goes down on tempos in var.3—played well but little quick for us
Ok, there are some blemishes but they don't distract from what's being aimed for here and cornet does well and it all builds to fine close.
It's going to be in the mix, Interesting very interesting.

---
London and SC • Sunday 22, 17:50:21
Championship Section:
7. Redbridge Brass (A. Duguid)
Nice opening that has subtlety about it that is well balanced. Var. 1 has a touch of swagger about it and the cadenzas are well paced—Lisa Brill delivers a lovely singing sound.
We hear more subtlety in the solo and ensemble lines, this is good stuff, it's not blemish free but it has a really nice feel about it—they're enjoying it
The confidence remains and there is a nice cornet contribution—sweet as a nut at times, so well delivered and there is a lovely warm feeling about the music and a fine reprise.
Quality stuff, one for the judges to compare with Friary for sure.

---
London and SC • Sunday 22, 17:27:26
Section 4:
19. Godalming (J. Haigh)
A restrained opening compared with other bands today but the 12/8 section is neat and tidy with a decent dynamic range.
Slow movements have some lovely sonorous sounds from the bass end and soloists give it their all. Last movement holds together well and a good ending.
20. Bradwell Silver (B. Keech)
An up tempo opening but it's precise and the dynamics are controlled. Strong close to the first movement and then some nice playing from the soloists although there are obvious tuning problems.
Fast opening to the final movement which has lots of energy and poise. Good build to big ending.
21. Hadstock Silver (L. Jardine Wright)
Good confident opening into a steady 12/8 section which has detail and control.
Shaky start to the slow movements but the music is shaped well. Some good soloists especially cornet supported by the middle of the band.
Last movement starts brightly but like so many others today the band start to tire.
22. City of Norwich (A. Craze)
A confident strong approach in the opening section with a transition to faster section. The 12/8 have good clarity and sit nicely in the tempo.
Movement two has a good flow and musicality. The third movement has a nice gentle feel and the soloists all perform well.
Final movement starts off at a brisk tempo and maintains its energy right through to the final note. A performance that had plenty of quality which might see the last band of the day secure a trip to Cheltenham.
---
London and SC • Sunday 22, 17:21:12
Championship Section: Halfway Thoughts
It's been a little underwhelming for the top section so far if we are honest. Not many bands have got inside the music so far and brought out Eric Ball or Peter Graham.
The qualification spots are still up for grabs for those that want a local day out at the cake tin in October.
Friary, Aveley & Newham & Regent Brass are our three so far, but another six bands could change that
4BR Prediction:
1. Friary Guildford
2. Aveley & Newham
3. Regent Brass

---
Wales • Sunday 22, 17:21:07
Championship Section:
Sunday 22nd March
Result:
Championship Section:
Test Piece: 'The Torchbearer' - Peter Graham
Adjudicator: Steve Sykes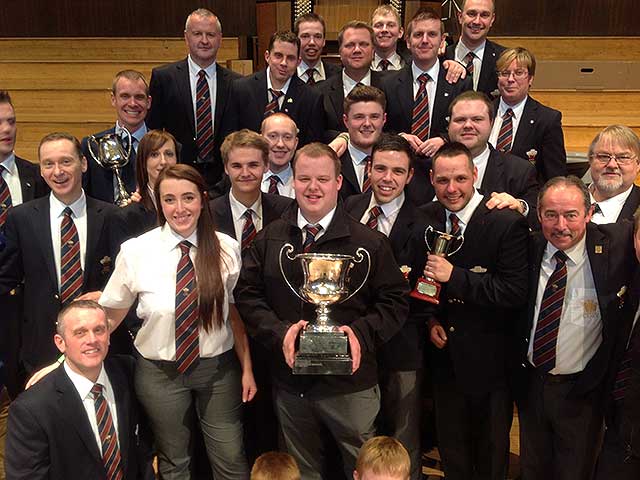 Winners - Cory (Philip Harper)
1. Cory (Philip Harper)***
2. Tredegar (Ian Porthouse)**
3. Northop Silver (Thomas Wyss)*
4. Tongwynlais Temperance (John Berryman)*
5. Burry Port Town (Michael Thorne)
6. Llwydcoed (Chris Turner)
7. BTM (Jeff Hutcherson)
8. Tylorstown (Gary Davies)
*** Cory qualify as Welsh representative to 2016 European Championship
** Tredegar pre-qualified for National Final
* Northop and Tongwynlais qualify for National Final
Best Instrumentalist: Tom Hutchinson (cornet) - Cory
Best Bass Section: Cory

---
London and SC • Sunday 22, 17:16:20
Championship Section:
6. Sandhurst Silver (I. McElligott)
It's not a bad opening, that's a nice sheen to it despite some blemishes. The former Brighouse MD, Ian McElligott certainly knows how he wants things to be laid out—there is caution in the ranks though, tension around. Cadenzas cope well.
It does strain at the edges a little, but the persuasive shape has an embracing feel to it. Variation 3 is a little too scrappy around the edges at times for us though.
The cornet line is nicely controlled, not without flaws but he holds his own for sure and there is a hint of tiredness in the ranks as we head to the close.

---
London and SC • Sunday 22, 16:57:55
Championship Section:
5. Regent Brass (P. Archibald)
It's a very understated yet musical opening, MD conducting without baton is encouraging a free-flowing reading here and band are responding—the cadenzas are cautious but admirable.
Not everything is going in as it should but this is a nice reading from the Guildhall School of Music MD—he isn't pushing his players to do things they can't either.
Cornet is lovely and lyrical, almost effortless as well and there's a nice picture being painted here Tidy and restrained, may surprise a few today.

---
London and SC • Sunday 22, 16:37:24
Championship Section:
4. Friary Guildford (C. King)
The opening is the best we've heard so far today, warm, musical and sits so well on the ear. This is a well thought out reading from the MD and band copes well (despite the ***** mobile going off—turn them off folks) with his approach. The cadenzas are well judged, euphonium is lovely, so well paced and relaxed.
There's some good playing on display and it's a well thought out approach too, it works, perhaps not to everybody's taste, but the playing is good and the tempo's are manageable—var.3 is quick though.
The blemishes are minute, but this really is straight from the MD's musical heart—so tender—cornet does so well, just the odd (uncertain) moment, but nothing to put him off track.
There's a lovely feel to the reprise—excellent close and one that could take some beating today.

---
London and SC • Sunday 22, 16:17:14
Championship Section:
3. Medway (M. White)
Tricky wobbly opening that takes time to settle but when it does there is a nice feeling here although the cadenzas are cautious affairs but credit to players, the dug in.
Everybody seems more relaxed as they go along, there are errors but it's very much, forget it, move on and give it a go. The energy is there from the middle and the players are now enjoying life.
Cornet leads well, little nervous at times but nicely delivered cadenza but ensemble needs to be a touch more tender (the nerves are back). The close nicely done though rounding off an uneven account that certainly had its moments.

---
Wales • Sunday 22, 16:09:05
Championship Section:
Final round up and prediction:
Well this one has panned out as we thought it would - with a brace of stunning performances at the very top that take some separating.
Both Cory and Tredegar lived up to their reputations and delivered performances of the very highest class - not without their moments of unease, but so brilliantly delivered.
It may be down to personal preference in the box, with Cory just getting the nod. It will be very close either way though.
Tongwynlais sounded rejuvenated under John Berryman and should be safely on their way to London, joined by Northop.
Llwydcoed played so well to almost snatch a place there themselves - and should take a deserved top six place ahead of BTM.
4BR Prediction:
1. Cory
2. Tredegar
3. Tongwynlais Temperance
4. Northop
5. Llwydcoed
6. BTM
---
London and SC • Sunday 22, 15:59:35
Championship Section:
2. Aveley & Newham (J. Ward)
Blimey, John Ward is one pumped up chap after Fulham success and he is pulling out the stops here. It's a confident, bold opening that has lots to acknowledge with good band sounds and cadenzas that are nicely done—the players relax, let it come out without being tense.
There's some fine playing on display and the tempo's especially var.3 don't hang around—good stuff though.
Cornet is a confident cornet lead—nicely done it must be said—there is no shortage of confidence here, especially from MD (he is loving this) and it's a well judged reprise—very musical.
It rounds off a fine show of which the MD's input, energy and vibrant mood was major factor

---
4barsrest Classifieds
Milton Keynes Brass
MK Brass would be pleased to welcome a front row cornet player to join us. Rehearsals are on Tuesday evenings in Loughton, MK...
Unibrass 2017
Date: 18-Feb-2017
Venue: King's Rd, Harrogate HG1 5LA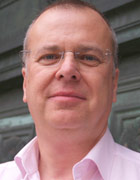 Nigel Seaman
ARMCM ARNCM
Conductor, band trainer, teacher and adjudicator