Radio: Sounds of Brass
26-Feb-2012
More great music from Philip Hunt

---
SOUNDS OF BRASS:
BROADCAST ON BBC RADIO BRISTOL, CORNWALL, DEVON, GLOUCESTERSHIRE, GUERNSEY, JERSEY, SOMERSET SOUND, SWINDON & WILTSHIRE EVERY SUNDAY EVENING @ 5 PAST 7
PRODUCED AND PRESENTED WEEKLY BY PHILLIP HUNT
AVAILABLE LIVE AND LISTEN AGAIN EVERY WEEK ON THE WORLD WIDE WEB THROUGH THE RADIO iPLAYER. Live on Sundays at 19-05 British Time or at any time for 7 DAYS after the Broadcast. To hear this week's programme instantly go to www.bbc.co.uk/­devon and click on Listen Live or Listen Again.
Requests and Comments welcome at E Mail.
Telephone 01752 843919.

Sunday 11th March:
TRAILBLAZE
Goff Richards
Massed Bands of Camborne, Mount Charles, St Austell & St Dennis
Conductor: Kevin Mackenzie
A CORNISH FESTIVAL
Goff Richards
Massed Bands of Bodmin, Camborne, Mount Charles & St Austell
Conductor: Goff Richards
CHARIVARI
John Iveson
Soloist: Richard Marshall
FILM
Andy Scott
Soloist: Rachael Sloggett
Cornwall Youth Brass Band Conductor Michael Fowles
MANILOW MAGIC
Barry Manilow arr. Alan Fernie
Cory Band
Conductor: Dr Robert Childs
ANGLIAN DANCES
Alan Fernie
Scottish Co-op Band
Conductor: Alan Fernie
4barsrest Classifieds
Enderby Band
Enderby Band is looking for a PRINCIPAL CORNET, Bb BASS and PERCUSSIONIST to complete our line up for the upcoming contest se...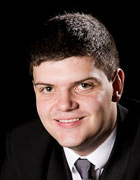 Christopher Bond
BMus (Hons), DipABRSM
Composer, Arranger, Conductor & Teacher