Podcast: Grand Slam aspirations
Fri, 09 oct 2009 13:15:00 GMT
Grand Slam aspirations.
Presented by Iwan Fox.
4BR discusses the possiblity of Cory taking another step towards a historic 'Golden Grand Slam' as number 1 ranked band prepare to try and pick up their fifth major title of the year in London.
We talk to two leading brass band journalists, Kenny Crookston and Paul Hindmarsh, and find out from Bob Childs just what has made Cory tick in 2009.
Playing time: 00:26:54
4barsrest Classifieds
Coleshill Town Band
Coleshill Town Band (4th section) are looking for an enthusiastic conductor to continue the development of this friendly, suc...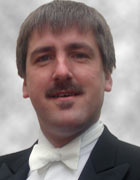 David A. Stowell

Conductor and composer