Podcast: 2007 European Championships - Birmingham
Sun, 13 May 2007 11:45:00 GMT
Presented by Anthony Banwell, Iwan Fox, Malcolm Wood and John James.
In this podcast we look back at the European Championships held in Birmingham's Symphony Hall from Thursday 3rd to Sunday 6th of May 2007.
Interviews with Willebroek's soprano player Bert Van Thienen, composers Martin Ellerby and Simon Dobson; Outgoing EBBA president Marcus Bach and others.
There's sound clips from the two winning performances in the Championship Section [Willebroek playing philip Sparke's 'Music of the Spheres' and The Cory playing Martin Ellerby's 'Elgar Variations'].
Thanks to Doyen Recordings for use of the music.
Playing time: 00:54:39
4barsrest Classifieds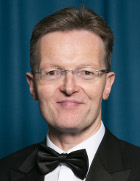 Chris Wormald
B.Mus (Hons), LTCL, PGCE
Conductor, adjudicator, arranger