Podcast: 2008 British Open
Mon, 15 Sep 2008 18:00:00 GMT
Presented by Anthony Banwell and Iwan Fox.
In this podcast we look back at the British Open held at Symphony Hall, Birmingham on Saturday 13th September 2008.
Playing time: 00:23:39
4barsrest Classifieds
Poulton-le-Fylde
The Poulton Band (1st Section near Blackpool),has vacancies for a bass trombone & kit percussionist. Our friendly band of...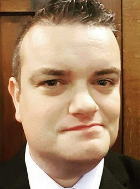 Neil Samuel

Conductor