---
Patrons' Choice VII
Foden's
Michael Fowles
Doyen: DOYCD329
CD currently not available for purchase
Tracks:
1. The Black Knight, William Rimmer, 4.10
2. The Force of Destiny, Giuseppe Verdi, arr. Frank Wright, 7.46
3. Flowerdale, Philip Sparke, Richard Poole (Soprano Cornet), 4.20
4. Charge of the Light Brigade, Andrew Stevenson, 5.54
5. The Piper O' Dundee, Kenneth Downie, Lesley Poole (Tenor Horn), 4.45
6. Love Divine, Howard Goodall, arr. Andrew Wainwright, 5.24
7. Dansa Brasileira, Mozart Camargo Guarnieri, arr. Howard Snell, 2.11
8. You Needed Me, Randy Goodrum, arr. Tom Brevik, Helen Williams (Flugel Horn), 4.05
9. Independence Day, David Arnold, arr. Sandy Smith, 6.32
10. Believe Me If All Those Endearing Young Charms, arr. Stanley Boddington, Glyn Williams (Euphonium), 7.42
11. Starlight, Peter Meechan, 3.58
Celtic Fusions, Robin Dewhurst,
12. I. Earth Rites, 3.36
13. II. The Ellis Island Lament, 4.28
14. III. The Flight of the Wild Geese, 7.41
4barsrest Classifieds
Blackpool Brass
Friendly and ambitious 2nd Section band requires solo euph,Bb bass and percussion to fill the few empty seats we have. Rehear...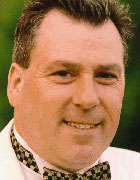 David Hirst
MA, B.Ed (Hons), LTCL
Conductor, adjudicator and arranger