---
Pearls - Steven Mead
The Central Band of the Royal Air Force
Wing Commander Duncan Stubbs
Bocchino: BOCC122
CD currently not available for purchase
Tracks:
Pearls II, Roland Szentpali
1. i. Nissan 300 2X, 3.20
2. ii. For Deny, 5.21
3. iii. The Last Dance, 5.12
4. Sir Eu, Thomas Doss, 11.25
5. A Child is Born, Thad Jones, Arr. Stephen Bulla, 4.43
6. Fast Forward — Hans Van der Heide 3.30
7. Ascension, Tom Davoren, Duet for trumpet and euphonium, featuring Ben Godfrey, 8.11
8. Amazing Grace, Trad, Arr. Stephen Bulla, Euphonium Duet featuring Misa Mead, 3.20
9. Introduction and Rondo Capriccioso, Camille Saint Saens, Arr. Stephen Bulla, 9.57
10. Romance (from The Gadfly), Dmitri Shostakovich, Arr. Ed Keeley, 4.00
11. Euphonic, Franz Cibulka, 11.34
You may also be interested in...

4barsrest Classifieds
Mossley Band
Mossley Band (MD Duncan Byers) are looking to recruit committed Front Row cornet, Solo Trombone and Tuned Percussion players ...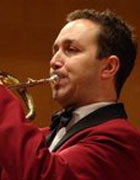 James Chamberlain
BMus (Hons) PGCE
Conductor, Teacher