---
The London Trumpet Sound - Vol 1
27 London Trumpet players
Geoffrey Simon
Cala: CACD0113
CD currently not available for purchase
Tracks:
1. Sing, Sing, Sing: (Prima arr. Sarcich) 5.22
Soloist: Mike Lovatt (solo trumpet)
2. Misty: (Garner arr. Grout) 5.50
Soloist: Guy Barker (solo trumpet)
3. Jarabe Tapatio (Mexican Hat Dance): 3.02
Soloists: John Wallace and Murray Greig
4. Penny Lane: (Lennon/McCartney) 2.52
Soloist: Paul Archibald (piccolo trumpet)
5. The Prince of Denmark's March: (Clarke arr. Wright) 2.40
Soloist: Robert Farley (natural trumpet)
6. Rondo Alla Turca: (Mozart arr. Humphries) 3.11
7. The Thievish Magpie: (Rossini arr. Archibald) 10.32
8. Adagio from Concerto de Aranguez: (Rodrigo arr. Runswick) 6.09
Soloist: Maurice Murphy (flugel horn)
9. The Stars and Stripes Forever: (Sousa arr. Payne) 3.38
Soloists: Paul Archibald and Tim Hawes
Total Playing Time: 44.06 mins
You may also be interested in...
4barsrest Classifieds
Deepcar Brass Band
Deepcar Brass Band are looking for solo cornets and Bb bass to join their friendly team. We rehearse 7.15pm - 9.15pm Monday a...
NABBA
Date: 10-Mar-2017
Venue: Embassy Theatre and Grand Wayne Center. 125 W. Jefferson Street . Fort Wayne, Indiana 46802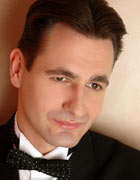 Craig Roberts
BA (Hons), MA
Conductor / Adjudicator