---
Wildfire
Buy As You View Cory Band
Robert Childs
Doyen: DOYCD144
CD currently not available for purchase
Tracks:
1. Invocation, John Pickard, 2.28
2. Requiem, David Bedford, 12.33
3. The King of Elfland's Daughter, Rodney Newton, 14.03
4. Gwennan Goorn, Nigel Clarke, 12.53
5. Salome, Gareth Wood, 14.09
6. Wildfire, John Pickard, 12.17
Total playing time: 68.25 mins
You may also be interested in...
4barsrest Classifieds
Mossley Band
Mossley Band (MD Duncan Byers) are looking to recruit committed Front Row cornet, Solo Trombone and Tuned Percussion players ...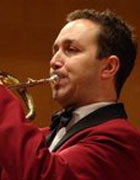 James Chamberlain
BMus (Hons) PGCE
Conductor, Teacher