---
The Torchbearer - National Brass Band Championships 2009
Various
Various
Doyen: DOYCD268
CD currently not available for purchase
Tracks:
1. The Torchbearer, Peter Graham, Black Dyke Band, 14.18
2. Suo Gan, Peter Graham, Christopher Thomas (Trombone) with Cory Band, 3.05
3. Triumphant Rhapsody, Gilbert Vinter, Tongwynlais Temperance Band, 12.12
4. Torchbearers, Eric Ball, Cory Band, 3.36
5. A Scot's Miscellany, Alan Fernie, City of Cardiff (Melingriffith) Band, 11.08
6. Brillante, Peter Graham, David Childs (Euphonium) with Cory Band, 5.14
7. Oceans, Goff Richards, Brunel Brass, 12.21
8. Highland Cathedral, Michael Korb and Ulrich Roever arr. David Childs, Cory Band, 2.42
9. Alta Vista, Bruce Fraser, St Breward Silver Band, 10.47

You may also be interested in...
4barsrest Classifieds
The Corsham Band
The band are currently looking to recruit either second or third cornet players to further strengthen our friendly and enthus...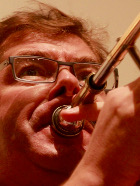 Nicholas B. Hudson
FTCL LGSMD (Hons)
Musician | Trombonist | Educator