---
The Lure of the Red Jacket - Glyn Williams
Foden's Band
Michael Fowles
Doyen: DOYCD287
CD currently not available for purchase
Tracks:
1-3. Concerto for Euphonium and Brass Band, Andy Scott
I. The Lure of the Red Jacket, 4.41
II. Far Beyond the Stars, 6.12
III. The Dragon's Den, 3.55
4. Veritas, Bramwell Tovey, 7.40
5. Euphony, Robert Redhead, 7.43
6. My Mountain Top, Andy Scott, 8.15
7. Euphonium Concerto No. 1, John Golland, 19.32
8. Peace, John Golland, 5.01
9. Salt of the Earth Gospel, Andy Scott, 4.44
10. My Favourite Things, Alan Fernie, 5.18
4barsrest Classifieds
Severn Tunnel Band
We are a friendly and welcoming third section band based in the Caldicot area only a short drive from the Severn Bridge,and a...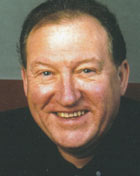 John Maines
BA (Hons)
Presenter, compere and conductor