/Vision: English National - 4BR pre results opinion
Sun, 26 Jun 2011 12:00:00 GMT
4BR Editor Iwan Fox is joined by Alan Edmond and Chris Thomas to give their opinions on who they tip for the English National title before the announcement of the results in Preston!
4barsrest Classifieds
Deepcar Brass Band
Deepcar Brass Band are looking for solo cornets and Bb bass to join their friendly team. We rehearse 7.15pm - 9.15pm Monday a...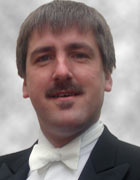 David A. Stowell

Conductor and composer