/Vision: Technique: Breathing - David Childs
Wed, 2 Oct 2013 19:09:40 GMT
Breathing - David Childs David Childs gives some invaluable tips on how to make sure you get the most important aspect of your playing correct - breathing!
4barsrest Classifieds
Foss Dyke Band
SOP, 2ND EUPHONIUM AND Bb BASS REQUIRED IN TIME FOR AREA! We are a 2nd section band based in Lincolnshire. We rehearse in our...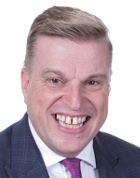 Julian Bright

Conductor, Compere/MC, Cornet Soloist