/Vision: Interview with Ludovic Neurohr
Sat, 28 Jan 2017 13:03:01 GMT
4BR Editor Iwan Fox talks to Swiss composer Ludovic Neurohr about his plans for a inclusive music festival to be held in his home country.
4barsrest Classifieds
Foss Dyke Band
SOP, 2ND EUPHONIUM AND Bb BASS REQUIRED IN TIME FOR AREA! We are a 2nd section band based in Lincolnshire. We rehearse in our...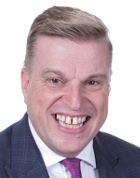 Julian Bright

Conductor, Compere/MC, Cornet Soloist