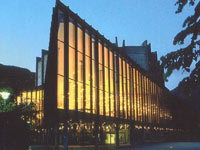 Third Division:

Adjudicators: Harald Eikaas & Peter Bassano
Friday 11h February (16.00)
---
Perhaps the most difficult of all the sections at the championships to call before a note has been blown, the Third Division offer plenty to enjoy for the uncommitted listener – and a few headaches for the two men charged with making the all important decisions.
Too much whiskey

There is a real smorgasbord of test piece choices on offer for Harald Eikass and Peter Bassano to delve into – from the modern (including one premiere as far as we can make out with Kevin Houben's 'Lake of the Moon') to the mature – going as far back in fact as Denis Wright's classic take on the perils of mixing too much whiskey and too little horse riding skills in 'Tam O' Shanter's Ride'.
Who will come out as a winner from this lot is just about anyone's guess, but the bands on show are not short on ambition that's for sure.
Ambition

Philip Wilby's 'Psalms & Alleluias' is played by two bands, whilst his UK Third Section regional test piece 'A Little Light Music' also get an airing.

Peter Graham is featured twice with 'Renaissance' and 'Prisms', whilst Philip Sparke gets a double helping with 'The Saga of Haakon the Good' and 'Tallis Variations'.
Mature music

It's good to hear some mature music on show too, with Edward Gregson's 'The Plantagenets' up against Gordon Langford's blacksmith inspired 'Harmonious Variations', Ray Steadman-Allen's 'Victorian Snapshots – On Ratcliffe High' and Darrol Barry's 'A Salford Sinfonietta'.
Meanwhile, Kenneth Downie's lovely 'Purcell Variations' get a long overdue airing up against Derek Bourgeois' bucolic description of 'The Forest of Dean'.
As for a winner?
And how does this all pan out in respect to a possible winner we hear you say?

Hard to tell really.
The likes of Agder Brass and Gjesdal posted good solid finishes at SIDDIS to their top six finishes here last year – and in the Second Division, whilst the likes of Flora, Fjell, Trondheim and Hasle will all want to push for a top six place or better this time around.
Skui and Torskangerpoll will know that they cannot afford any slip-ups if they are not to fall through the relegation trap door this year – they will be primed for action.
The Fourth Division champions Fla will be out to claim yet more silverware, whilst the impressive Tysnes, Grenland and Nes who all make the step up after gaining promotion will join them.
Meanwhile, Folesso, Rong and Frei will be looking for a pretty sharp return ticket back to the Second Division following their relegation.
---
As for a winner?

In the end then we opt for Agder under David Tellesfsen to take the title, closely followed by Gjesdal directed by Jonas Skartveit Rogne and Rong led by Eirik Gerdevik.
Making up the top six are for us, Hasle, Fjell and Fla with our dark horse Tysnes Muikklag.
4BR Prediction:

1. Agder Brass
2. Gjesdal Brass
3. Rong Brass
4. Hasle Brass
5. Fjell Brass
6. Fla Musikkorps
Dark horse: Tysnes Musikklag
---
Frei Hornmusikk
Conductor: Kim Lofthouse
2011 Draw: 5

Own Choice Selection: The Plantagenets (Edward Grgson)
National Record:
2010: 11th in Second Division (Kim Lofthouse) (rel)
2009: 2nd in 3rd Division (Kim Lofthouse) (prom)
2008: 4th in Fourth Division (Stein Åge Sørlie) (prom)
2007: 14th in Third Division (Stein Åge Sørlie/ John Hudson) (rel)
2006: 4th in Fourth Division (Stein Åge Sørlie) (prom)
Overall Record:
Winners of Third Division 2001
Last Year: 11th in Second Division (relegated)
Own Choice Selection:
2010: My Strength, My Tower
2009: Song of the Eternal
2008: The Saga of Haakon the Good
2007: Laudate Dominum
2006: Inspiration - Jan de Haan
---
Follesø Musikklag
Conductor: Egil Manussen
2011 Draw: 4

Own Choice Selection: Prisms (Peter Graham)
National Record:
2010: 13th in Second Division (Reid Gilje) (rel)
2009: 3rd in 3rd Division (Reid Gilje) (prom)
2008: 12th in Second Division (Rune Hannisdal) (rel)
2007: 10th in First Division (Eirik Gjerdevik) (rel)
2006: Winners of Second Division (Egil Magnussen) (prom)
2005: 9th (Jan Arne Pope)
2004: 3rd in Third Division (Jan Arne Pope) (prom)
2003: 6th
2002: 10th
2001: 6th
2000: DNC
Overall Record:
Winners of Second Section 2006
Last Year: 13th in Second Division (relegated)
Own Choice Selection:
2010: Partita on St. Theodulph
2009: Purcell Variations
2008: The Plantagenets
2007: Royal Parks
2006: Kaleidoscope
2005: Firestorm
---
Fjell Brass
Conductor: Svein Henrik Giske
2011 Draw: 9

Own Choice Selection: Purcell Variations (Kenneth Downie)
National Record:
2010: 8th (Svein Henrik Giske)
2009: 5th (Svein Henrik Giske)
Last Year: 8th
Own Choice Selections:
2010: The Land of the Long White Cloud
2009: Blazon
---
Flå Musikkorps
Conductor: Odd Steinar Mørkved
2011 Draw: 7

Own Choice Selection: Renaissance (Peter Graham)
National Record:
2010: Winners of Fourth Division (Odd Steinar Mørkved) (prom)
2009: =5th (Odd Steinar Mørkved)
2008: =11th (Odd Steinar Mørkved)
2007: =6th (Odd Steinar Mørkved)
2006: DNC
2005: 8th
2004: 8th
2003: 5th
2002: DNC
2001: DNC
2000: DNC
Last Year: Winners of Fourth Division (promoted)
Own Choice Selection:
2010: Dimensions
2009: Music for a Festival
2008: St Austell Suite
2007: Northern Landscapes
2006: DNC
---
Flora-Bremanger Brass Band
Conductor: Johnny Saelemyr
2011 Draw: 8

Own Choice Selection: A Salford Sinfonietta (Darrol Barry)
National Record:
2010: 7th (Johnny Saelemyr)
2009: 2nd in 4th Division (Johnny Saelemyr) (prom)
2008: =15th (Johnny Saelemyr)
Last Year: 7th
Own Choice Selections:
2010: Kaleidoscope
2009: Triptych
2008: Partita
---
Gjesdal Brass Band
Conductor: Jonas Skartveit Rogne
2011 Draw: 1

Own Choice Selection: Psalms & Alleluias (Philip Wilby)
National Record:
2010: 6th (Jonas Skartveit Rogne)
2009: 12th in 2nd Division (Jonas Skartveit Rogne) (rel)
2008: 10th (Jonas Skartveit Rogne)
2007: 8th (Reid Gilje)
2006: 2nd in Third Division (Christian Tenfjold) (prom)
2005: 8th (Russell Gray)
2004: 10th (Russell Gray)
Last Year: 6th
Own Choice Selections:
2010: Purcell Variations
2009: Blazon
2008: The Present Age
2007: Firestorm
2006: Festivity
2005: The Long Ships
---
Grenland Brass
Conductor: Christopher Roedvang
2011 Draw: 15

Own Choice Selection: The Saga of Haakon the Good (Philip Sparke)
National Record:
2010: 3rd in Fourth Division (Gwyn Evans) (prom)
2009: 14th in 3rd Division (Sigurd Grov Skramsett) (rel)
2008: 6th (Morten E Hansen)
2007: =4th (Morten E Hansen)
2006: 5th in Fourth Division (Rune Hansen) (prom)
2005: 6th (Magne Rutle)
Last Year: 3rd in Fourth Division (promoted)
Own Choice Selection:
2010: A Salford Sinfonietta
2009: Diversions
2008: The Dark Side of the Moon
2007: Forest of Dean
2006: Kaleidoscope (Five Variations on the Brugg Song)
2005: Tryptich for Brass
---
Hasle Brass
Conductor: Robert Solberg Nilsen
2011 Draw: 11

Own Choice Selection: Tallis Variations (Philip Sparke)
National Record:
2010: 10th (Robert Brekke Nilsen)
2009: 10th (Frode Amundsen)
2008: =8th (Michael Antrobus)
2007: 9th (Michael Antrobus)
2006: 5th (Michael Antrobus)
2005: 7th (Tarjei Gilbrant)
2004: 6th (Tarjei Gilbrant)
2003: 10th Second Division (rel)
2002: 5th in Third Division (prom)
2001: 8th
2000: 20th
Last Year: 10th
Own Choice Selections:
2010: Trittico for Brass Band
2009: Kaleidoscope
2008: Firestorm
2007: John O' Gaunt
2006: The Land of the Long White Cloud
2005: English Heritage
---
Agder Brass (Kristiansand Brass Band)
Conductor: David Tellefsen
2011 Draw: 3

Own Choice Selection: Victorian Snaphots – On Ratcliffe High (Ray Steadman-Allen)
National Record:
2010: 5th (Morten E. Hansen)
2009: 3rd in 4th Division (David Tellefsen) (prom)
Last Year: 5th
Own Choice Selection:
2010: The Holy War
2009: Princethorpe Variations
---
Nes Musikkforening
Conductor: Andres Halla
2011 Draw: 6

Own Choice Selection: A Little Light Music (Philip Wilby)
National Record:
2010: 4th in Fourth Division ( Andres Halla) (prom)
2009: 8th (Andres Halla)
2008: =7th (Andres Halla)
2007: 13th in Third Division (Andres Halla) (rel)
2006: 11th (Andres Halla)
2005: 11th (Andres Halla)
2004: =8th (Andres Halla)
2003: 4th
2002: 6th
2001: 16th
2000: 14th
Last Year: 4th in Fourth Division (promoted)
Own Choice Selections:
2010: Saint-Saens Variations
2009: Prelude & Jubilate
2008: Harmonius Variations
2007: Ancient Monuments
2006: Firestorm
2005: Northern Landscapes
---
Rong Brass
Conductor: Eirik Gjerdevik
2011 Draw: 10

Own Choice Selection: The Forest of Dean (Derek Bourgeois)
National Record:
2010: 12th in Second Division (Stian E. Svendsen) (rel)
2009: 3rd (Stian E. Svendsen)
2008: Winners of Third Division (Reid Gilje) (prom)
2007: 6th (Reid Gilje)
2006: 3rd (Reid Gilje)
2005: 6th (Reid Gilje)
2004: 11th (Hogne Haugsda)l
2003: 3rd
2002: 11th
2001: 7th
2000: 9th
Overall Record:
Winners of Third Division 2008
Last Year: 12th in Second Division (relegated)
Own Choice Selections:
2010: Tallis Variations
2009: The Forest of Dean
2008: Kenilworth
2007: Kaleidoscope
2006: Purcell Variations
2005: Partita - Postcards from Home
---
Skui Brass Band
Conductor: Henrik Dalhaug
2011 Draw: 12

Own Choice Selection: Psalms & Alleluias (Philip Wilby)
National Record:
2010: 11th (Henrik Dalhaug)
2009: 11th in 2nd Division (Philip Hannevik) (rel)
2008: 9th (Michael Antrobus)
2007: 3rd in Third Division (Henrik Dalhaug) (prom)
2006: 10th (Henrik Dalhaug)
2005: 12th (Trond Nilsen)
2004: 3rd in Fourth Division (Trond Nilsen) (prom)
2003: 3rd
2002: DNC
2001: DNC
2000: DNC
Last Year: 11th
Own Choice Selections:
2010: Triumphant Rhapsody
2009: Aspects of Praise
2008: Connotations
2007: Symphony of Marches
2006: Renaissance
2005: Partita - Postcards from Home
---
Torkangerpoll Musikklag
Conductor: Eirik Gjerdevik
2011 Draw: 14

Own Choice Selection: Lake of the Moon (Kevin Houben)
National Record:
2010: 12th (Eirik Gjerdevik)
2009: 11th (Eirik Gjerdevik)
2008: Winners of Fourth Division (Eirik Gjerdevik) (prom)
Overall record:
Won Fourth Division in 2008
Won Third Division in 1999
Last Year: 12th
Own Choice Selections:
2010: Renaissance
2009: Music for a Festival
2008: Kaleidoscope
---
Trondheim Politis Brassband
Conductor: Peter Hatfield
2011 Draw: 13

Own Choice Selection: Tan O'Shanter's Ride (Denis Wright)
National Record:
2010: 9th (Peter Hatfield)
2009: 13th in 2nd Division (Peter Hatfield) (rel)
2008: 3rd in Third Division (Peter Hatfield) (prom)
2007: =10th (Odd Steinar Morkved)
2006: 12th in Second Division (Odd Steinar Morkved) (rel)
2005: =4th (Odd Steinar Morkved)
2004: 3rd (Odd Steinar Morkved)
2003: 5th
2002: 11th in First Division (rel)
2001: 7th in First Division
2000: Joint 5th in First Division
Last Year: 9th
Own Choice Selections:
2010: Rhapsody in Brass
2009: Dances & Arias
2008: Resurgam
2007: Royal Parks
2006: Ballet for Band
2005: St Theodulph
---
Tysnes Musikklag
Conductor: Yngve Nikolaisen
2011 Draw: 2

Own Choice Selection: Harmonious Variations (Gordon Langford)
National Record:
2010: 2nd in Fourth Division (Eirik Gjerdevik) (prom)
2009: Did not compete
2008: 11th
2007: 9th (Yngve Nikolaisen)
2006: 3rd (Eirik Gjerdevik)
2005: 2nd in Third Division (Yngve Nikolaisen) (prom)
2004: 12th (Yngve Nikolaisen) (rel)
2003: 5th
2002: 11th
2001: 12th
2000: Winners of Third Division (Yngve Nikolaisen) (prom)
Overall Record:
Winners of Third Division 2000
Last Year: 2nd in Fourth Division (promoted)
Own Choice Selections:
2010: Kaleidoscope
2009: DNC
2008: Diversions
2007: The Year of the Dragon
2006: A London Overture
2005: The Plantagenets
---
2010 Result:
Adjudicator(s): Jens T. Larsen, Elisabeth Fossan

Test piece: Own Choice

1. Bjørsvik Brass (Russell Gray) - 96
2. Manger Old Star Brass (Johannes Mangersnes) - 95
3. Lindås Brass (Helge Haukås) - 94
4. Borge Brass Band (Oddvar Nøstdal) - 93
5. Agder Brass (Morten E Hansen) - 92
6. Gjesdal Brass Band (Jonas Skartveit Rogne) - 91
7. Flora-Bremanger Brassband (Johnny Sælemyr) - 90
8. Fjell Brass (Svein Henrik Giske) - 89
9. Trondheim Politi's Brassband (Peter Hatfield) - 88
10. Hasle Brass (Robert Brekke Nilsen) - 87
11. Skui Brassband (Henrik Dalhaug) - 86
12. Torskangerpoll Musikklag (Eirik Gjerdevik) - 85
13. Hordvik Musikklag (Knut Emil Mjøs) - 84
14. Fræna Musikkorps (Jens Kristian Mordal) - 83
15. Bergen Brass Band (Kim Lofthouse) - 82