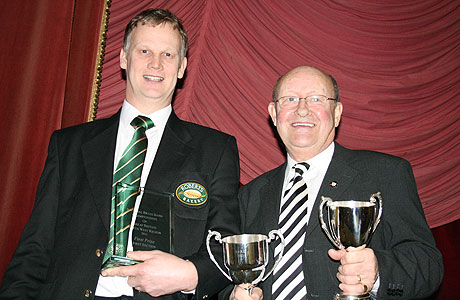 Cheltenham bound for Robert's Bakery
Picture: Steve Jack

With all the debate about the suitability of 'Le Carnival Romain' as the test piece for the First Section, it was good to report that in the North West a whole batch of bands delivered technically secure, musically coherent accounts of the difficult Frank Wright arrangement.

Quality

Admittedly, there were only nine contenders in the contest for David Horsfield to judge, and whilst a couple at the bottom of the results table did struggle to overcome some of the more obvious hurdles, the majority found it playable.

That was certainly the case with the winners and qualifiers for Cheltenham

A well controlled, musically secure performance from Robert's Bakery took the honours, closely followed by a more power driven, highly charged account by Longridge.

Praise

In his summing up David Horsfield praised the bands for their approach to a work that has lost none of its bite since it was first used at the National Finals in 1966.

He also singled out the individual contributions of the main soloists and the percussion, who he felt played a major role in setting the pace and dynamic of the free flowing Allegro of the saltarello.

Features

These were two of the features of both qualifiers, with the experienced Colin Cranson (who must have played this piece and the famous euphonium solo more than a few times when he was at Foden's) drawing out the inner detail and textures in the lyrical aria section with Robert's Bakery.

It was followed by a well paced Allegro that had bounce and pulse, but was also played with a neat lightness of touch.

Contrast

In contrast, the more powerful approach of Longridge was Berlioz in overdrive, but with vibrant colour and high octane emotive lyricism.

Very different and certainly in contrast to the winners, it was a persuasive account that owed much to the MD, Mark Peacock's musicianship, and his player's commitment to the cause.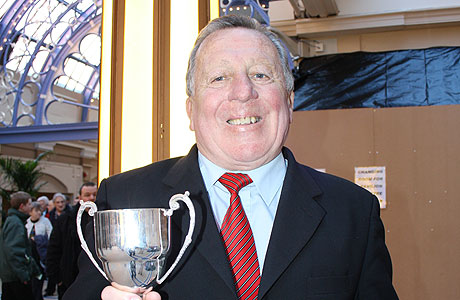 Years of experience. Colin Cranson with his Area trophy

Well worked

Behind them came a set of well worked performances.

Rainford will have been delighted that their purposeful rendition claimed a podium finish on their debut.

Neil Samuel's free flowing reading was underpinned by a solid percussion foundation, whilst the main solo lines (a great euphonium contribution even outshining Peter Moore on trombone) were secure, the ensemble tight and precise.

It just tired towards the end, but it was a fine effort nonetheless.

Intelligent

Bollington too benefited from an intelligent approach to tempi and dynamic from Peter Christian in the middle, and whilst it fell away with stamina issues towards the close, it was a performance of contrasting energy and tasteful lyrical restraint.

Young bands

The two young bands of Wardle Anderson Brass and Oldham (Lees) will be disappointed that their well conceived accounts did not end higher up the results table, but in retrospect David Horsfield certainly pinpointed their undoubted strengths and their more obvious weaknesses.

There was a real flow to Oldham's performance, with John Collins making sure that the lyrical aria section never meandered or wallowed in misplaced emotion.

Sean Conway was also very businesslike in his direction with Wardle, (especially as they had some re-jigging to do due to health problems with their soprano player) with a tight rein kept on tempi and dynamics

They also produced a wonderful bass led ensemble sound that was balanced and clean edged.

Both bands and MDs emerged with a great deal of credit on what was perhaps the most demanding test of their contesting character yet.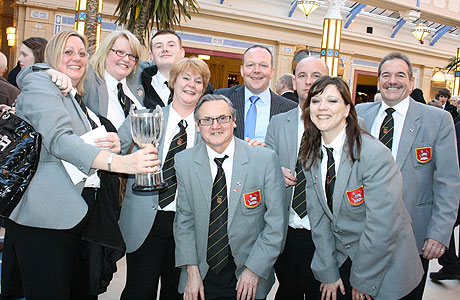 All together now - Longridge head for the finals with Mark Peacock

Frustrating

For pre contest favourites Freckleton, it was one of those days when a usually technically solid band endured a frustrating day at the contesting office.

Theirs was a performance that never quite recovered its poise after a messy start.

The harder they tried to make up lost ground the more unforced errors tarnished a well paced reading from Paul Dalton.

You could see from their faces as they left the stage that they knew that it wasn't going to be a day of celebration.

Scruff of the neck

Diggle meanwhile seemed a little reluctant to try and grasp the piece by the scruff of the neck in what was a strangely muted account under Jim Shepherd, whilst Manx Concert Brass was also another that opted for a safety first approach under Ian Clague MBE, when a bit more verve would perhaps have paid greater dividends.

Finally, Poulton-le-Fylde under Gareth Westwood, with a performance that although musically coherent, was bedevilled by unforced errors and misplaced enthusiasm.

They could have had no complaint in finishing where they did in a contest that showed that despite the lack of numbers, there was no lack of quality in the North West at First Section level.

Robert's Bakery and Longridge head to Cheltenham in September as strong contenders for the National title on this form.

Dave Tinker