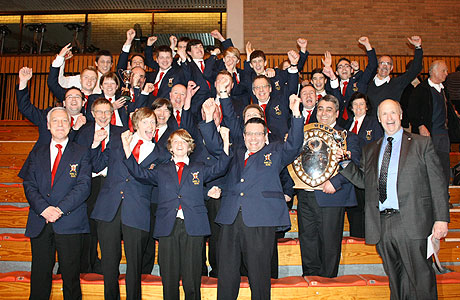 First class travel to Cheltenham for York
Pictures: Steve Jack

The opening salvos of the North of England Regional Championships came in the Third Section, where six bands tackled Philip Wilby's 'A Little Light Music'.

50-50

In the end, there was an even split when it came to the quality of the bands: Three coped exceptionally well with the various styles and characteristics of the music to produce terrific performances, whilst three were considerably tested by its technical and musical challenges.

Jim's praise

Adjudicator Jim Davies was mindful of the difficulties, having worked on it himself, and took the time to praise the conductor's for their attention to the immense amount of detail in the score, the tempo markings and stylistic considerations.

He also acknowledged the fine contributions from the main soloists in each of the six bands too – with a special mention (and prize) going to the percussionists who brought texture and effect to the performances without ever overpowering them in enthusiastic commitment.

Clear winner

Jim had to wait until the final band of the contest, before York Railway Institute stamped their authority on proceedings and gave him a clear-cut winner.

Prior to that he had a tricky old musical conundrum to sort out.

And a very fine performance of a tricky set work it was too – further confirming the progress the band has made in the last 12 or so months under the excellent direction of Gordon Eddison.

Swanky

This was a rendition as clean and swanky as the first class carriage on the Virgin train up to Darlington.

On this form they should consider asking Richard Branson for a bit of sponsorship as they set off on time and ended at their Cheltenham destination without a single problem encountered along the way.

The opening fanfares were precise and secure whilst the Morris Dancers in the Market Square on Saturday morning couldn't have performed the 'Clog Dance' better.

Poise

The band's principal cornet, Sam Lovatt (who bore a distinct likeness to diver, Tom Daly) certainly maintained his musical poise through a lovely lyrical middle movement, whilst the 'tarantella' was paced to perfection with the classy prize winning percussion on tip top form.

All that was needed was a final ticket stamp reprise and their place at Cheltenham was sealed with classy authority.

On this form they will be one of the favourites for further honours – it was a cracker.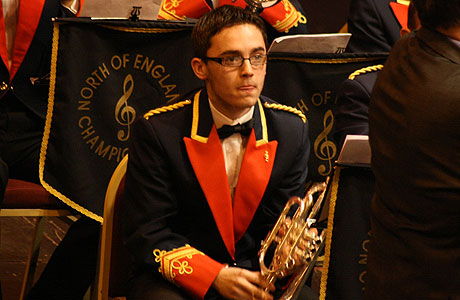 Sam Lovatt Daley? York's cracking top man...

Setting the standard

The first band of the contest weekend, Ripon City set a high standard for the rest to beat.

And such was the quality of that opening performance that the North Yorkshire outfit will head to Cheltenham after Malcolm Dubb directed a lovely rendition that was enhanced by splendid contributions from flugel, soprano and solo cornet, as well some tasty ensemble playing stuff – the ice cream 'tarantella' played with a real fruity zest.

Almost

Just behind them came East Riding of Yorkshire who produced a well-constructed performance full of good basic brass band virtues, from the opening purposeful fanfares, through a breezy 'Clog Dance', lyrical 'Romance' and solid reprise.

It really was nip and tuck between them and Ripon.

Any disappointment at not making it to Cheltenham should be offset by the way they performed on stage, led ably by David Warley, on a very tricky set work.

Variable

The remaining three bands found the piece a much harder test of technical and musical character.

Despite the varying inconsistencies in execution all three of Bearpark & Esh Colliery, Dunston Silver and Marske Brass delivered performances that held the promise of better contesting days to come.

Bearpark & Esh Colliery's colourful account was a bit hit and miss in places but maintained a good flow and sense of musical direction, whilst Dunston's rendition owed much to the sensible approach of John Bell at the helm, who never asked his player's to perform something they couldn't manage.

Potential

So too, Marske Colliery who took to the stage minus six players, but produced one of the most committed performances you are ever likely to hear at any level this year.

At times it teetered on the edge, but so what – the MD and all his players gave it their all.

Anyone looking for band with a heart that pumps with determination and potential should get in touch with them straight away.

Better days lie ahead.

York's day

Philip Wilby's work proved to be the winner in all senses here on the weekend, but York Railway Institute proved to be a victor that could go onto to even greater glory come September.

Malcolm Wood