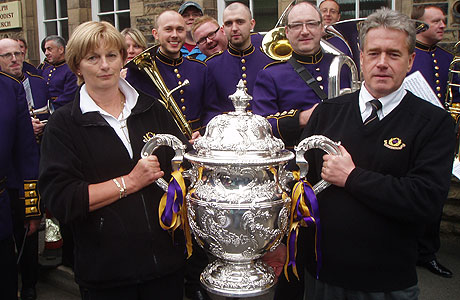 Brighouse tradition. The President and his wife hold the biggest cup of all...
All pictures: Malcolm Wood

Despite all the changes, Whit Friday is still about tradition.

Every year on the stroke of 9.00am around Saddleworth and Mossley, you'll hear bands striking up the hymn, 'Hail Smilin' Morn'.

And another tradition is the sight of Brighouse & Rastrick in their old-fashioned tunics performing around Saddleworth too.

Tradition dictates

Tradition dictates that they don't always end the day declared as champions, but more often than not they come close to the top of the pile.

Some 15 hours after that early morn start the National and Yorkshire Area winners claimed five first places and a third to be crowned 2011 Saddleworth Champions once more – and with it bag over £7,000 in prize money

The big old National Champion trophy was proudly carried to each of the venues by the band's President, Paul Beaumont helped by his wife Julie – a visual prelude of what was to come as the band struck up with 'Knight Templar'.

And that's where the tradition stopped.

Open mouthed

Brighouse are renowned for playing 'Ravenswood' on Whit Friday - but not this year.

It left many of the Whit Friday old guard open mouthed in astonishment, but with Professor King always a man to try something a little different, it proved to be a bit of a masterstroke.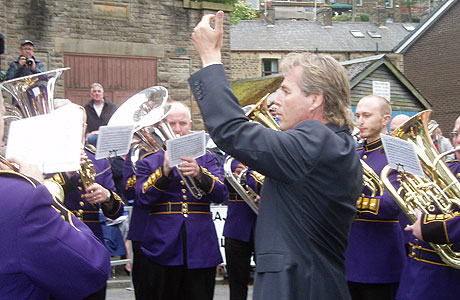 David King and Brighouse in action

With Stuart Lingard enjoying a breather ahead of the English National, Leon Renilson did a sterling job on top man, as did John Campbell on soprano (who got a couple of 'Best Sop' prizes).

The West Riding outfit will have been very happy with their night's work.

Wonderful gesture

In a wonderful gesture, Brighouse had agreed to visit Greenfield, where band supporter Alan Chamberlain tragically lost his life last year.

In the presence of his family the band played the hymn tune 'There is a Green Hill Far Away'.

It was an occasion that all those present will not forget for a very long time.

Profitable return

Making a return to the Saddleworth circuit after a few years in Tameside was Leyland under Richard Evans, and it proved to be a profitable night for the Lancastrians.

Performing a Tricky Dicky favourite, 'The Wizard', victories at Diggle and Lydgate were the high point, whilst a cluster of podium placings (including a post midnight performance in Delph) across their nine venues gave them a takeaway package worth £3,900.

Third place battle

The battle for third place was arguably the tightest it has been for many a year.

Hepworth, Marsden Silver and Rothwell Temperance were all in contention for the final podium spot after their best six results found them on equal points.

The tie breaker best seventh contest result had to be invoked which meant the overall result went in favour of Marsden Silver who had a fourth place compared to Hepworth and Rothwell's fifth.

It was that tight.

Marsden certainly carried on its recent good form on 'Knight Templar'.

Under the direction of Paul Andrews, (who must have wondered what day it was, never mind what country he was in, after just stepping off the plane from Australia), they took the £1,000 first prize at Uppermill combined with two seconds, a third and a hat-trick of fourths, to and boost their bank balance by over £4,000.



Eyes on other prizes for Rothwell's top man James McCabe

Unfortunate

Hepworth and Rothwell can consider themselves a touch unfortunate to have missed out, but their eyes were perhaps already focussed on Preston and the English Nationals Championship.

Hepworth under the direction Mike Howley took a trio of runners up spots, whilst Rothwell had two firsts to celebrate in a confident evening's work.

Local honours

The local honours went to Co-operative Milnrow directed by Phil Rosier, who was yet another band to find success with 'Knight Templar', whilst Oldham (Lees) continued to show they can mix it with the best finishing as runners up. James Shepherd's Diggle finished third.

When it came to the Youth prizes, it was the energetic and highly talented Dobcross Youth who took the spoils after an enjoyable evening of contesting.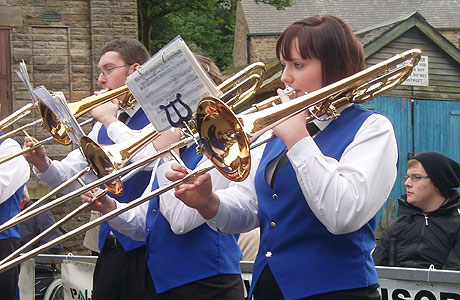 Youth to the fore for Rochdale

Good nights

Away from the main prizes, there were good nights for Hammonds Saltaire and Rainford, as well the students from Birmingham Conservatoire who had had four top ten finishes.

National finalists City of Bradford enjoyed the experience aided by former Black Dyke euph star John French in the ranks, whilst Whit Friday regulars Dobcross Silver, Boarshurst and Uppermill all enjoyed a fair bit of success once again.

Tameside battle

Over in Tameside, Foden's directed by Michael Fowles regained the Tameside Championship after a tight battle with defending champion, Fairey (Geneva).

In a highly enjoyable head to head, both bands competed at all of the eleven venues and both played the classic Whit Friday bomper, 'The President'.

Final destination

With four wins apiece for a second year in a row, they had to wait until Saturday morning to find out the all important result from Carrbrook, which would decide the final destination of the Whit Friday title.

Foden's were victorious – and took the honours and £6,300 prize money for their efforts.

Fairey (Geneva) conducted by Garry Cutt couldn't have done any more than they did to retain the championship, and whilst disappointed, they also banked a very handy £4,000 plus.

Local champions

Tameside's own Ashton-under-Lyne had a night to remember after competing at all of the eleven venues.

They beat off the challenge of Co-operative Funeralcare Northwest and Wingates to take third place in the overall standings.

Once again it was a Whit Friday favourite, 'The Wizard' that helped them out, and with the 'Local title' claimed for a fourth year on the trot they also bagged £2,550 in prize money.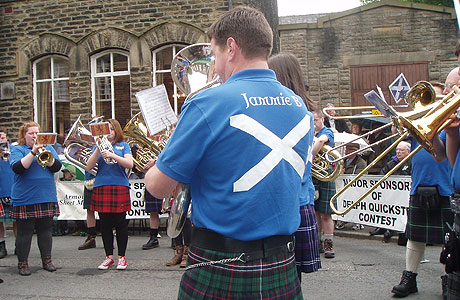 X marks the spot for Tartan Brass...

Scratch bands

As always, there were a number of scratch bands and just one condender from Norway out and about on the various circuits this year – some in more questionable fine weather dress than others!

Brass Toffs, Cartoon Brass (who even brought choreography into their performance), Gaga 4 Brass, Hula Hores, Tartan Brass and Yellow Bellies all enjoyed a great evening, entertaining themselves as well as the crowds on the streets.

Damp weather

The weather forecast in advance of the day was for torrential rain across the Pennines, but thankfully it stayed dry until late afternoon.

Despite the showers and occasional heavy downpour, the weather failed to dampen the spirits and the contest organisers commended all involved for their dedication to the night.

Ten out of the eleven venues in Tameside had more than 40 competing bands whilst pride of place in the numbers game went to Delph who broke its previous record with 82 competing bands.

The results were announced just four hours before sunrise.

Eyes and pies

As always, there were some eye-catching results, plenty of debate, oceans of alcohol consumed, pies eaten by the bucketload and plenty of fun and games.

The playing was great too. That's a tradition that never changes.

Next year's Whit Friday is on the 1st June, which is the start of an extended holiday weekend to celebrate the Queen's Golden Jubilee.

Malcolm Wood