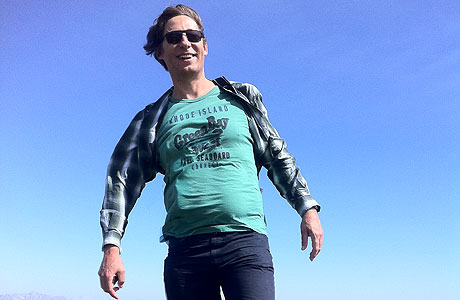 The man from Nowhere- Thomas Doss

In early 2010 Austrian born composer, conductor and pedagogue Thomas Doss sensationally arrived on the brass band scene when two major works, 'Sketches from Nowhere' and 'Spiriti', were used as the set works at the Norwegian National and European Championships, within three months of each other.

With Doss already possessing a far reaching reputation as a composer of orchestral, chamber and vocal music, both works made an immense impression and it quickly became evident that here was a composer for brass with a fresh, exciting voice coupled with the technical means to express it.

Both 'Sketches from Nowhere' and 'Spiriti' (used for the Europeans in his hometown of Linz in 2010) combine colours, texture and timbre to an eclectic, contemporary musical language revealing an abundant flare for melody and atmosphere.

His ability to successfully integrate influences as wide ranging as the Germanic classics, film, jazz and rock makes him a composer of intriguing originality.

As yet, Doss's music is yet to have been played extensively in the UK – a puzzling oversight for those who have heard his music first hand.

4BR's Chris Thomas found a brief gap in the schedule of the busy musician and father of five, to discuss his music and his new found fascination with brass bands.
---
Chris Thomas: Could you tell us something of your earliest musical experiences and formative years?

Thomas Doss: My father and mother were both professional trombone players, so I couldn't escape a very intensive musical education from my earliest childhood.

We lived in the 'theatre-house' apartments with opera singers and conductors so you can imagine.....there was a lot of music both day and night.

I started to play trombone when I was seven but I always felt unhappy with it.

Even then I could always hear the sound of an orchestra in my head.

I composed pieces in my mind without writing anything down, simply because I was a child and not able to write what I heard for this many instruments.

After playing for some years in the youth orchestra under Franz Welser-Möst I also knew I would also conduct an orchestra.

After my trombone study I changed to composing and conducting. I founded a Youth Symphony Orchestra and performed my 1st Symphony when I was 19.

That paved the way for me both as a conductor and composer.
---
Chris Thomas: In 1989 you spent some time working at MGM Studios in Los Angeles with the legendary John Williams.

What were your experiences of working with arguably the greatest ever composer of film music, and what did you learn from him?

Thomas Doss: Working with orchestras with him in the studios made a huge impression on me.

The most important thing I learnt was to maintain a good professional working atmosphere at all times, but always to be a very nice person at the same time.

I have always tried to keep to this.
---
Chris Thomas: When did you hear your first British style brass band and what impression did it make on you at the time?

Thomas Doss: It was at the 2007 European Brass Band Championships in Birmingham and it was something absolute new to me.

From working with Symphony Orchestras in Bohemia I had already heard this style of vibrato playing in an orchestra - it's actually very similar.

I didn't like it in the Symphony Orchestra but in the brass band I loved it! It's simply singing.

I had never heard such sounds as I heard from bands like Cory and Black Dyke.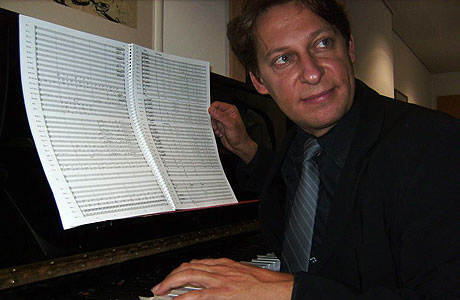 ---
Chris Thomas: As a native of Linz how much did it mean to you to see your hometown host the European Championships in 2010 and to hear your work 'Spiriti' played as the test piece?

Thomas Doss: I was just very proud and happy!

Linz has no tradition in brass band music, and for that reason I was very pleased that the musical natives had the chance to get an impression of just how high the standard and quality of the music is.
---
Chris Thomas: One of the highlights of that weekend was the performance of Austria's Brass Band Oberösterreich under Hannes Buchegger.

How important do you feel Brass Band Oberösterreich has been for the reputation and development of brass bands in Austria?

Thomas Doss: It's very important, and I really do hope that we can find more people like Hannes who have the fire in their bellies for this genre!

We need a lobby and I think we now have that.

Brass Band Oberösterreich has made this genre well known and beloved in Upper Austria.
---
Chris Thomas: In 'Sketches from Nowhere' and 'Spiriti' you clearly delight in the textures of the brass band and finding in new and fascinating colours within the ensemble.

Is this something you are very conscious of when writing for brass band?

Thomas Doss: To be honest no.

I just write what I hear and my job was to write a piece for the Championship Section that means that almost everything is possible - so fortunately I was totally free to write down exactly what I had in my mind.

Sometimes I have commissions with strict rules and I have to follow those rules, especially when I write for amateur musicians.
---
Chris Thomas: What made you turn to the hymn tune 'The Old Hundredth' for inspiration in 'Spiriti'?

Thomas Doss: Actually what I used is an old Bach Chorale, 'Für deinen Thron tret ich hiermit' although it is very similar to 'The Old Hundredth'.

It wasn't until after the first performance that I actually realised this when I performed a Symphony by the American composer David Maslanka which used this theme too.
---
Chris Thomas: 'Sir Eu', effectively a mini-concerto for euphonium and brass band, is considerably lighter and more relaxed in its language and style than 'Spiriti' or 'Sketches from Nowhere'.

You obviously feel very comfortable in your ability to write in contrasting styles and genres?

Thomas Doss: Yes, I like a lot of different genres and for that reason I think I´m pretty flexible as a composer.

This piece was a commission and the instruction was to write, 'light music'.
---
Chris Thomas: This creative eclecticism can take your music through tonality and dissonance to the influence of jazz and rock.

Is this plurality of style reflected in the music that you choose to listen to?

Thomas Doss: I listen to all kinds of music, from rock to Indian native music and from jazz to Beethoven.

As a father I also have to listen to the music young people are listening to. Sometimes I really like it!

Music has a lot of colours and I don't like borders or boundaries in music and the arts.

Our world is also colourful and music is one way to show people this kind of tolerance.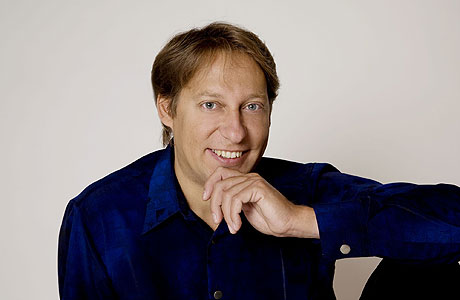 ---
Chris Thomas: 'Spiriti', 'Sketches from Nowhere' and 'Toccata e Fantasia' all make substantial technical demands on players, but do you approach writing a work any differently if you know that it is to be used as a test piece?

Thomas Doss: Yes – it makes a difference when I know that I don't have to make as many technical compromises.
---
Chris Thomas: Despite the wide-ranging genres of your music, you have developed a particular reputation for writing for wind band.

Other than the fact that you play a brass instrument yourself, what is it that continues to draw you to the wind and brass band?

Thomas Doss: I write also chamber music, operas and music for choir.

Wind band music is easier to get performed and that's what I like as composer – to be performed.

In my own language I would describe myself more as a 'musikant' then a musician.

This means that to make music is more important than to think about it.
---
Chris Thomas : Your creative collaborations have seen you work with artists as diverse as Thomas Gansch, Stephen Mead, jazz guitarist Harri Stoijka and Chris de Burgh.

Do you enjoy working in close contact with the musicians that perform your music and what do you gain from this?

Thomas Doss: Learning, learning and more learning from these people.

For example Harrie Stojka is a Romany.

He cannot read music but he is one of the best musicians and jazz guitarists I have ever heard.

His way of making music is absolutely free and authentic.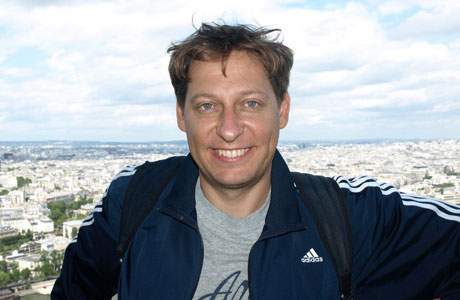 ---
Chris Thomas: Along with composing, teaching and conducting also play an important part in your musical career and life.

Is it crucial to you that these three elements co-exist in your musical life?

Thomas Doss: There are times when I wish I could just be a composer but my children are hungry!
---
Chris Thomas: What ambitions do you still have left to fulfil in your career?

Thomas Doss: That's something I really have to think hard about.

On a private level it would be to have time for my family, my garden and travelling.
---
Chris Thomas: And finally, do you see yourself writing for brass band again in the future?

Thomas Doss: Yes I do!
---
Chris Thomas: Many thanks for talking to us.

For more information about Thomas Doss, go to:www.thomas-doss.com/en_uebersicht.html