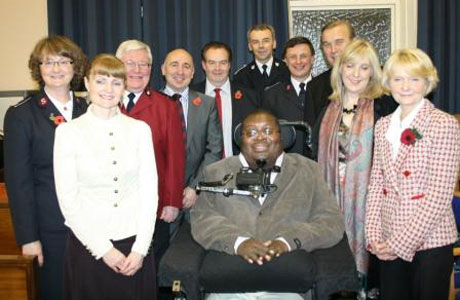 A wonderful line up for a wonderful celebration

The Sunderland Monkwearmouth Corps is blessed with having one of the largest Salvation Army brass bands anywhere in the United Kingdom.
However, with over 45 playing members, plus a small Young Persons group and a large Songster Brigade, it is inevitable that its hard worked instrument stock (from cornets to pianos and tambourines) comes under greater pressure for repair or renewal than most organisations.
Sad circumstances

The opportunity therefore to be able to obtain new instruments and equipment was one that was welcomed, despite the sadness of the circumstances, and in the long held Salvation Army tradition, the good fortune became a cause for celebration and thanksgiving.

That ability came through a bequest from a former member, Neville Quinn, who passed away in 2001.
His brother Gordon still plays within the Corps ranks, and it was he who organised this marvellous event.

Neville's other brother Keith, used to provide a superb second hand brass band LP service, until a period of ill health stopped his wonderful business.
Generosity

As a result of Neville's generosity, and through the excellent service provided by Normans Musical Instruments, the Songsters obtained a new electric keyboard and speaker, whilst the band purchased 21 brand new, and much needed brass and percussion instruments.
They were also able to gain a fabulous looking 22nd instrument too - an important addition for any Army band in the form of a brand new bass drum, beautifully painted in memory of Neville.

The evening also provided the opportunity to raise funds for the Clarence Adoo Trust – and the inspirational man himself was in attendance.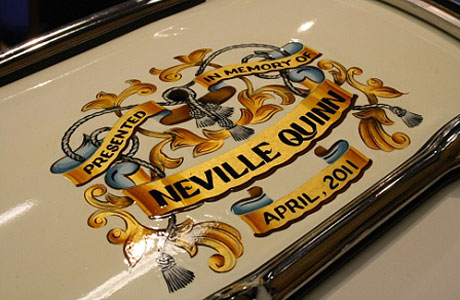 Remembered in writing...
Musical and spiritual testimoy

The Festival was a mixture of musical and spiritual testimony, and whilst 'non Salvationists' could be forgiven for feeling a little puzzled by the format, the purpose of dedicating the new instruments provided a joyous feeling of celebration.

Roger Webster was the guest soloist, leading a superb afternoon masterclass before amply demonstrating his superlative technique in his two solo spots in the main evening concert.

Stephen Bulla's rhapsody 'Crossroad' and 'I'd Rather Have Jesus' in William Himes' tender arrangement of George Beverly Shea's classic hymn, that many remember from evangelist Billy Graham's many crusades, were played with spellbinding facility.
Next year is the 80th anniversary of its composition, and if he is spared until the 1st February, Shea will reach the grand age of 103!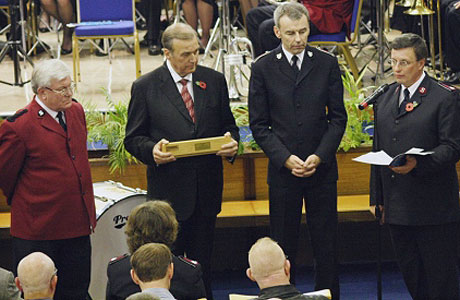 Musical and spiritual testimony

Security and style

Roger's second solo spot featured Vincent Bach's 'Hungarian Dances' and Peter Meechan's arrangement of the traditional Japanese folk song 'Furusato'.
Accomplished throughout, his playing and professionalism proved that he is still one of the finest exponents of his craft.

Despite a few little moments of uncertainty during quieter passages, the band accompanied with security and style too.

The tenor vocalist Andy Ward is a life-long Salvationist, and a former member of the International Staff Songsters. He is currently singing with the City of Birmingham Symphony Chorus, and his talent shone in the 'Sancta Maria' from Mascagni's 'Cavalleria Rusticana'.
Of course bandsmen everywhere, (particular soprano players), know this as the famous 'Intermezzo', but here it was given the full operatic treatment in a lovely rendition.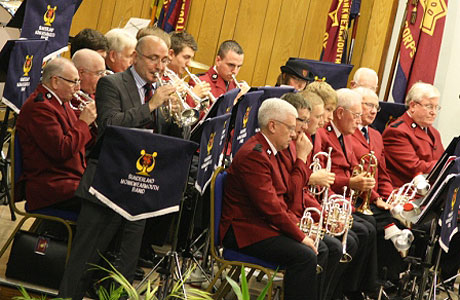 Roger Webster on splendid form...

Flanders & Swan

'Ill Wind', an old favourite from the repertoire of Flanders & Swan (Flander's daughter Stephanie can be seen most nights as the BBC's financial economics guru) provided a period of light relief.
'Will Your Anchor Hold', proved interesting, whilst his full throated version of 'We are the Reason' accompanied by the band, was delivered with richly hued panache.
The contributions of the Songster Brigade were also full throated and committed, although the more modern compositions of today surely don't compare to the offerings of masters of the genre - Ball, Bearcroft and Steadman-Allen.
'Celebrate His Love' and 'I Am' seemed underwhelming, and I for one would like to hear this large group of over 40 members, tackle some real 'meaty' choral Army classics. They do produce a wonderful sound.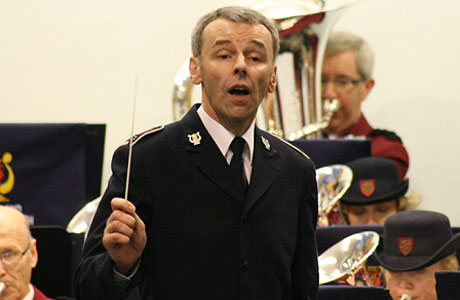 Bandmaster Nick Hall keeps a tight rein on things...

Passion

The band itself opened proceedings with William Himes' 'Fanfare & Prelude on St. Francis' and closed the evening with the benediction, 'God Be With You'.
Intertwined were two Leslie Condon classics, which certainly demonstrated the genius of the much missed composer in two well delivered, passionately committed performances.
'The Present Age' was nicely accompanied by a visual presentation.
Depicting the struggles of a young Christian, the new bass drum got a good work-out during the central movement, as the beliefs of the young man are challenged by more 'worldly' passions.
Celebration

The wonderful march 'Celebration' included, for me, the finest trio section of Salvation Army marches - the tune of which accompanies the words 'We'll keep the old flag flying, flying round the world'.

It's stirring stuff, and even if you are not a Salvationist, it is a fabulous example of a traditional brass band march.

Throughout the evening the impressive Bandmaster, Nick Hall, kept a tight rein of his resources. Dynamics were kept to a sensible level, especially in the dry acoustic of the Corps Hall.
There was very little harshness of tone and the balance throughout was well controlled, especially when you have 16 cornets, 8 horns, 7 euphoniums and baritones to manage!
And although the band could do with other one or two more tubas to fully balance the numbers, the chaps on the bass end did a tremendous job.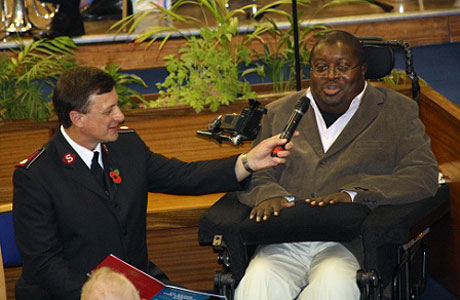 Lighting up the night - The inspirational Clarence Adoo

Lit up the night

However, it was the presence of Clarence Adoo which lit up the night.
Meeting up once more with this inspirational man is always an immense pleasure, and although he revealed that he wouldn't be making his usual trip to Brass in Concert this year due to a commitment in Brussels, he bubbled with his usual enthusiasm for all things musical.
Charming, humble, eloquent and full of the joys of life, his immense personal spiritual belief shines through.
The final word therefore goes to Roger Webster who summed him up beautifully: 'Out of all the people I've met, he's the one person who truly walks amongst us. He walks the path that has been set for him, never ending, never failing, and he's an inspiration to everyone that meets him'.
And so say all of us.
It was a fitting way to end an uplifting day.

Steve Jack