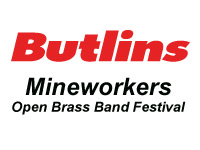 Third Section:
Royal Arthur Suite
Saturday 21st
Commences: 11.00am

Adjudicators: Graham O'Connor & Kevin Holdgate
Test Piece: Three Miniature (Philip Sparke)
First Prize: £2,000 plus Champions Banner
Second Prize: £1,000
Third Prize: £700
Fourth Prize: £500
NUM Challenge Trophy for Highest Placed Mining Band
---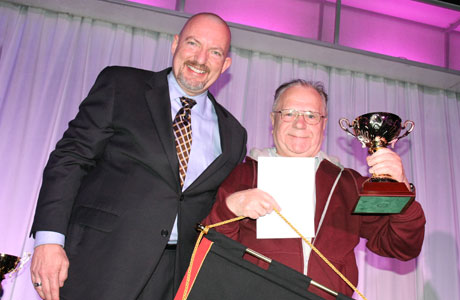 All smiles for Pemberton in 2011

There should be plenty of keen competition in the Third Section thanks to a well chosen work in Philip Sparke's 'Three Miniatures'.

It was originally commissioned by the National Youth Brass Band of Switzerland for their 1994 course and used as the Third Section set work for the National Finals in 1998.

Expertly constructed

As you would expect, it's an expertly constructed work – balanced, evocative and rhythmically exciting.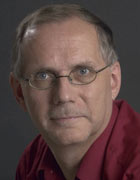 The opening 'Prelude' brings to mind Benjamin Britten's 'Peter Grimes' – even though the Swiss are not exactly famous for their nautical antics, whilst the lovely 'Hill Song' that follows really does set a picture of what the composer calls, '...a deserted pastoral upland'.
There are musical rather than technical tests for the leading players – the flugel in particular - and the key will surely lie in the MDs ability to portray chocolate box beauty without resorting to sugar coated overload.
The 'Scherzo' is light, breezy and more than a little dislocated in feel at times – a bit like the Swiss in fact, and brings a testing but highly accessible work to a fizzing conclusion.
Well matched

The 15 bands and the two men in the box, Graham O'Connor and Kevin Holdgate, should enjoy themselves then – and with some well matched bands it could be an intriguing battle to see who eventually comes out on top.
Seven of last year's contenders will take to the stage, where they will be joined by two bands who took part in the Fourth Section and one in the Second.

Top three back

The top three prize winners are back once more, plus last year's Fourth Section champion, whilst four bands went on to qualify for the National Finals in Cheltenham either in the Third or Fourth Section.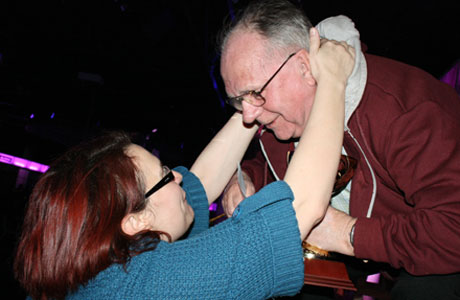 Gis a kiss! That's what you get for winning at Butlins...

Fine style

It will be Pemberton Old JJB (B) looking to defend its title under the baton of Peter Ashley.

They took the honours in fine style last year, although they did miss out on qualification to Cheltenham a few weeks later.

Fate

The same fate also befell the other podium finishers, with Hucknall & Linby Brass falling away to a midfield finish at Bedworth and the fancied Eccles Borough only managing to claim a top six finish at Blackpool.

Both will be hoping that further success this year won't end in the same Area result.

Build

One band that did build on their Butlins success was Whitworth Vale & Healey, who came 5th and went on to come runner up at Blackpool and 4th at Cheltenham under the direction of John Binns.

If they have been able to build on that form they could be one of the short priced favourites this weekend.
Yorkshire duo

Two other bands that certainly built on their Butlins experience were Dronfield and Dinnington Colliery.

Dronfield retained the Fourth Section title 12 months ago and went on to qualify for Cheltenham, where they were joined by Jonathon Beatty and his band who pipped their rivals at Bradford.

Both should be confident of doing well even following the step up in class.
Promoted

Other promoted bands to possibly look out for are Boarshurst Silver under the direction of the experienced David Ashworth, who came 5th at Cheltenham, whilst Backworth Colliery from the North of England is also a band very much on the rise under the direction of Callum Harrison.
Emley Brass under the talented Garry Hallas will be aiming to make an immediate impression following their relegation from the Second Section in Yorkshire, whilst the same applies to Ibstock Brick Brass, who dropped through the trap door in the Midlands.

Locals

They will be part of a strong local contingent this year with Croft Silver, Rolls Royce (Derby) and Stamford Brass all looking to produce some decent form ahead of the Area contest in Bedworth, where they all ended in the midfield places last time out.
That just leaves the two bands that have made the trip up from London, with Hitchin and Hemel Hempstead looking to improve on last year's 9th and 12th place finishes respectively to give a pre-Stevenage boost.

Iwan Fox
---
So who will be cracking open the not so miniature bottle of celebration bubbly come the results?
The North West once again sends a strong line up of contenders headed by Whitworth Vale & Healey if they have built on their Cheltenham good form, closely followed by the rising Eccles Borough and last year's winner Pemberton Old.
Hucknall & Linby should be in the mix if they play as well as they did last year, whilst Dronfield and Ibstock Brick could be pushing them for a possible podium finish. Our dark horse is Emley Brass.

4BR Prediction:
1. Whitworth Vale & Healey
2. Eccles Borough
3. Pemberton Old JJB B
4. Hucknall & Linby
5. Dronfield
6. Ibstock Brick Brass
Dark Horse: Emley Brass