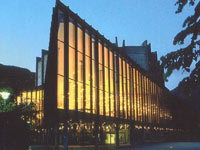 First Division:
Adjudicators: Philip Harper & John Wallace
Saturday 11th February (9.00)
---
We know we keep saying it, but the Norwegians have really got the concept of what a fit for purpose 'First Section' should be like.
12 bands take to the stage to play their selections on Saturday – all with a realistic appreciation of just what level of performance they must achieve if they are to be in with any chance of making the step up to the Elite level.
Interesting

It will be interesting to hear just what John Wallace and Philip Harper make of it all in as they make up their minds outside the confines of the box.
Two quality bands come down from the Elite level with three promoted from the Second Division: As a result, the standard could be frighteningly good, because at least three of these ensembles could hold their own at the British Open.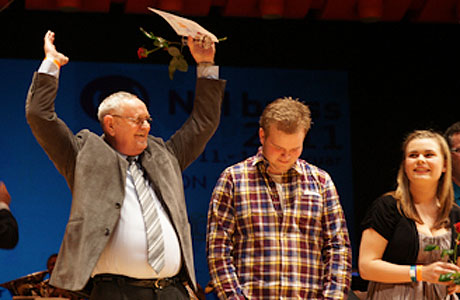 Jaren delight as they take the 2011 First Division title

Bounce back

The two bands determined to bounce right back are Oslofjord Brass and twice National champion, Sandefjord Brass Symposium.

The talented youngsters of Oslofjord once again team up with Simon Dobson.
Their 11 year stay in the Elite Division ended last year, but they should be confident of making an immediate return, as the Cornishman does bring a touch of musical élan to the contest stage.

'Concerto No 1' by Derek Bourgeois is certainly an intriguing own choice – full of sensuous writing and an equally black as pitch wit.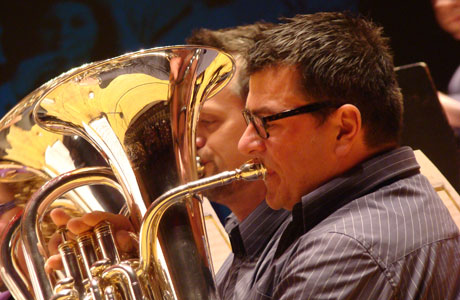 Bjorsvik alumni: Tormod Flaten with Bjorsvik Brass...

Exciting

Sandefjord certainly knows what it takes to win this title having triumphed in 2010, but they rather misplaced the volume switch last year in trying to create an Elite dynamic impression.
The exciting Tarjei Gilbrant takes over the baton as they seek their third First Division title and a quick promotion back courtesy of the more refined musicality of Peter Graham's 'The Essence of Time'.
Promoted challenge

The three promoted challengers are headed by the band everyone loves to hear – Bjorsvik Brass, who have made such an impression at this event in the past three years.
Under Russell Gray, the former Eikanger 'alumni' have produced some remarkable performances (not least last year), so it will be interesting to find out how they get on with Philip Sparke's 'Variations on an Enigma' – a tough old ask of Elite bands at the best of times.

You won't bet against them pulling something out of the hat once more though.
Radoy Brass will be directed by the elegant baton of Helge Haukas this year as they seek to claim their third First Division title.

Eric Ball's classic 'Journey into Freedom' is an interesting choice given some of the showstoppers around them, but it could be an inspired one for a band that showed good form in claiming a podium finish at SIDDIS.
Brottum return to the First Division after a five year spell away.

After coming third last year not far behind their two powerful rivals they will be confident of delivering a solid performance on Philip Sparke's crowd pleasing 'Year of the Dragon'.
Decent form

Two bands that bring decent form from SIDDIS are Laksevag Musikkforening and Musikkorpset Gjallahorn, who came 4th and 5th in Stavanger respectively, and were closely matched here last year in coming 7th and 8th.
They have opted for two interesting works too; Laksevag performing Joseph Horovitz's lightly textured 'Ballet for Band' and Gjallahorn opting for Philip Wilby's rarely heard 'Leonardo'.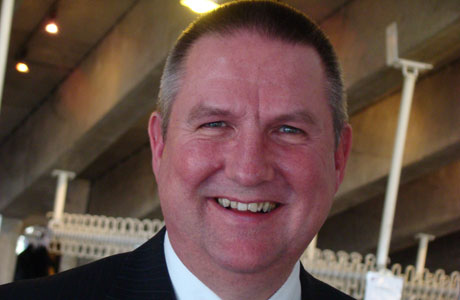 The Bergen branch of Morrisons will be on show again...

Kick off

Oster Brass will kick off the contest with Torstein Aagaard-Nilsen directing Philip Sparke's 'Land of the Long White Cloud', as they seek to build on last year's joint 5th place, whilst 2009 winners, Tertnes Brass will be seeking a fourth First Division title under the baton of the exciting John Philip Hannevik.

They have also opted for a Sparke classic in 'Harmony Music', as they look to push up from last year's third place finish.
Improving

The improving Jolster Musikklag, who claimed consecutive Third and Second Division titles in 2006 & 2007 will be seeking to continue their good form with Michael Ball's 'Frontier' under the baton of the talented Arvid Anthun.

They were 4th last year so could be a dark horse.
Another improving band, Orskog return with Alan Morrison at the helm after they posted an impressive 5th place last year.

This time around they have chosen Philip Wilby's evocative 'Lowry Sketchbook', whilst Sorum Musikklag have gone for the equally colourful 'Remembrance' by Bertrand Moren as they look to move up the results table under the baton of Christian Tenfjord.
---
4BR Prediction:

A contest to savour on the Saturday, and one that could be a bit of an eye opener for those tuning in from the UK.
As for a winner?

The top three bands of Bjorsvik, Sandefjord and Oslofjord look to have all the qualities to battle it out for the title, although the likes of Tertnes, Radoy and Oster won't be too far behind. Our dark horse is Jolster.

1. Bjorsvik Brass
2. Sandefjord Brass Symposium
3. Olsofjord Brass
4. Tertnes Brass
5. Radoy Brass
6. Oster Brass

Dark Horse: Jolster Musikklag
---
Oster Brass
Conductor: Torstein Aagaard-Nilsen

2012 Draw: 1
Own Choice Selection: Land of the Long White Cloud (Philip Sparke)

National Record:
2011: = 5th (Torstein Aagaard-Nilsen)
2010: 5th in Second Division (Torstein Aagaard-Nilsen) (prom)
2009: 11th in First Division (Torstein Aagaard-Nilsen) (rel)
2008: =5th (Torstein Aagaard-Nilsen)
2007: 7th (Torstein Aagaard-Nilsen)
2006: 9th (Reid Gilje)
2005: 5th (Reid Gilje)
2004: 10th (Oddmund Hjartaker)
2003: 11th
2002: 10th
2001: 8th
2000: 10th
Overall Record:
Second Division Champions: 1982, 1983, 1992, 1995

Last Year: 5th

Own Choice Selection:
2011: A Lowry Sketchbook
2010: Connotations
2009: The Essence of Time
2008: Dances and Arias
2007: Forest of Dean
2006: Variations on an Enigma
2005: English Heritage
---
Bjorsvik Brass
Conductor: Russell Gray

2012 Draw: 2
Own Choice Selection: Variations on an Enigma (Philip Sparke)

National Record:
2011: Winners of Second Division (Russell Gray) (prom)
2010: Winners of Third Division (Russell Gray) (prom)
2009: Winners of Fourth Division (Russell Gray) (prom)

Overall Record:
Second Division Champions: 2011
Third Division Champions: 2010
Fourth Division Champions: 2009

Last year: Winners of Second Division (Russell Gray) (prom)

Own Choice Selections:
2011: The Essence of Time
2010: Partita
2009: Journey into Freedom
---
Radøy Brass
Conductor: Helge Haukas

2012 Draw: 3
Own Choice Selection: Journey into Freedom (Eric Ball)

National Record:
2011: 2nd in Second Division (Gareth Pritchard) (prom)
2010: 7th (Tormod Flaten)
2009: 12th in First Division (Tormod Flaten) (rel)
2008: =5th (Tormod Flaten)
2007: 6th (Gareth Pritchard)
2006: 8th (Gareth Pritchard)
2005: 8th (Gareth Pritchard)
2004: 2nd (Gareth Pritchard)
2003: 5th
2002: 9th
2001: 5th
2000: 5th
Overall Record:
First Division Champions: 1994, 1997
Second Division Champions: 1988, 1990, 1991

Last Year: 2nd in Second Division (prom)

Own Choice Selection:
2011: The Year of the Dragon
2010: Coventry Variations
2009: Dances & Alleluias
2008: Diversions on a Bass Theme
2007: Montage
2006: Odyssey
2005: London Overture
---
Tertnes Brass
Conductor: John Philip Hannevik

2012 Draw: 4

Own Choice Selection: Harmony Music (Philip Sparke)
National Record:
2011: 3rd (Yngve Nikolaisen)
2010: 9th in Elite Division (Philip Hannevik) (rel)
2009: Winners of First Division (Gary Peterson) (prom)
2008: 10th in Elite Division (Bjørn Breistein) (rel)
2007: 7th (Bjørn Breistein)
2006: 8th (Bjørn Breistein)
2005: Winners of First Division (Bjorn Breistein)
2004: 10th in Elite Section (Bjorn Breistein)
2003: Winners of First Division (John Hinkley)
2002: 10th in Elite Division
2001: 7th in Elite Division
2000: 6th in Elite Division

Overall Record:
First Division Champions: 2003, 2005, 2009
Second Division Champions: 1984 and 1985

Last Year: 3rd

Own Choice Selection
2011: The Year of the Dragon
2010: Prague
2009: Dances & Arias
2008: Tallis Variations
2007: Ascending – learning how to fly
2006: Contest Music
2005: Dances and Arias
2004: …Dove Decending
2003: Variations on an Enigma
---
Brøttum Musikkforening
Conductor: Thorbjorn Lunde

2012 Draw: 5
Own Choice Selection: The Year of the Dragon (Philip Sparke)

National Record:
2011: 3rd in Second Division (Michael Antrobus) (prom)
2010: 3rd (Michael Antrobus)
2009: 4th (Erling Myserth)
2008: =5th (Erling Myserth)
2007: 4th (Thorbjørn Lunde)
2006: 10th in First Division (Thorbjørn Lunde) (rel)
2005: 6th (Thorbjørn Lunde)
2004: 9th (Thorbjørn Lunde)
2003: Winners of Second Division (prom)
2002: 8th in First Division
2001: 3rd
2000: 9th in First Division

Overall Record:
Second Division Champions: 1999, 2003

Last Year: 3rd in Second Division (prom)

Own Choice Selection:
2011: Sounds
2010: Five Blooms in a Welsh Garden
2009: Tallis Variations
2008: Trittico for Brass Band
2007: Diversions on a Bass Theme
2006: Chivalry
2005: Montage
---
Jølster Musikklag
Conductor: Arvid Anthun

2012 Draw: 6
Own Choice Selection: Frontier (Michael Ball)

National Record:
2011: 4th (Arvid Anthun)
2010: 9th (Arvid Anthun)
2009: 4th (Arvid Anthun)
2008: =7th (Arvid Anthun)
2007: Winners of Second Division (Arvid Anthun) (prom)
2006: Winners of Third Division (Arvid Anthun) (prom)
2005: 4th (Arvid Anthun)
2004: 2nd in Fourth Division (Arvid Anthun) (prom)
2003: 9th in Third Division (rel)
2002: 7th
2001: 4th
2000: 6th

Overall Record:
Second Division Champions: 2007
Third Division Champions: 1993, 2006

Last Year: 4th

Own Choice Selections:
2011: Dances & Arias
2010: A Kensington Concerto
2009: Ballet for Band
2008: Pageantry
2007: The Lord is King
2006: Voyage of Discovery
2005: Nautalis
---
Oslofjord Brass
Conductor: Simon Dobson

2012 Draw: 7

Own Choice Selection: Concerto No 1 (Derek Bourgeois)

National Record:
2011: 10th in Elite Division (Simon Dobson) (rel)
2010: 5th (Simon Dobson)
2009: 8th (Armin Renggli)
2008: 5th (Selmer Simonsen)
2007: 5th (Michael Antrobus)
2006: 4th (Michael Antrobus)
2005: 9th (Garry Cutt)
2004: 9th (Christian Tenfjord)
2003: 8th (Robert Childs)
2002: 5th (Peter Parkes)
2001: 8th (Selmer Simonsen)
2000: Winners of First Division (Selmer Simonsen) (prom)
Overall Record:
First Division Champions: 2000

Last Year: 10th in Elite Division (rel)

Own Choice Selection:
2011: Titan's Progress
2010: Sounds
2009: Journey to the Centre of the Earth
2008: Music of the Spheres
2007: Aubade – Dawn Songs of the Fabulous Birds
2006: Whitsun Wakes
2005: Paganini Variations
2004: Montage
2003: Revelation
2002: Contest Music
---
Laksevåg Musikkforening
Conductor: Philip Hannevik

2012 Draw: 8
Own Choice Selection: Ballet for Band (Joseph Horovitz)

National Record:
2011: 7th (Philip Hannevik)
2010: 8th (Tom Brevik)
2009: =7th (Tom Brevik)
2008: 11th (Tom Brevik)
2007: =4th (Tom Brevik)
2006: 4th in Third Division (Tom Brevik) (promoted to First Division)
2005: 3rd (Tom Brevik)
2004: 5th (Tom Brevik)
2003: 7th
2002: 12th in Second Division (rel)
2001: 6th in Second Division
2000: 2nd

Last Year: 7th

Own Choice Selections:
2011: Chivalry
2010: Paganini Variations
2009: Tallis Variations
2008: Festival Music
2007: A Kensington Concerto
2006: The Land of the Long White Cloud
2005: Salute to Youth
---
Musikkorpset Gjallarhorn
Conductor: Espen Westbye

2012 Draw: 9
Own Choice Selection: Leonardo (Philip Wilby)

National Record:
2011: 8th (Espen Westbye)
2010: 2nd in Second Division (Espen Westbye) (prom)
2009: =6th (Espen Westbye)
2008: 8th (Espen Westbye)
2007: Winners of Third Division (Espen Westbye) (prom)
2006: 6th (Espen Westbye)
2005: 9th (Rolf Aksel Gilje)
2004: 11th in Second Division (Alan Fernie) (rel)
2003: 6th
2002: 3rd
2001: 5th
2000: 12th in First Division (rel)

Overall Record:
Second Division Champions: 1980, 1989, 1996
Third Division Champions: 2007

Last Year: 8th

Own Choice Selections:
2011: Sounds
2010: Labour and Love
2009: Heart of a Salvationist
2008: Forest of Dean
2007: The Land of the Long White Cloud
2006: Excalibur
2005: Blazon
---
Sandefjord Brass Symposium
Conductor: Tarjei Gilbrant

2012 Draw: 10
Own Choice Selection: The Essence of Time (Peter Graham)

National Record:
2011: 9th in Elite Division (David Roberts) (rel)
2010: Winners of First Division (David Roberts)
2009: 10th in Elite Division (Michael Antrobus) (rel)
2008: 9th (Garry Cutt)
2007: 10th (Garry Cutt)
2006: 6th (Ray Farr)
2005: 3rd (Robert Childs)
2004: 6th (John Philip Hannevik)
2003: 3rd (Garry Cutt)
2002: 6th (N/K)
2001: 4th (Bryan Hurdley)
2000: Winners (Garry Cutt)
Overall Record:
Champions: 1998, 2000
First Division Champions: 1996, 2010

Last Year: 9th in Elite Division (rel)
Own Choice Selection:
2011: On the Shoulders of Giants
2010: Eden
2009: Tristan Encounters
2008: Extreme Makeover
2007: Dances and Alleluias
2006: Music for the Moving Image
2005: St. Magnus
2004: Apocalypse
2003: Of Men and Mountains
2002: …Dove Descending
---
Sørum Musikklag
Conductor: Christian Tenfjord

2012 Draw: 11
Own Choice Selection: Remembrance (Bertrand Moren)

National Record:
2011: 9th (Christian Tenfjord)
2010: 7th (Christian Tenfjord)
2009: 6th (Christian Tenfjord)
2008: 2nd (Christian Tenfjord)
2007: =8th (Christian Tenfjord)
2006: 2nd in Second Division (Erling J. Myrseth) (prom)
2005: 11th in First Division (Erling J. Myrseth)
2004: =7th (Trond Elnes)
2003: 7th
2002: 7th
2001: 2nd in Second Division (prom)
2000: Joint 5th in Second Division

Overall Record:
Third Division Champions: 1994

Last Year: 9th

Own Choice Selection:
2011: Dances & Arias
2010: Harrison's Dream
2009: Dove Descending
2008: Journey to the Centre of the Earth
2007: A Lowry Sketchbook
2006: Trittico
2005: Spectrum
---
Ørskog Brass
Conductor: Alan Morrison

2012 Draw: 12
Own Choice Selection: Lowry Sketchbook (Philip Wilby)

National Record:
2011: = 5th (Alan Morrison)
2010: Winners of Second Division (Karl Ole Midtbo) (prom)
2009: 10th in First Division (John Hudson) (rel)
2008: Winners of Second Division (John Hudson) (prom)
2007: 3rd (John Hudson)
2006: 6th (Henrik Dalhaug)
2005: 12th in First Division (Michael Antrobus) (rel)
2004: 4th (Michael Antrobus)
2003: 2nd in Second Division
2002: 7th
2001: 11th in First Division
2000: 2nd

Overall Record:
Second Division Champions: 2008, 2010

Last Year: = 5th

Own Choice Selections:
2011: A London Overture
2010: The Essence of Time
2009: Spectrum
2008: Dances and Alleluias
2007: English Heritage
2006: Trittico
2005: Five Blooms in a Welsh Garden
---
2011 Result:

First Division:
Adjudicator: Peter Bassano & Bjørn Sagstad
1. Jaren Hornmusikkforening (Garry Cutt) - 96
2. Kleppe Musikklag (Rune Hannisdal) - 94
3. Tertnes Brass (Yngve Nikolaisen) – 92
4. Jølster Musikklag (Arvid Anthun) - 90
5= Oster Brass (Torstein Aagaard-Nilsen) – 89
5= Ørskog Brass (Alan Morrison) - 89
7. Laksevåg Musikkforening (Philip Hannevik) - 87
8. Musikkorpset Gjallarhorn (Espen Wstbye) - 86
9. Sørum Musikklag (Christian Tenfjord) - 85
10. Tomra Brass Band (Nick Ost) - 84
11. Alexander Brass Band (Morten E Hansen) - 83
12. Tertnes Amatørkorps (Tormod Flaten) - 82
Soloist Prize: Solo Trombone - Tertnes Brass
Best Section: Tuba Section - Jaren Hornmusikkforening