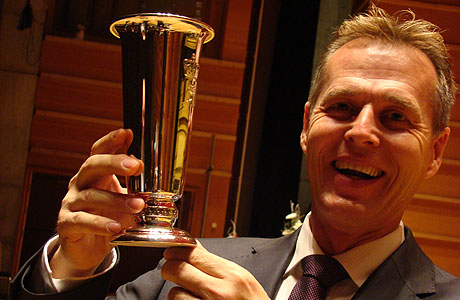 No conductor in the banding world has been able to master just what it takes to win a two-legged major contest than David King.
Since he first took to the stage with Black Dyke at the European Championships in 1990 he has competed at 26 twin discipline contests, winning no less than 18 of them.
Of the 52 performances he has conducted he has come out on top 19 times: 10 on the set work and 9 on the own choice.
No other conductor comes close.



European Championship
Year
Band
Set
Work
Own
Choice
Result
1990
Black Dyke
1
1
1
1991
Black Dyke
2
2
1
1995
Manger Musikklag
3
4
4
1996
YBS
1
2
1
1997
YBS
2
3
1
1998
YBS
1
8
4
1999
YBS
4
1
1
2000
YBS
1
2
1
2001
YBS
3
1
1
2002
YBS
1
1
1
2003
YBS
1
2
1
2004
YBS
1
1
1
2006
YBS
4
6
5
2010
Eikanger Bjorsvik
2
2
2
Norwegian Championship
Year
Band
Set
Work
Own
Choice
Result
1993
Manger Musikklag
2
3
2
1994
Manger Musikklag
3
2
1
1995
Manger Musikklag
2
2
1
1996
Manger Musikklag
2
2
1
1997
Manger Musikklag
1
2
1
1998
Manger Musikklag
2
2
2
2003
Stavanger
1
1
1
2004
Stavanger
2
1
1
2005
Stavanger
9
4
6
2011
Eikanger Bjorsvik
2
1
1
2012
Eikanger Bjorsvik
1
1
1
English National Championship
Year
Band
Set
Work
Own
Choice
Result
2011
Brighouse & Rastrick
4
3
3