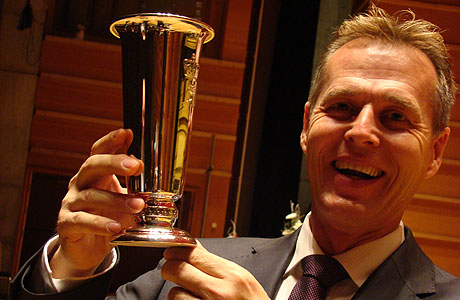 David King holds the King's Trophy for an eighth time

A new era of Eikanger dominance has started to appear on the banding horizon – although this time it may not be confined to Norwegian vistas.
In retaining their National title in Bergen, the partnership with Professor David King has freed the musical spirit.

Eikanger-Bjorsvik has replaced pragmatism with passion: It could well result in the blossoming of a truly great musical partnership – and the start of a joint crusade towards reclaiming their personal holy grails – another European crown.
Disappeared

In the past two years, the facade of a somewhat arrogant corporate mentality – a desire to impress by presence alone, has disappeared from their psyche.
Now they concentrate on the music making.

The victories still mount up – but the manner in which they are claimed is borne of expression and risk taking, not inscrutable efficiency.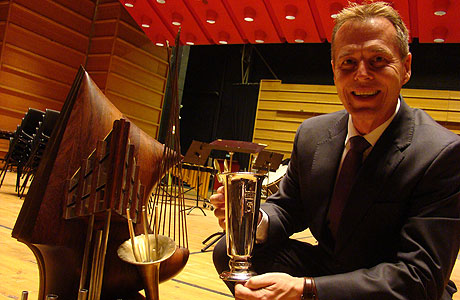 The winner triumphant...

No other

At its centre is the remarkable figure of the Australian – a musician like no other at this level of banding.
As one former player said late on Friday night in the crepuscular atmosphere of the local Musician's Bar – "...nobody like him can make you believe a single crotchet is the most important musical note in the world. I've never seen anyone so passionate about making music - it just rubs off on you without you knowing it."
When the chemistry between the MD and his players mixes like this, then a David King led band becomes an almost unstoppable contest winning juggernaut.
Ultimate test

Eikanger has that feel about it now: They will head to Rotterdam as favourites on this form, and especially with this type of overwhelming desire beating in their collective hearts.
What they face there will be the ultimate test of their growing maturity (they are a remarkably young band at present) - with the likes of Black Dyke, Cory, Oberosterreich and Manger set to test their mettle in a cauldron of world class competitiveness not even that contest has experienced before.
If they emerge triumphant, they can lay the foundation of a pan-European era of Eikanger dominance, especially if they (and Manger for that matter) are given the opportunity to play at the British Open.

With David King at the musical helm, it may last a very long time indeed.
High risk

Here they knew they had to grasp the initiative from the great rivals and current Euro champions Manger Musikklag from the very start – the MD later admitting that to achieve that they had only spent around an hour and a half on their own choice selection in the week leading up to the contest.
It was to prove an inspired piece of high risk strategy.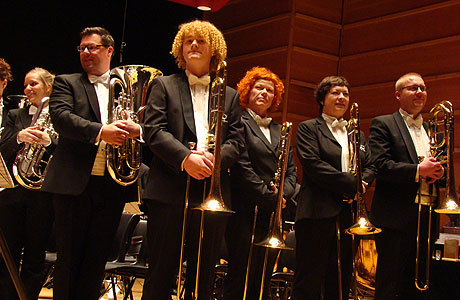 Eikanger's prize winning trombone section take their bow

Pole position

At the end of Friday night Eikanger was in pole position after a performance of 'Goldberg 2012' that the Australian based on the more subtle Bach elements of the highly complex score rather than the more obvious skunk funk Brecker Brother ones.
Aided by some wonderful individual contributions (Gyda Matland on flugel winning the 'Best Soloist' Award and the four trombones, the 'Best Section'), it was a performance of control and razor sharp execution – the warm emotions kept in check, but still bubbling with intent below the surface.

The unbridled passion was let loose the following day.
Pants off

In contrast, Manger thrilled the pants off the audience, but not with the judges (who may have been a bit peed off that they had to wait over 10 minutes for them to take to the stage).

They felt the flamboyant Peter Sebastian Szilvay took too many liberties in places with the heady cocktail of genres.
As a result their underwear stayed in place like Superman's in a wind tunnel, whilst those listening in the packed hall flew off quicker than a good time girl in a back alley of a Bergen bar.
It was a quite mesmeric performance, but Manger still ended the first leg in fourth place, with their hopes of regaining the title shot to knickerless threads.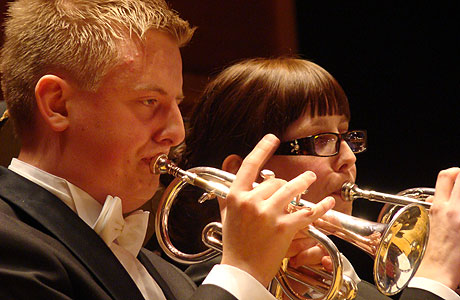 Youthful future for the double champions

Layer upon layer

'Goldberg 2012' proved to be an immense test of technique and style – complex to the point of almost incomprehension at times, as wave upon wave, layer upon layer of kaleidoscopic detail seeped through the pages of Svein Henrik Giske's score.
However, at its heart was an evocation of personal loss that ached with a cold despair – a movement of such melancholic beauty that it almost froze the blood in your veins.

Those who managed it (especially Russell Gray with Molde and Allan Withington with Stavanger) brought you close to tears as you own mind triggered deep seated memories.
Surrounding it was the funk and fun, the subtle Goldberg references - although not all 30 variations – and the engrossing mix of genres (from Sting to 'The Lost Chord') that came to a crunching conclusion.
Clarity and refinement

Eikanger's emphasis on clarity and refinement was immensely persuasive, but so too was Manger's diametrically opposite, free flowing visceral approach.

Allan Withington's reading with Stavanger was perhaps the most complete and understandable – but expensive errors were always going to count against it as it ended third.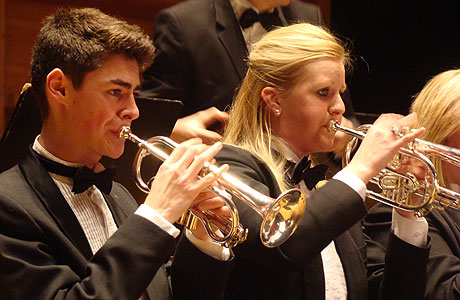 Stavanger claim third place

Finely wrought

Russell Gray elicited a finely wrought performance from Molde to finish second – a reflection of his effective appreciation of his band strengths and weaknesses, whilst Ian Porthouse did the same with Sola in fifth with an artisan inspired Krohnengen in sixth.
The rest of the field was already out of the hunt, despite performances of substance and merit form Jaren, Oslo, Kleppe and Ila.

Thrilling conclusion

Saturday brought the thrilling conclusion - with ten performances that at times took the breath away.
Sola set the marker with a very good 'Music of the Spheres', followed by Stavanger's exciting, 'Vienna Nights'.

Molde just wavered with 'On the Shoulders of Giants', whilst Oslo redeemed themselves with an excellent performance of 'Red Priest'.

Jaren concluded the first half with a solidly portrayed '...Dove Descending'.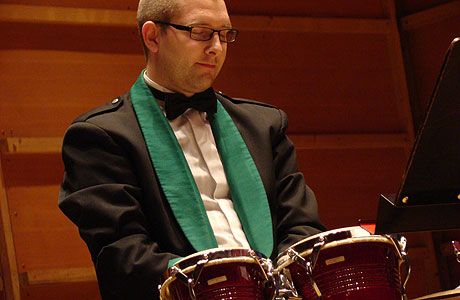 A silent prayer for Manger's perc player...

Vibrant support

That was just the warm up entertainment though.
The hall became a huge mass of vibrant support for Eikanger – and with the infamous slow walk replaced by a businesslike stride, they delivered a stunning performance of 'From Ancient Times'.

An immense construct of colour, timbre, style and downright hairs on the back of your neck brilliance, it was nigh on unbeatable playing – and so it proved.
The audience went feral in appreciation of what they had heard.
High quality

The talented youngsters of Kleppe, directed by the impressive Rune Hannisdal produced a high quality 'Brass Blot' to follow, before Manger threw everything they had – stretching the sinews and straining the lips to breaking point in a staggeringly exciting rendition of 'Audivi Media Nocte'.
Such was the intensity, it pinned your internal organs to your spine, although it was also scarred by unforced errors. It was some effort to make up lost ground though.

The audience once again lost their senses.
Impressive

An impressive Ila took the opportunity to deliver a cleverly constructed performance of 'Klang!' to push themselves back into the top six before a quite amazing contest was rounded off by a slightly under par rendition of 'Revelation' by Krohnengen, which pushed them in the opposite direction.
Holy grail

A couple of hours later the fates were announced – but not before Brass Band Oberosterreich sent a chill down the Norwegian spine with a Gala Concert performance that reminded everyone just what awaits Eikanger in Rotterdam in their crusade to regain the European title for the first time since 1989.
Holy grails will not be easily won.
Iwan Fox