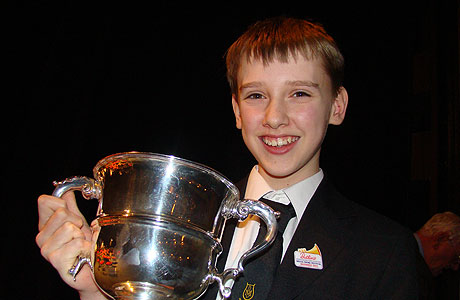 Winning smile: Adam Neild of Mossley with the North West Trophy

Derek Broadbent ensured that the bands in the Second Section knew exactly where things were won and lost on 'Cross Patonce'.

A difficult test piece had given rise to a difficult contest, where despite a number of fine efforts, nobody really got close to mastering all three movements – and these were good Second Section outfits.

Dry humour

Derek's dry humour struck a chord however, and by covering the issues raised by tempo, placement of quavers, tone and balance, his remarks were never condescending – just playfully accurate. It was a little masterclass in the art of considered analysis.
Euphonium players in particular took comfort from the fact that he praised their efforts, despite various trials and tribulations on a stinker of a solo part a mere 20 seconds or so into the piece.
Form horse

When the results were announced there was a broad acceptance that Derek had got it spot on, especially with the winners, Mossley, directed with great authority by Duncan Byers.
The form horse of the field following their recent Butlins win, they were worthy of his accolade that they were, 'a little head and shoulders above the rest'.

There was a classy sparkle and poise about their performance in all three movements, as well as a warm, balanced ensemble sound and tasty soloists.

The opening movement in particular was bright and precise, followed by a lyrical central section and a joyful finale.

They will be a strong contender for another title in Cheltenham.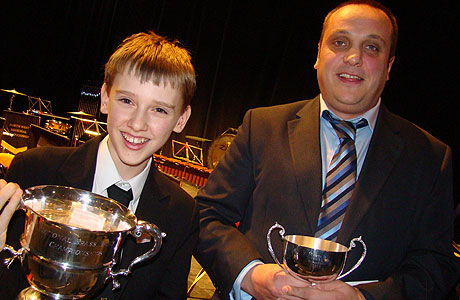 Duncan Byers gets his hands on the silverware too...

Clean

They will be joined there by Haslingden & Helmshore after David Holland's band delivered a clean, focused performance that was enhanced by excellent percussion that drove the band along, especially in the final movement.

In contrast they also produced a lovely lyricism in the central section.
In addition to their Finals trip they also gained promotion to the First Section, where they should be confident of making a mark if they build on this form.
Disappointment

There must have been disappointment for Delph, after they produced a fine performance that just missed out on a qualification place.
Phil Goodwin coaxed an almost ideal presentation of the music that got stronger as the piece unfolded.

Their concentration was good especially in the compelling slow movement and final 'vivo', although it was still odd to see a dyed in the wool Dyke man conducting a band dressed in Brighouse purple!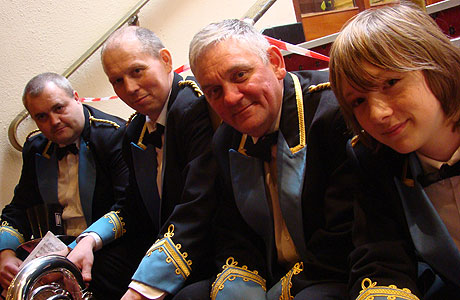 Likely lads.... A Mossley quartet wait for their turn on stage...

Powerful

Just behind them came a powerful performance from Uppermill under Alan Widdop.

A scruffy opening movement may have cost them a podium finish, as the performance grew in stature as it went along with fine rhythmic playing especially in the final section.
Flixton's fiery intensity and vivid forward impulse looked as if it was going to propel them into the mix after a cracking opening movement, but a lack of balance in the central section cost them dearly.

It just left themselves a bit too much ground to catch up in a spirited close to end 5th.
Relaxation

The final top six place went to Hoover (Bolton), who started and closed with powerful intent, but couldn't quite contrast it with the same level of security and style in the beautiful middle section.
Perhaps the players were trying too hard to impress, as Trevor Halliwell had certainly prepared them well.

A little more relaxation and they could have headed to Cheltenham.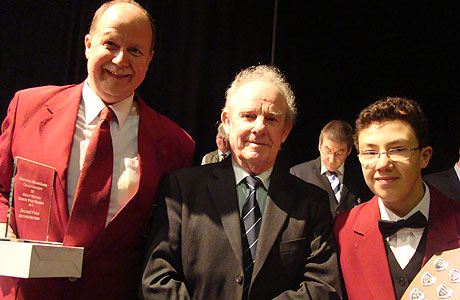 Thanks! Haslingden & Helmshore meet Mr Broadbent

Wonder

Crewe Brass will have left wondering quite what went wrong with their performance, after Jamie Meredith led a purposeful account from start to finish.

All the basic ingredients seemed to set in place, with consistent execution in the outer movements balanced by secure lead lines in the central section.
Just the lack of dynamic contrast at times and a few tuning issues cost them in the adjudicator's opinion – but they were perhaps more than a tad unlucky.
Well structured

The other band to leave more than a little disappointed would have been Dobcross Silver who concluded the contest with a well structured performance under the baton of Kenny Pain.
There was a real vein of poetic lyricism in the challenging middle section, and although the final movement was scratchy, it was an impressive musical performance that on another day may just have seen them finish well inside the top six.
Age old question

Below these and the age old question of consistency reared its head – making Derek's decision on placings a difficult one.
Danny Brooks and Eccleston Band seemed to start as if they were going to make a real mark but just fell away to end 9th, whilst the wily old Rob Taylor and Tyldesley endured one of those contest days when his usually secure and vibrant band sounded unusually fragile and a bit flat in coming 10th.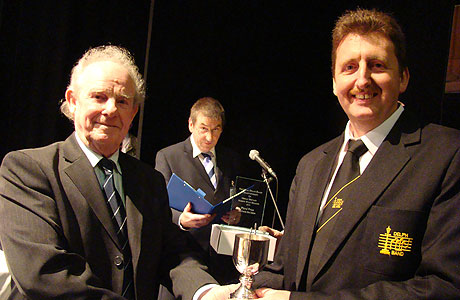 Just missing out: Delph in third place

Besses o'th' Barn's brave effort seemed weighed down by a little too much expectation, as players tried a bit too hard as individuals rather than an ensemble to drive this famous old banding name back into the spotlight.

There are plenty of encouraging grass roots to nurture though for MD Geoff Bradley.
Bore down

Martyn Evans bore down deeply into the score, but his usually secure Middleton Band did not quite produce their normally poised deliver under his baton to end in 12th, whilst the same could be said of Greenhall's under Karl Stott.
There were glimpses of the band's true form, but a combination of nervousness and a few sloppy errors saw their challenge fade away to end 13th.
Return better

Finally, Ken Mitchell and Douglas Town found the set work a very difficult ask.

However, the band stuck to its guns to produce a performance of merit, despite the obvious shortcomings in technique.

They will return a better band next year we are sure.
In the end those who spent a varied afternoon listening to a host of brave efforts on a very difficult set work could only leave for home in agreement with one of the brass band movement's top judges.
John James