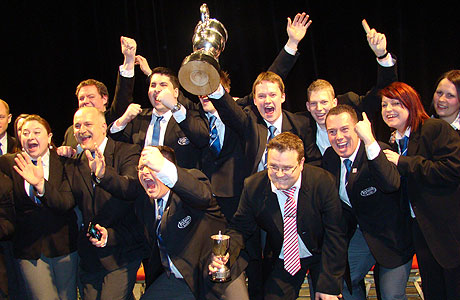 The Boys are Bach in Town...

Leyland is back in the major contest winning business.
After their win at Brass in Concert they have now been crowned North West Regional Champions: Both victories the product of quite remarkable conductors.
Mystery

Richard Evans' credentials are as well known as some of the top acts who have headlined at the Winter Gardens over the years, but the young Swiss MD Michael Bach will have been something of a mystery to the vast majority of listeners who packed into the Opera House to enjoy what turned out to be an intriguing contest.
Not now he 'aint.
To misquote the great Phil Lynott of Thin Lizzy: "The Boys are Bach in Town."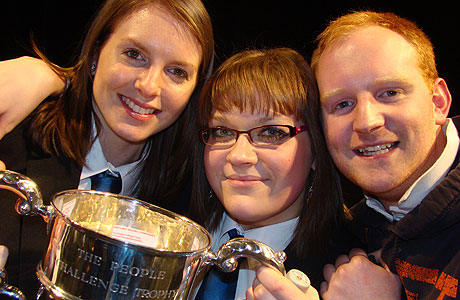 Leyland's young Devil worshippers...

Very edge

Leyland's victory was one of courage, self belief and sheer high wire, high octane risk taking: a breathless, breathtaking winning performance that teetered on the very edge of contest winning suicide.

At times it peered into the abyss, only to be drawn back by an MD with a deliciously crepuscular understanding of the composer's absurdist intentions.
It took balls of wrought iron to carry it off. Leyland has got their hands on a very special talent.
Pulsating

Earlier, Foden's had set a high class marker with a pulsating performance of 'The Devil and the Deep Blue Sea' that despite an occasional rough edge or two and some questionable tuning was right out of the top drawer.
It wasn't as unbeatable as their 'Paganini' the previous year, but as Allan Withington and his band left the stage they must have been well satisfied with their efforts in defence of their title.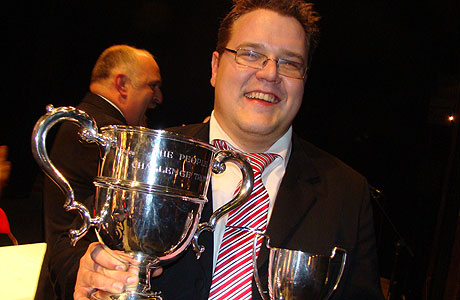 The Swiss maestro - Michael Bach

Upped the ante

Straight after though Fairey's upped the ante as they searched for their first Area win since 2001.
Ian Porthouse engineered a performance of precision and control – a Devil of cultured menace.

It too had its moments of tuning unease and solo uncertainty, but by the time the final chord ended with a plumby blob from the powerful bass end, they had one hand on the trophy.
Both performances were cut from much the same musical cloth – the technical issues played with a slick viscosity, the musical ones (even the absurdist elements) given a malleable, manageable sense of phrasing.
As a result, there was little to choose between them.
Aleister Crowley

Leyland on the other hand...
Right from the word go you sensed that something very different was going on here – a musical trip to the darker sides of the occult inhabited by the likes of Aleister Crowley and his ilk in years gone by.
Like a frenzied Dr Phibes in a Hammer Horror film, the MD ripped out the pitch black heart of the Derek Bourgeois score and replaced it with something out of the Devil's very own charnel house of elasticized morbidity.
Beat like the clappers

It beat like the clappers – as if Satan had overdosed on Red Bull chasers in the Winter Garden's bar, whilst the treatment of Dana's Eurovision Song Contest 'All Kind's of Everything' was brilliantly diabolical – kneaded like a rubber dough ball to the edge of cynical absurdity.
It had its scratchy moments and tuning issues, but the lasting impression was one of a band that had totally bought into their MD's thought process to deliver a performance that risked everything to gain everything.

Heaven or Hell – there was no in between.
The post results celebrations on stage, where the MD, looking completely knackered by his exertions was revived back to life by his players was a mixture of wide eyed disbelief and sheer unadulterated joy.

This Swiss Devil had gained once heck of a team of new worshippers.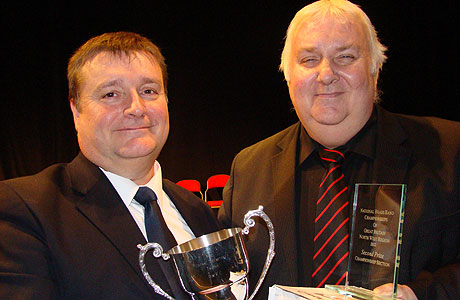 Wry smile for Fairey's in second

Mini battle

As expected the heavyweight challengers claimed their qualification places for the Royal Albert Hall.

The trio was a good distance ahead of the rest of the field, but as a mini battle for ultimate triumph, it provided engrossing entertainment.
Accomplished

Behind them came the spirited challengers, headed by an accomplished performance from Co-operative Milnrow directed by Marieka Gray.
With hubby Russell adding experience and an iron lip on top man, the MD kept a tight rein on both the tempo and dynamic and was rewarded with solid individual and ensemble work in return.

On a day when others opted to employ the red in tooth and claw approach to try and make an impression, the subtle appreciation of all things dark and devious initiated by the MD gained deserved reward.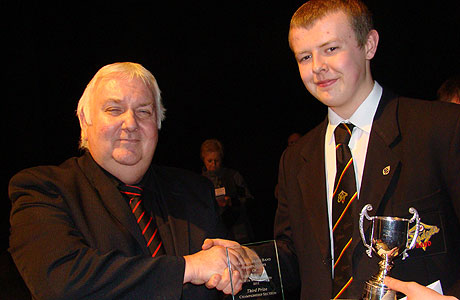 Third place for Foden's

Contrast

In contrast, two excitable performances from Pemberton Old Wigan DW and Blackburn & Darwen claimed the final top six places: a brace of 'Devils' that were full of hot breathed bluster and power laden intensity.
Both Mark Bentham and Nick Sheppard knew just how to illuminate the strengths of their bands in their purposeful, driven accounts, but the lack of any real subtlety meant that they were always going to end up some way off the qualification pace.
No friend

Co-operative Funeralcare led by Jef Sparkes managed to light the fires of hell on a bit of a slow burning heat to claim 7th place with a performance that had the hallmarks of hard grafted preparation, whilst it became apparent that even the Devil is no friend of Wingates at the moment after they came 8th.
Andy Berryman certainly captured the sinister as well as absurdist elements of the score in his interpretation, but annoying errors and a fragile collective confidence undermined their chances.

They are a band that has some way to go to make up lost ground, despite their lack of luck on the weekend.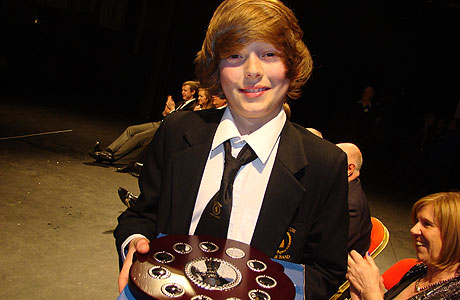 Youngest player: George Wright of Bollington

Omnipotent master

The bottom three found the 'Devil' too demanding an omnipotent master to fully tame.
Bollington almost most gained Christian salvation thanks to their appropriately named MD employing his years of experience to good effect in keeping the more satanic undercurrents of tempi and dynamic in check, whilst Colin Short did an admirable job in ensuring that VBS Poyton just about kept on top of things too.
Ashton under Lyne though could perhaps feel a little hard done by after a well planned account under Simon Stonehouse just ran out of stamina with the Devil close to submission.
All three will not want to lock horns with this piece again though for some considerable time.
Beelezebub

With the announcement of the results, Leyland and their supporters were already gearing themselves up for a late night of celebration.
By all accounts, Beelzebub and his army of little wizards were already on the VIP list...

Iwan Fox