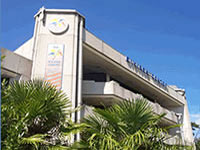 Sunday 11th March

Adjudicators: Jim Davies & Alan Morrison

The Forum

Test Piece: The Devil and the Deep Blue Sea (Derek Bourgeois)

Draw: 1.00pm
Commences: 3.00pm
---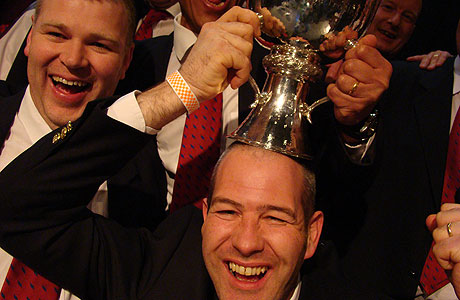 Can Woodfalls lead the way again in 2012?

The French philosopher Voltaire once said, "You must have the devil in you to succeed."

Well, at least one band will have to show that more than their rivals in Torquay on the Sabbath, as 11 rivals take to the stage on Sunday afternoon looking to claim the West of England title.

Added spice

There is an added bit of extra spice this year to a contest that in the past has always been interesting, even if the quality has been more variable.

Not now. However gets to the Albert Hall may well fancy their chances of posting a top six place there for the first time since 1994.

They will have to impress two former principal cornets who know this piece very well though in Alan Morrison and Jim Davies (below right).

Any flannel will be spotted we are sure.

Raised bar

Flowers has raised the bar – not by one notch, but by three or four.

The 2010 champion couldn't successfully defend its title last year, but used the disappointment to build a growing contesting momentum that saw them narrowly miss out on a British Open qualification place, come in the top 10 at London and start 2012 with two fine wins at Butlins and Yeovil – both claimed with more than a bit of a confident swagger.

Paul Holland now has a very fine band under his command – one which has a flexibility and sense of purpose that is the preserve of the top level contenders at the major championships.

They are favourites without a doubt – and should live up to that billing if they carry on with their impressive form to claim their second title in three years.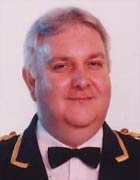 Welsh guns

The reigning champion Woodfalls may have something to say about that – and have brought in the big Welsh guns in the form of Dr Robert Childs to spearhead their challenge. If that's not a statement of intent then we don't know what is.

The podium finish at Butlins and Yeovil showed that they are in good form, but they will have to be on the very top of their game of they are to become the first band since Sun Life back in 1996 to retain its title.

Cutt back

2009 winners Camborne missed out last year in coming 3rd, but will once more look to Garry Cutt to lead them back to London.

He was more than a little unlucky at Bradford with an interpretation that brought a thrilling performance out of Grimethorpe, so if he can repeat the trick here, he should be confident of a better return.

The band will have to up their game from a disappointing 5th place at Yeovil at the beginning of the year though.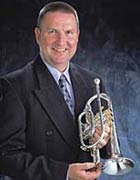 Podium knocker

Mount Charles has been knocking on the podium door since last winning the title in 2008 – claiming three consecutive 4th placed finishes.

Last year they were a little unlucky, so they could do with a change of fortune.

A classy performance at Yeovil where they pushed Flowers in coming runner up will have boosted confidence, whilst conductor Philip Harper would surely love to get one over his old band.

Fingers crossed then.

Lydbrook shouldn't be under estimated. Four consecutive top six finishes and a solid win at the Wessex contest late last year points to a band that will be well prepared under the direction of the experienced Ian Holmes.

Another mention off the stage should be well within their grasp.

Religion

The religious connotations of having two Saints try and tame Satan's musical work will be hard to resist for 4BR.

Both St Dennis who came 6th last year and St Austell who ended 8th are bands on the up, led by two contrasting MDs in Darran Hawken and Richard Evans.

St Dennis has been fairly quiet on the contest front of late, but a solid midfield finish at the Senior Trophy showed their growing potential, whilst St Austell certainly delivered an entertaining performance at Yeovil, which should give them a huge boost of confidence as that old devil himself leads from the front.

Box man

Paul Cosh was in the box at Bradford so will know just what is needed to overcome the treacherous problems faced by the Derek Bourgeois score.

Sherborne has put in solid performances over the past two years, although they weren't on the best of form at Yeovil earlier in the season.

Another couple of scalps could see them avert any possible relegation threat.

The same applies to Portishead who will be led by the talented Andrew White.

The band has made remarkable progress in the last few years and didn't seem too far off the top section pace at Yeovil, despite coming 9th.

Confident promotions

That leaves two confident bands up from the First Section – headed by reigning First Section National Champion Aldbourne.

They enjoyed a spectacular 2011 and will be keen to start 2012 off in the same manner – although David Johnson will know that this is one heck of a step up in class. Don't bet against him showing off his little pinkie in some sort of celebration though come the results.

2005 winner Bournemouth returns to the Championship Section for the first time since 2009, and has been making solid progress under Dave Barringer in the past two years – culminating in a decent showing at the Senior Trophy and that runner up sport behind their rivals at Cheltenham.

Both bands will be eyeing a top six finish as they seek to make an immediate impression against their rivals.

Adam Hirst
---
Who will win?
A difficult one to call despite the obvious form guide to work off.

Flowers are on a hot streak at the moment and we can't see that stopping on the weekend, whilst they could well be joined at London once more by Woodfalls.

Mount Charles and Camborne should push them all the way, whilst Aldbourne and Lydbrook should make it into the top six. Our dark horse is St Austell.

4BR Prediction:

1. Flowers
2. Woodfalls
3. Mount Charles
4. Camborne
5. Aldbourne
6. Lydbrook

Dark Horse: St Austell
---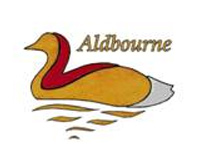 Aldbourne
Conductor: David Johnson
4BR Ranking: 68
Last 15 Years:
2011: Winners of First Section (D. Johnson) (prom)
2010: 6th (D. Williams)
2009: 6th in Championship Section (M. White) (rel)
2008: 12th (M. White)
2007: 5th (C. King)
2006: 5th (S. Sykes)
2005: Winners of First Section (M. White) (prom)
2004: 4th (M. White)
2003: 7th (I. Holmes)
2002: 11th Championship (B. Grant) (rel)
2001: 7th (D. Williams)
2000: 5th
1999: 6th
1998: 2nd in First Section (prom)
1997: 4th
---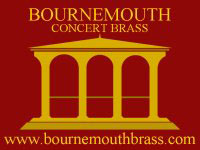 Bournemouth Concert Brass
Conductor: Capt. Dave Barringer
4BR Ranking: 86

Last 15 Years:
2011: 2nd in First Section (Capt. D. Barringer) (prom)
2010: 2nd (N. Taken)
2009: 9th in Championship Section (J. Camps) (rel)
2008: 10th (P. Parkes)
2007: 6th (N. Taken)
2006: 6th (L. Vertommen)
2005: Winners (N. Taken)
2004: Winners First Section (N. Taken) (prom)
2003: 3rd (N. Taken)
2002: 5th in Championship (N. Taken) (rel)
2001: 10th (L. Adams)
2000: 7th
1999: 4th
1998: 6th
1997: 3rd
---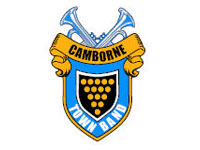 Camborne Town
Conductor: Garry Cutt
4BR Ranking: 57

Last 15 Years:
2011: 3rd (G. Cutt)
2010: 2nd (I. Porthouse)
2009: Winners (G. Cutt)
2008: 6th (F. Renton)
2007: 4th (F. Renton)
2006: 2nd (F. Renton)
2005: 5th (F. Renton)
2004: 2nd (F. Renton)
2003: Winners (F. Renton)
2002: 2nd (F. Renton)
2001: Winners (F. Renton)
2000: 6th
1999: 3rd
1998: 2nd
1997: 4th
---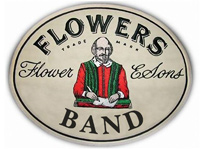 Flowers
Conductor: Paul Holland
4BR Ranking: 27

Last 15 Years:
2011: 2nd (P. Holland)
2010: Winners (P. Holland)
2009: 2nd (R. Newsome)
2008: 3rd (P. Harper)
2007: Winners (P. Harper)
2006: 3rd (P. Harper)
2005: 3rd (P. Harper)
2004: 6th (P. Harper)
2003: 2nd (P. Harper)
2002: 3rd (P. Harper)
2001: 2nd (R. Evans)
2000: Winners
1999: 2nd
1998: 4th
1997: Winners
---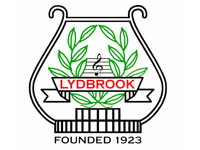 Lydbrook
Conductor: Ian Holmes
4BR Ranking: 94

Last 15 Years:
2011: 5th (I. Holmes)
2010: 6th (T. Brevik)
2009: 3rd (S. Sykes)
2008: 5th (T.Brevik)
2007: 9th (D. Williams)
2006: 2nd in First Section (J. Berryman) (prom)
2005: 4th (S. Sykes)
2004: 6th (D. Williams)
2003: 8th (B. Hurdley)
2002: 10th (A. Culshaw)
2001: 10th (S. Lippeatt)
2000: 5th
1999: 9th
1998: 10th in Championship (rel)
1997: 7th
---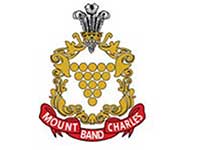 Mount Charles
Conductor: Philip Harper
4BR Ranking: 53

Last 15 Years:
2011: 4th (A. Duncan)
2010: 4th (P. McCann)
2009: 4th (A. Duncan)
2008: Winners (A. Duncan)
2007: 2nd (A. Duncan)
2006: Winners (N. Childs)
2005: 4th (R. Newsome)
2004: Winners (N. Childs)
2003: 5th (J. Hinckley)
2002: 4th (B. Hurdley)
2001: 5th (B. Hurdley)
2000: 4th
1999: 8th
1998: 5th
1997: 5th
---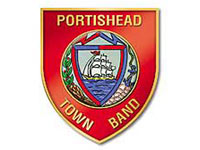 Portishead Town
Conductor: Andrew White
4BR Ranking: Outside top 200

Last 15 Years:
2011: 10th (I. Dickinson)
2010: Winners of First Section (I. Dickinson) (prom)
2009: 4th (I. Dickinson)
2008: 7th (I. Dickinson)
2007: 2nd in Second Section (I. Holmes) (prom)
2006: 4th (I. Holmes)
2005: Winners of Third Section (R. Griffiths) (prom)
2004: 6th (R. Griffiths)
2003: 7th (D. Beckley)
2002: 17th (D. Hollister)
2001: 11th (D. Hollister)
2000: 2nd in Fourth Section (prom)
1999: 5th
1998: 8th
1997: 20th
---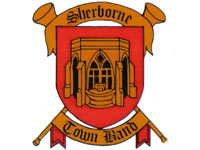 Sherborne Town
Conductor: Paul Cosh
4BR Ranking: Outside top 200

Last 15 Years:
2011: 9th (P. Cosh)
2010: 7th (P. Cosh)
2009: 2nd in First Section (P. Cosh) (prom)
2008: 3rd (P. Cosh)
2007: 10th in Championship Section (P. Cosh) (rel)
2006: 11th (P. Cosh)
2005: 3rd in First Section (P. Cosh) (prom)
2004: 5th (P. Cosh)
2003: 5th (M. Portman)
2002: 12th (B. Buckley)
2001: 9th (G. Key)
2000: 9th
1999: 2nd in Second Section (prom)
1998: 6th
1997: 6th
---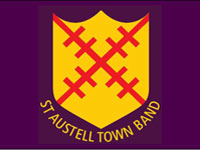 St. Austell
Conductor: Rchard Evans
4BR Ranking: 200

Last 15 Years:
2011: 8th (G. Pritchard)
2010: 3rd in First Section (G. Pritchard) (prom)
2009: 3rd (G. Pritchard)
2008: 7th in Championship Section (R. Newsome) (rel)
2007: 8th (D. Loukes)
2006: 8th (D. Loukes)
2005: 2nd (D. Loukes)
2004: 5th (D. Loukes)
2003: 7th (M. White)
2002: Winners of First Section (M. White) (prom)
2001: 8th in First Section (M. White)
2000: DNC (rel)
1999: 7th
1998: 9th
1997: 5th in First Section (prom)
---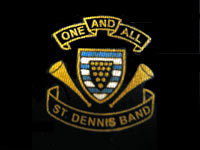 St. Dennis
Conductor: Darran Hawken
4BR Ranking: 108

Last 15 Years:
2011: 6th (D. Hawken)
2010: 5th (P. Harper)
2009: 10th (B. Minear)
2008: 5th in First Section (B. Minear) (prom)
2007: 4th (B. Minear)
2006: Winners of Second Section (B. Minear) (prom)
2005: 4th (B. Minear)
2004: Winners of Third Section (B. Minear) (prom)
2003: 2nd (B. Minear)
2002: Winners of Fourth Section (B. Minear) (prom)
2001: 2nd (B. Minear)
2000: 11th
1999: DNC
1998: DNC
1997: DNC
1996: N/K
---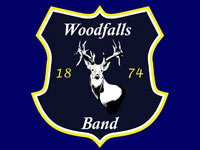 Woodfalls
Conductor: Dr. Robert Childs
4BR Ranking: 47

Last 15 Years:
2011: Winners (N. Childs)
2010: 3rd (N. Childs)
2009: 5th (N. Childs)
2008: 2nd (N. Childs)
2007: 3rd (N. Childs)
2006: 4th (G. Cutt)
2005: 6th (D. Barringer)
2004: 4th (S. Bastable)
2003: 4th (S. Bastable)
2002: Winners (G. Cutt)
2001: 3rd (P. Parkes)
2000: 3rd
1999: 5th
1998: Winners
1997: 6th
---
Past Qualifiers:

2011: Woodfalls, Flowers
2010: Flowers, Camborne
2009: Camborne Town, Flowers
2008: Mount Charles, SWT Woodfalls
2007: PolySteel, Mount Charles
2006: Mount Charles, Camborne
2005: Bournemouth Concert Brass, St. Austell Town
2004: Mount Charles, Camborne
2003: Camborne Town, Flowers
2002: SWT Woodfalls, Camborne Town
2001: Camborne Town, Flowers
2000: Flowers, Bodmin
1999: Bodmin, Flowers
1998: SWT Woodfalls, Camborne
1997: Flowers, Bodmin
1996: Sun Life, SWT Woodfalls
1995: Sun Life, Flowers
1994: Flowers, Camborne, Sun Life*
1993: Sun Life, Camborne
1992: Sun Life, Bodmin
1991: Flowers Gloucester, Sun Life
1990: Camborne Town, Bodmin
1989: Sun Life, Camborne
*Pre Qualified
---
How West of England bands did in London:

2011: 8th, 18th
2010: 13th, 18th
2009: 7th, 8th
2008: 16th, 20th
2007: 11th, 20th
2006: 9th, 13th
2005: 13th, 19th
2004: 7th, 9th
2003: 11th, 16th
2002: 18th, 19th
2001: 9th, 19th
2000: 15th, 16th
1999: 14th, 16th
1998: 9th, 16th
1997: 10th, 12th
1996: 9th, 15th
1995: 11th, 14th
1994: 4th, 11th, 17th
1993: 3rd, 18th
1992: 6th, 7th
1991: 11th, 13th
1990: 8th, 22nd
1989: 12th, 13th