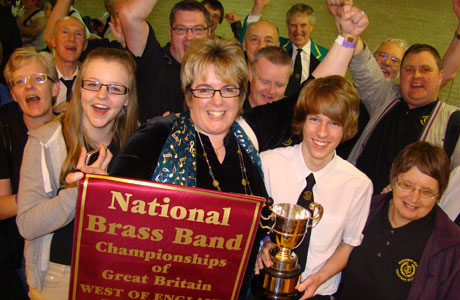 All smiles for Midsomer Norton & Radstock

A massive field of 25 bands gave adjudicators Alan Morrison and Tony Swainson a long but highly enjoyable day in the tent.

There were a host of well delivered performances of 'English Folk Song Suite' to enjoy – and as a result the Arena auditorium was pretty much full up with listeners all day, giving the hard working bands a great atmosphere to draw inspiration off.

It's not often seats at Fourth Section contest come with a 'reserved' tag on them, but at times it was close to standing room only – especially at the announcement of the results.

When you get contests like this, grass roots banding has the feel of being vibrant and healthy.

Credit and praise

Credit then to the Music Panel for the excellent choice of test piece, plaudits to the competing bands and their MDs – all of whom did a cracking job, and richly deserved praise for Alan Morrison who gave an exemplary analysis of the contest before the announcement of the results that laid out with a mixture of realistic encouragement, constructive criticism and not a single misplaced platitude, just how things were won and lost.

Tear in the eye

In the end it was Midsomer Norton & Radstock that came away with the title amid the type of celebrations that can put a tear in the eye of even the hardest bitten old journalistic hack.

On just their second appearance back at the event, Joanne Sykes led them to victory courtesy of a well planned, neatly played rendition that was packed with stylistic nuance and attention to the brass band basics Alan Morrison and Tony Swainson were looking for.

No wonder Jo wore a smile as wide as the River Severn, as her attention to sympathetically shaping the music enabled her players just to add that extra touch musical polish without recourse to misplaced bombast or saccharin coated emotion.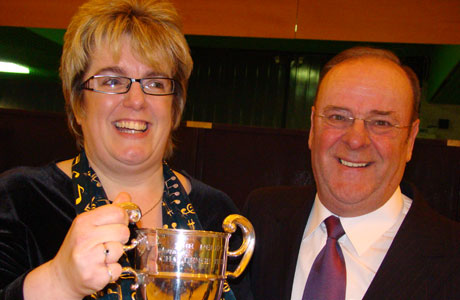 A tear in the eye for Jo Sykes

Not alone

They were not alone however, with equally impressive performances from Andover Town in second place and fellow qualifiers Launceston Town and Wilton & District.

Andover produced a rendition that was nearly as sparkling as their fantastically well ironed white shirts, especially in the first and third movements which bounced along at perfectly pitched tempos.

Meanwhile, there couldn't have been a happier man in the hall than Dave Dobson as he scurried around in joyful celebration after leading his band to Cheltenham thanks to a powerful performance that featured excellent solo contributions, notably from the soprano.

Solid foundation

Wilton & District claimed the final qualification place with a well shaped account under Colin Hebert, that despite having just the three basses was built on a solid musical foundation.

All four qualifiers were pushed hard by the clutch of bands that eventually filled the top ten places in the results table.

Bold

Spinnaker produced a performance as bold as their black and yellow jacket to end fifth, whilst the final top six place was claimed by another confident performance from Weymouth Concert Brass.

In the hunt

The youthful Chalford Academy, with their four trombones and young tuba section were right in the hunt before tiredness just crept in to just take the gloss off a highly encouraging performance, whilst Gosport Solent Brass rounded off the day with a vibrant rendition – especially from the MD Simon Nicholls, who conducted in a very intense style without the benefit of a score.



Andover fist from Phil Morris to the young Andover stars...

Solid rendition

South Molton Town produced a solid rendition to end ninth, whilst New Forest Brass could perhaps count themselves a tad unlucky that a fine marker off the number 1 draw just faded in the memory of the two men in the box.

It was very difficult to separate out the bands that eventually filled the midfield placings – although it was good to hear from Alan that the judges had spent considerable time making sure they reviewed each and every performance before deciding on their eventual positions.

Bratton's quick paced account saw them take 11th, whilst Lydney couldn't quite produce a performance as clean as their Persil white shirts to end in 12th.

Wave trip

Shanklin Town's trip over the waves produced a hard earned 13th, aided by a xylophone player who was positioned right in the heart of the band, whilst Porthleven, with a fine percussion section themselves and plenty of youngsters the ranks, gave a brightly coloured rendition to end in 14th.

Wincanton, Swindon, Totnes and Cheltenham all had their moments – both good and not so good, with Wincanton unable to maintain their quick paced head of early steam from the first movement.

Swindon just lacked a touch of lightness in the finale, despite some good ensemble work and a cracking young player on the bells.

Cheltenham just needed a little more finesse in what was a performance that had all the basic elements in the right place.



Cheltenham bound for Launceston

Work on

The bottom seven bands will know what they will have to work on if they are to make more of a mark at the contest this time next year.

The variable quality of the basic banding issues highlighted by Alan just undermined renditions that bore the hallmarks of sensible conductors knowing their resources and limitations.

Bright and colourful

Marshfield, led by a principal cornet whose own contribution was as bright and colourful as her dyed red hair, just let the adrenaline rush get the better of them in places, whilst Verwood also found that the youthful enthusiasm just needed to be curbed a little bit at times.

It was great to see so many youngsters with smiles on their faces though.

Bideford just couldn't quite build on their bright opening, whilst Okehampton Exclesior, delivered a brave account with just two basses to provide their foundation stone.

Talent

Torbay's intonation was a problem that couldn't quite be overcome (although the two trombones did a fine job of providing balance to a strong cornet section), whilst Thornbury should take plenty of encouragement from a performance that had real potential from both players and their talented MD.

So too Tiverton Town, who despite coming last, showed that if they could just reign in the dynamics a tad better days lie ahead.

There was no better day in Torquay though for Midsomer Norton & Radstock. They head to Cheltenham as champions, whilst three strong contenders join them there.

Iwan Fox