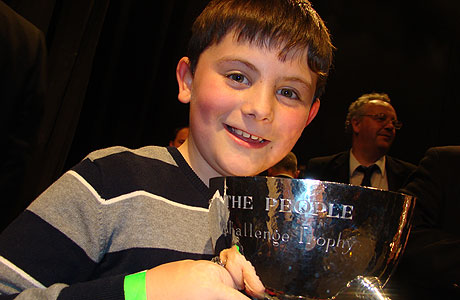 Something in the celebratory champers perhaps?
A trip to Torquay for the Area contest is always a rewarding one.

You've got to hand it to the West of England Regional Committee: They work extremely hard, and in return they gain rewards they deserve. This was a cracking contest weekend.

Atmosphere

The atmosphere is of friendly local rivalry – the best example of which was seen in the massive Fourth Section, which saw the contest hall packed to the rafters throughout the day.

There was interest and intrigue, straight talking and straight forward playing, with a special mention in particular for the adjudication team that Regional Secretary Brian Elliott had hired.

Truth serum

No one left the Riviera Centre not knowing just why they came where they did. Not a player, MD, supporter or cynical journalist: It was as if Brian had popped a truth serum in their tea.

Jim Davies, Alan Morrison, Tony Swainson and Chris Wormald (who took the Fifth Amendment but was itching to have his say) deserved the plaudits that came their way.

The excellent summaries from Jim and Tony were succinct and informative, but the top marks went to Alan Morrison for his detailed assessments of the Championship and Fourth Sections.

Whether you agreed with him or not was irrelevant; the former Grimey man left no stone unturned and didn't mince his words.

He should double his usual fee for the job.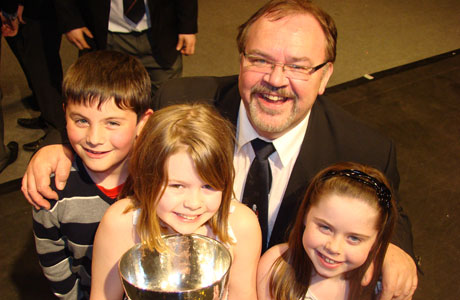 Lovely smiles all round

Heaven help

With other regions finding difficulty in attracting new blood to the administrative side of running their events, perhaps Regional Secretaries should give Frances Calver a ring too.

She is not a lady to be trifled with you suspect (heaven help the burglars who pinched a trombone from her house if she ever gets her hands on them), but her passion and commitment to the contest equals that of Brian Elliott.

Her powers of persuasion had also ensured that there were plenty of volunteers in place to man the desks and doors – and as a result, the contest ran like clockwork.

Double fees

Both Frances and Brian are the type of organisers, bandsmen and women take very much for granted.

They are the first to be criticised and the last to be congratulated, but have the skins of rhinos and the work ethics of biblical slaves. They (and their team of volunteers) have also built this contest into one of the most enjoyable anywhere in the banding world.

Perhaps they should double their fees (not that they get any) for their jobs too.

Sadness

There may be no such thing as a short journey in these parts (Helston Band's trip to the event takes almost 2 hours), but with such a warm welcome (the staff at the Riveria Centre were superb) even the trip home flew by.

The only sadness on the weekend was the news of the death of Wesley Garner, a stalwart conductor and one of the most popular musicians you could ever meet.

He will be remembered with a great deal of affection in these parts.

Malcolm Wood