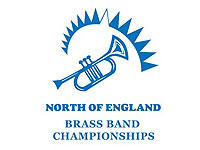 Sunday 18th March
Adjudicator: David Horsfield

Test Piece: Cross Patonce (Goff Richards)

Draw: 8.300am
Commences: 10.00am
---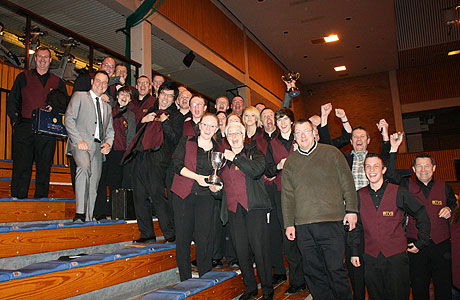 Who can follow in the rising footsteps of Catterick Brass this year?

Eight bands will face a stern test on Sunday courtesy of the late, great Goff Richards.

'Cross Patonce' has been the most severe test of qualification aspirations the length and breadth of country – and you suspect it will pose the same problems here for these solid, well matched contenders.

Cross to bear

Forget the religious inspiration; this really has been a cross too much to bear for far too many decent bands.

From the treacherous opening movement and its nerve jangling euphonium cadenza, through the beautiful lyrical interlude and the free spirited finale, its technical challenges have proven to be every bit as severe as its stylistic ones.

As a result, a very fine composition has only been graced by a handful of outstanding performances.

What's best

Fingers crossed then (excuse the pun) that David Horsfield (right) will be able to sit back and judge what's best, and not what's least awful about these eight rival competitors.

One band that certainly enjoyed a very good qualification performance last year was runner up Cockerton Silver.

And although they only managed 17th at Cheltenham it proved to be another impressive stepping stone in their solid development under the baton of the experienced George Nicklin.

If they have built further since them, they should be in and around the qualification places once more.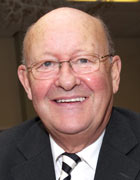 Excellent progress

South Milford Brass just missed out last year in coming 3rd, but they too have been making excellent progress under Martin Hall's intelligent direction since winning back to back area titles in the Fourth and then Third Section a couple of years back.

4th place at the Northern Open late last showed that they had continued to move forward, so they should be confident of at least coming close to another National Finals berth.

Not far away

Both Houghton Brass and Durham Miner's Association will know that they were not too far away from claiming qualification places last year when they ended 4th and 5th respectively.

Ian Langthorne will be hoping to have pushed his band on from a decent 3rd place in Section B at Durham a few weeks ago as they seek their first qualification since 2009.

Likewise, the vastly experienced David Hirst will be looking to do the same after his band came runner up there.

It could make for an intriguing battle between two very well matched rivals if both play to form.

Excitement

The talented Jonathan Fenwick will be looking to draw some excitement and colour out of his interpretation with Northumbrian Water Ellington Colliery, as well as build on a slightly uneven performance at Butlins where they only showed glimpses of their true form in ending 15th.

6th last year, they may need to up their game a bit if they are to challenge their rivals for a place at Cheltenham.

Improving

The improving Ferryhill took the Third Section honours here in 2010, and made a decent impression with a solid performance under Steve Norris last year despite coming 7th.

If they have built on that they should be confident of moving up the results table and banishing any relegation fears.

Newcomers

The newcomers to the section this year are Murton Colliery, who come down from the First Section, and promoted York Railway Institute, up from the Third.

Murton Colliery have posted two very contrasting results this season, with a disappointing 18th place at Butlins followed by a fine win at the Durham contest in the B Section.

Finding consistency then may be the key for the band as they seek their first National Finals appearance since 2008.

Meanwhile, consistency hasn't been a problem for the emerging York Railway Institute in recent times, with their fine Third Section victory here last year leading to a solid 9th place finish at Cheltenham.

12th place at Butlins was another move in the right direction too, so Gordon Eddison and his band could well be looking through the B&B brochures once more if they really hit top form.

Martin Benson
---
As for a winner?

We think it will go to whoever can perform 'Cross Patonce' with the combined elements of techncial grace and musical style.

Cockerton Silver will look to be favourites but there are many bands waiting to pounce on any slips, including section newcomers Murton and York.

Behind them we go for Durham, Houghton and South Milford with Elliington and Ferryhill as the dark horses.

4BR Prediction:

1. Cockerton Silver
2. Murton Colliery
3. York Railway Institute
4. Durham Miner's Association
5. Houghton Brass
6. South Milford

Dark Horses: Northumbrian Water Ellington Colliery and Ferryhill Town
---
Cockerton Prize Silver
Conductor: George Nicklin
Last 16 Years:
2011: 2nd (G. Nicklin)
2010: Winners (G. Nicklin)
2009: 4th (G. Nicklin)
2008: 6th (G. Nicklin)
2007: 2nd (G. Nicklin)
2006: 3rd (G. Nicklin)
2005: 5th (G. Catherall)
2004: 7th (A. Taylor)
2003: 7th (G. Catherall)
2002: 2nd (G. Catherall)
2001: 6th (C. Lawn)
2000: 6th (C. Lawn)
1999: N/K
1998: 8th in First Section (rel)
1997: N/K
1996: 2nd
---
Durham Miner's Association
Conductor: David Hirst

Last 16 Years:
2011: 5th (N. Davies)
2010: 7th in First Section (A. Exley) (rel)
2009: 6th (A. Exley)
2008: 6th (D. Hirst)
2007: 5th (A. Exley)
2006: 8th (B. Grant)
2005: 8th in Championship Section (B. Grant) (rel)
2004: 9th (J. Bell)
2003: 7th (K. Bolton)
2002: 4th (B. Grant)
2001: 2nd in First Section (C. Bentham) (prom)
2000: 3rd (B. Holden)
1999: 5th
1998: 6th
1997: N/K
1996: N/K
---
Ferryhill Town
Conductor: Steve Norris

Last 16 Years:
2011: 7th (S. Norris)
2010: Winners of Third Section (S. Norris) (prom)
2009: 4th (S. Norris)
2008: 8th in Second Section (S. Norris) (rel)
2007: 7th (S. Norris)
2006: DNC
2005: 4th in Third Section (S. Norris) (prom)
2004: 3rd (T. Maddison)
2003: 9th in Second Section (T. Maddison) (rel)
2002: 9th (S. Robson)
2001: Winners of Third Section (S. Robson) (prom)
2000: Winners of Fourth Section (S. Robson) (prom)
1999: 4th
1998: 11th in Third Section (rel)
1997: N/K
1996: 3rd
---
Houghton Brass
Conductor: I. Langthorne

Last 16 Years:
2011: 4th (I. Langhthorne)
2010: 6th (T. Gibson)
2009: 2nd (H. Smith)
2008: 5th (M. Bousie)
2007: 8th in First Section (T. Gibson) (rel)
2006: 6th (T. Gibson)
2005: 11th (T. Gibson)
2004: 3rd in Second Section (T. Gibson) (prom)
2003: 2nd (T. Gibson)
2002: Winners of Third Section (T. Gibson) (prom)
2001: 4th (T. Gibson)
2000: 5th (T. Gibson)
1999: N/K
1998: 10th in Second Section (rel)
1997: N/K
1996: N/K
---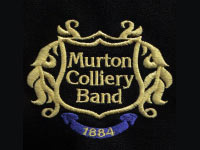 Murton Colliery
Conductor: S. Gary

Last 16 Years:
2011: 5th in First Section (D. Noble) (rel)
2010: 6th (D. Noble)
2009: 7th (D. Noble)
2008: 2nd in Second Section (D. Noble (prom)
2007: 3rd (D. Noble)
2006: 5th (D. Noble)
2005: 3rd in Third Section (D. Noble) (prom)
2004: 4th (D. Noble)
2003: 4th (J. Cook)
2002: 4th (P. Rosier)
2001: 8th (K. MacDonald)
2000: 8th (K. MacDonald)
1999: 4th
1998: 8th
1997: Winners of Fourth Section (prom)
1996: 3rd
---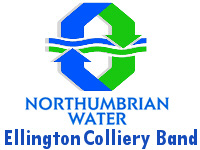 Northumbrian Water Ellington Colliery
Conductor: Johnathan Fenwick

Last 16 Years:
2011: 6th (J. Fenwick)
2010: 5th (J. Fenwick)
2009: 8th in First Section (R. Farr) (rel)
2008: 7th (A. Fernie)
2007: 7th (A. Fernie)
2006: 5th (A. Fernie)
2005: 7th (T. Swainson)
2004: Winners of Second Section (D. Wright) (prom)
2003: 3rd in Third Section (D. Wright) (prom)
2002: 2nd (D. Wright)
2001: 5th (D. Wright)
2000: 6th (J. Higginson)
1999: N/K
1998: 7th
1997: N/K
1996: N/K
---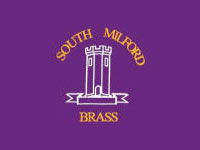 South Milford Brass
Conductor: Martin Hall

Last 16 Years:
2011: 3rd (M. Hall)
2010: 3rd (M. Davison)
2009: Winners of Third Section (R. Wilton) (prom)
2008: Winners of Fourth Section (R. Wilton) (prom)
2007: 5th (R. Wilton)
2000-2006: DNC
1999: 2nd
---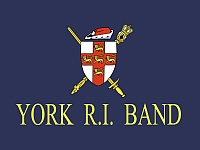 York Railway Institute
Conductor: Gordon Eddison

Last 16 Years:
2011: Winner of Third Section (G. Eddison) (prom)
2010: 2nd (G. Eddison)
2009: 6th in Second Section (D. Warley) (rel)
2008: 7th (D. Warley)
2007: 5th (D. Warley)
2006: 7th in First Section (D. Warley) (rel)
2005: 9th (D. Warley)
2004: 6th (D. Warley)
2003: 6th in Second Section (D. Warley) (prom)
2002: 3rd (D. Warley)
2001: 2nd (D. Warley)
2000: 9th (D. Beal)
1999: DNC
1998: 9th in First Section (rel)
1997: N/K
1996: 4th
---
Past Qualifiers:

2011: Catterick Brass, Cockerton Prize Silver
2010: Cockerton Silver, Catterick Brass
2009: Flookburgh, Houghton Brass
2008: Barton Town, Murton Colliery
2007: Wansbeck's Ashington, Cockerton Silver
2006: Lockwood Brass, Wansbeck's Ashington
2005: Lockwood Brass, GT Group Peterlee
2004: Ellington Colliery, Felling
2003: Langbaurgh Brass, Houghton Brass
2002: Langbaurgh Brass, Cockerton Silver
2001: Westoe (STHCT), York Railway Institute
2000: Harrogate, GT Group Peterlee
1999: Yarm and District, GT Group Peterlee
1998: Rowntree Band, Greggs Bakery
1997: Cottingham, Greggs Bakery
1996: Carlisle St. Stephens, Cockerton Silver
1995: Broughton's Brass, Flookburgh
---
North of England bands at the Finals:

2011: 11th, 17th
2010: 11th, 15th
2009: 7th, 15th
2008: 3rd, 15th
2007: 8th, 16th
2006: 10th, 11th
2005: 7th, 8th
2004: 8th, 9th
2003: 4th, 6th
2002: 5th, 12th
2001: 11th, 17th
2000: 11th, 15th
1999: 4th, 6th
1998: 3rd, 14th