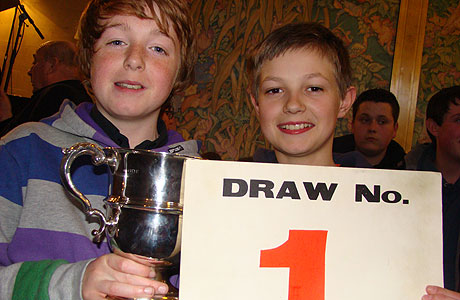 The Goodwick likely lads....

The only hymns and arias to be heard at the conclusion of this religiously inspired musical contest came from the bar of the Brangwyn Hall, as news filtered though that Wales had indeed won the Grand Slam.

Not that the hardy listeners in the hall missed out on any of the updated action.

Right side

As usual the announcer gave not only gave the obligatory introductions for each band to adjudicator Steve Sykes in both English and Welsh, but he also gave him the score from the Millennium Stadium too.

No wonder Steve ensured he kept on the right side of everyone before the announcement of the results by adding his congratulations not just to the qualifying bands, but also the rugby team too.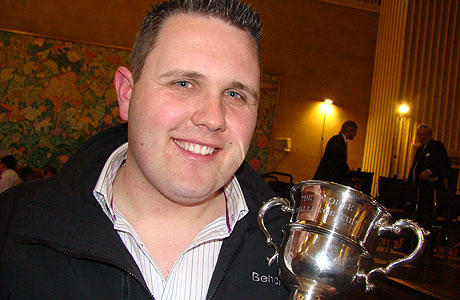 The winning MD, Matthew Jenkins

Goodwick's win was every bit as impressive that of Warren Gatland's men.

Full of a wonderful mix of youthful exuberance and mature musicality they grappled with 'Cross Patonce' head on – and quickly wrestled it into submission.

They opened with a show of intent – especially from prize winning euphonium soloist Gareth Trott, and never let their grip falter for one minute thereafter.

Joyful

The precision of the opening movement led into a warm lyricism in the second and a joyful Gallic inspired joie-de -vivre to close (unlike the French counterparts in Cardiff thankfully).

It was high quality ensemble and solo playing, led by an excellent MD in Matthew Jenkins.

It gave the band a 'Triple Crown' of Welsh Area wins and yet another chance to make it a Grand Slam at Cheltenham. On this form they will be there or thereabouts once more.

It was perhaps the most complete performance of the work heard at any Area contest this year.

Second year

Joining them in Cheltenham for a second successive year was the reigning champion Llwydcoed.

Gary Davies and his band wore smiles of relief after the announcement of the results as they knew they had not only been beaten by a far better rival on the day, but they had qualified without really hitting top form themselves.

Their usually secure ensemble work had the occasional misplaced rough edge, but thanks to the subtle dynamics and tasteful phrasing in a flowing middle movement, it just had enough about it to repel the controlled challenge of third placed Llanrug.

Destined

For two thirds of the piece, Paul Hughes led the north walians through a performance of purposefulness and clarity that seemed destined for a Cheltenham berth at the very least, with classy individual contributions from euphonium and soprano a feature.

However, the decision to play the finale with such a strict adherence to the tempo markings made it feel rather pedestrian and lacking in Gallic vitality.

A bit of risk taking would have perhaps just given them the nod over their rivals.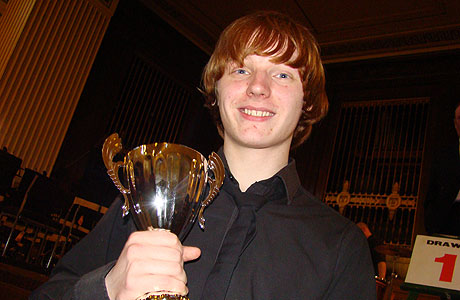 Best Instrumentalist winner: Gareth Trott
Rugby pitch

Behind the impressive podium finishers, who were a rugby pitch in length ahead of their rivals in terms of quality, the universal 'Cross Patonce' problems were in clear evidence once more.

Welsh banding at this level is pretty strong in quality, but even well directed ensembles found the technical hurdles, especially in the outer movements far too difficult to overcome.

As a result, there were some pretty average performances from the other contenders.

Bold account

Royal Buckley gave it their all in a bold account that placed the emphasis of execution on broad lyricism rather than detailed technicalities.

The middle section was a little gem, but the outer movements lost cohesion and clarity.

That it eventually came fourth, told you a great deal.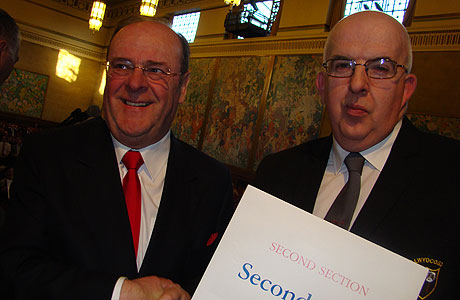 Back to Cheltenham for Llwydcoed

Sapped

Treherbert & District couldn't quite maintain their form after a solid opening seemed to have set them up under the precise conducting of John Burns for a qualification challenge.

The final movement really sapped stamina from tired lips.

A scrappy Blaenavon Town never sounded as if they quite ever had the music under control to produce a scruffy account to end fifth, whilst Newtown Silver's robustly constructed rendition cried out for more appreciable contrast both in dynamics and tempi.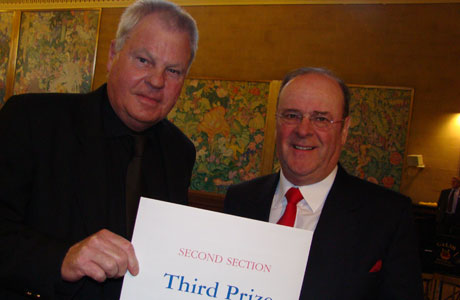 Just missing out for Llanrug

Lasting benefit?

Whether 'Cross Patonce' gave Gwaun Cae Gurwen and RAF St Athan any lasting benefit is open to debate.

Two very intelligent MDs used their experience to make the most of their resources (Alice Jones on euphonium for St Athan was outstanding), but were never within a musical mile of playing the test piece with a lasting degree of comfortable technical security.

Both produced hard working performances (GCG produced a fine ensemble sound) that showed endeavour, spirit and potential by the bucketful.

That still didn't make it any less than a rather chastening contest experience.

Wales will send two highly competent bands to Cheltenham – both of whom should be confident of doing well.

That's perhaps how it should be – but the pity was that it took such a misplaced set work to do the job.

Iwan Fox