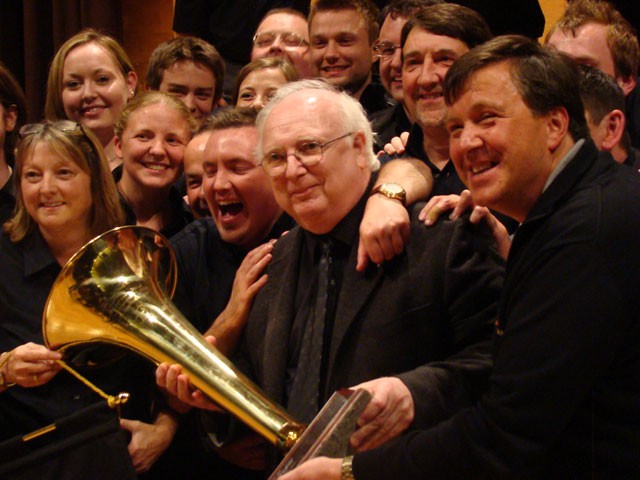 Wilby double for Black Dyke as they take English title again

It's rare that major brass band championships are won in such an emphatic manner, although given Black Dyke's all encompassing dominance in Preston, it may well become a commonplace occurrence in the UK over the next few years.

This was a thumping victory: Dr Nicholas Childs leading his band to the English National title with a brace of performances that stood head and shoulders above their rivals.

Hard pressed

A year ago Dyke couldn't buy a win for love nor money. Now they appear nigh on invincible, with the British Open and National Finals to come.

You would be hard pressed to find a bookie offering any kind of odds against them doing what they did here in both Birmingham and London.

Dream position

After 12 years in charge, the MD now has the band he dreamed of under his command: Young, fearless, committed; imbued with bags of musical talent and cast iron contest nerves.

He is also in the enviable position of being able to control the Queensbury juggernaut with absolute authority.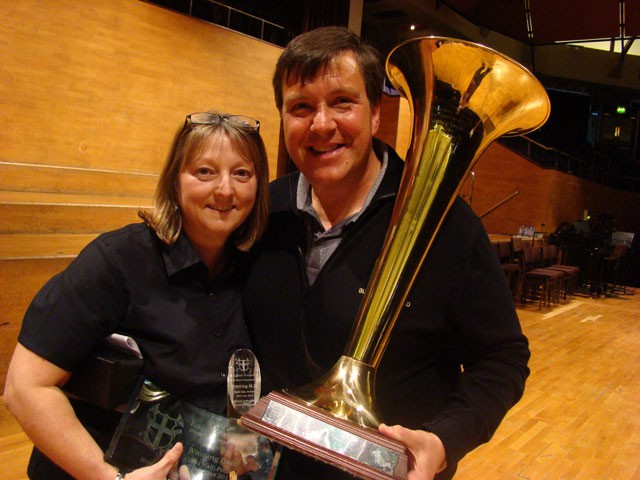 Celebration time in the Childs household

Evolution

With sibling rivalry at Cory now eclipsed by their ascent to the top of the world rankings, and with the likes of Brighouse, Grimethorpe, Foden's and Fairey in varying periods of transition, Black Dyke has once again become the pre-eminent UK contest force.

To get there the changes have been evolutionary rather than revolutionary, with an occasionally fragile middle of the band significantly upgraded with the introduction of Sheona White, Katrina Marzella and Zoe Hancock.

The overall effect though has been startling, coinciding with the mature development of other players – most significantly Gary Curtin, who now provides the lower brass with a focal point of excellence on principal euphonium.

Clarity and precision

That in turn has allowed the MD to mould contest winning performances of clarity and precision.

On Saturday morning, 'Masquerade' was delivered with a kite mark stamp of quality that broached little or no argument.

Forensic

Black Dyke was the only band to play the opening bang on the 160 tempo marking, enabling the MD to develop his interpretation with a forensic appreciation of the intricate detail found in Philip Wilby's masterful score that never once sounded rushed.

It reeked of class, control and purpose: Solo lines were played with authority (Richard Marshall claiming the 'Best Instrumentalist' Award), the ensemble work delivered with deeply polished aplomb.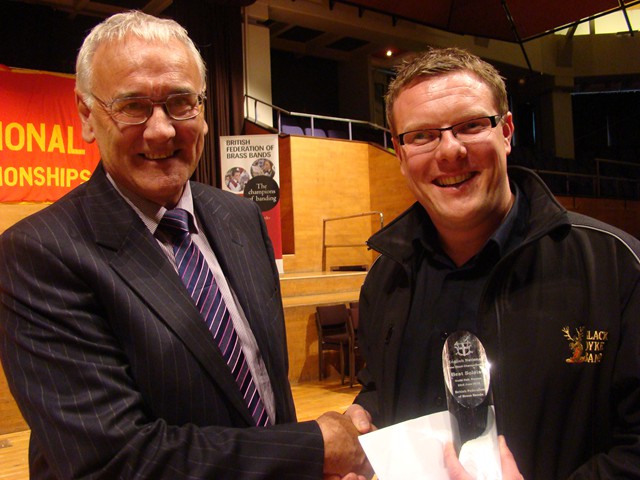 Best Instrumentalist Award winner Richard Marshall

Eyebrows

Some eyebrows were raised with the dynamic theatrics (especially given the quality of the pianissimo work displayed by the same players on 'Revelation'), but this was a display of the ice cold contesting realism that flows through the MDs veins: It was a risk aversion strategy with a single minded contest winning purpose.

Snuffed out

If there was a chink of hopefulness for the other seven bands it was snuffed out on their own choice selection of 'Revelation', which was delivered with the rarest quality.

It was outstanding in Rotterdam – simply superb here.

Asked more

The MD asked even more of his players in Preston.

They responded by giving him even more in return.

Sheona White led solo contributions that were nigh on faultless in terms of style and execution, whilst the ensemble backed them with subtle nuance, warm balance and razor edged precision.

By its close Black Dyke's name could have been engraved there and then on the English National trophy in the nearest branch of H. Samuels.

Straining

Behind them even the best of the rest seemed to strain every contesting sinew almost to breaking point just to hold onto their coat tails.

There was little to choose between the North West trio of Leyland, Foden's and Fairey – although on this evidence, a combination of burgeoning self belief, passionate commitment, excellent preparation and a pinch of serendipity gave Leyland the bragging rights once more.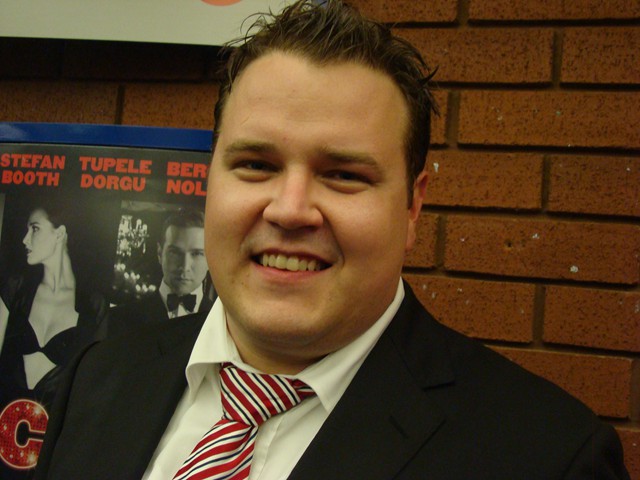 Michael Bach led Leyland into second place

Acidic

There were also a few grumbles and acidic comments from rival quarters after the contest, even as Leyland player's joyously celebrated second place and qualification for the European Championships in Oslo next year in the Guild Hall bar.

It is pretty evident there is no love lost between three highly motivated bands, with Leyland now laying claim, with growing justification based on recent results, to being the most consistent North West challenger to Dyke's growing hegemony.

They are certainly the most exciting.

Throat

In Michael Bach they have an MD who's boldly coloured, malleable interpretations do have a Marmite quality about them at times, but which without doubt grab you by the throat leaving his scorch marks in the process.

This is a hugely talented conductor who wears his musical heart on his sleeve, shirt, jacket and overcoat.

Van der Graaf

A misfiring 'Masquerade' was certainly an acquired taste, with the obvious technical imperfections outweighing the kaleidoscopic interpretation of the Shakespearian subject matter.

The same could not be said of 'Audivi Media Nocte' though, which certainly had such raw energy (and occasional free flying bolts of waywardness) that the air crackled as if Leyland were powered by a Van der Graaf generator.

Second place here may have come with a small caveat or two, but this is a band that will only get better, stronger and more consistent in coming months.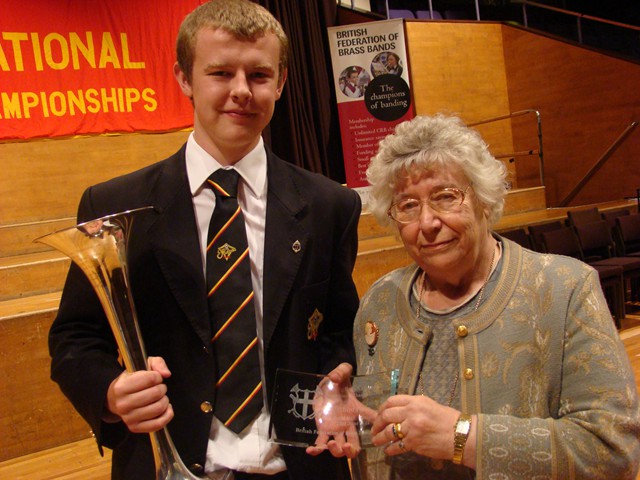 Third place for Foden's

Energy source

In contrast, Foden's will wonder if they were provodong a different form of energy source to judges Stephen Roberts and Chris Wormald with 'Rococo Variations': A performance of mature musicality end fifth in the afternoon – enough to drop them to third overall.

Earlier, Allan Withington's mastery of characterisation produced a portrait of Falstaff that old Will himself would have been proud to have drawn in prose.

Puzzle

Glyn Wlliams was the pick of the day's euph players (and a little unlucky not to have won the 'Best Instrumentalist' Award for his bravura contribution), and whilst there were little scraps and dents in the rich patina, it pushed Dyke close.

The afternoon though was a puzzle: a cultured, if dynamically powerful rendition of high class virtues finding little appeal in the box.

No wonder the players wore a forlorn look as they contemplated the drive back down the M6 to Sandbach.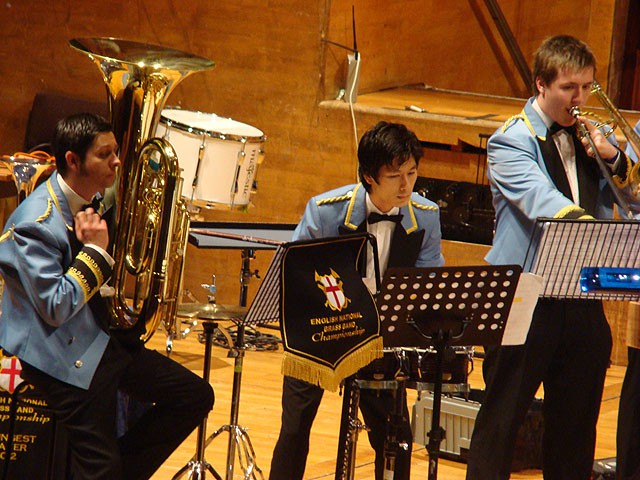 Consistency not quite enough for Fairey

Consistency

So too Fairey, who certainly displayed consistency in coming 4th on the set work and 3rd on their own choice selection of 'Audivi Media Nocte', but who couldn't quite find an extra gear of visceral excitement on either piece to sneak ahead of their rivals.

Ian Porthouse set out a pair of well planned musical accounts that were delivered with thoughtfulness and accuracy, but an inherent conservatism, especially on the Waespi work that demands edginess and momentum just saw them come up short of a podium finish.

Progress

Hepworth's growing partnership with Russell Gray showed further signs of progress in coming fifth overall.

A broad, lyrically inspired 'Masquerade' was balanced with a reprise of 'On the Shoulders of Giants', which although not as secure as their winning performance at the Grand Shield was still studded with classy solo inflections and purposeful ensemble work.

Despite the noticeable fragilities, they should be confident of making a real mark at the Open in Birmingham come September.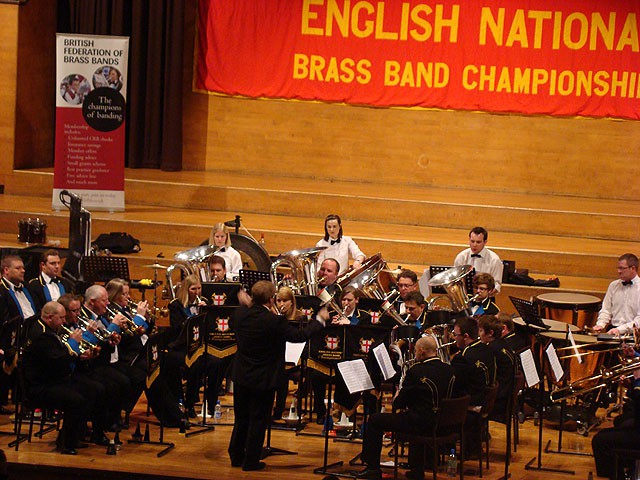 Heading to the Open with confidence for Hepworth

Mini contest

A mini contest of sorts saw the remaining trio of Reg Vardy, Virtuosi GUS and Pemberton Old Wigan DW battle it out for a top six finish – although overall they ended a noticeable margin behind the other bands.

Eggs

Reg Vardy put all their eggs in the one basket on the set work, with a performance of solid technical virtues and neatly defined musical contours.

However, despite Ray Farr's free flowing stylistic reading they were a spent force by the time they tackled 'Rococo Variations'.

The major problems in leading solo lines, either through tiredness or lack of concentration saw them rather limp into sixth place overall.

Fragile

Meanwhile, a fragile Virtuosi GUS never recovered from a horrendous start to 'Masquerade', although John Berryman gave ample recovery time and space for his leading soloists to shine.

Much like Reg Vardy they were running on fumes with 'Extreme Makeover', as a tour de force piece took them out of their comfort zone.

GUS is in need of a real boost of confidence ahead of the British Open, where on this form they could struggle to maintain their elite status.



Encouraging step forward for Pemberton

Hard grafting

Two hard grafting performances by Pemberton Old Wigan DW produced another encouraging step in their youthful development under Mark Bentham.

Despite the obvious shortcomings, 'Masquerade' was tackled with musical common sense by the MD and a bravura approach by his players, whilst a vibrant account of 'Harmony Music' was enhanced by classy solo contributions, even if the ensemble work became a little ragged as the lactic acid seeped into tired lips.

Late night

With a low key results ceremony, confirming the obvious, the only tiredness Black Dyke will have felt will have been from the after effects of a late night celebration following the most commanding victory of what could well become a truly historic contesting season.

Iwan Fox