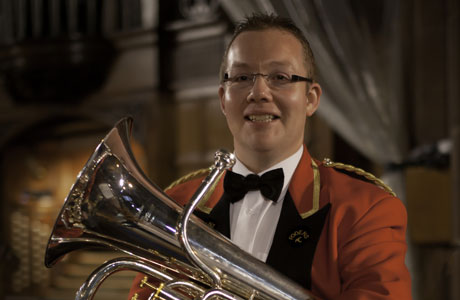 2012 Mortimer Medal recipient Mark Bousie
(With thanks to Ben Knowles Photography)

4BR's Malcolm Wood catches up with this year's Mortimer Medal winner, Mark Bousie.
Malcolm Wood: Congratulations Mark on being awarded The Mortimer Medal which will be presented to you at The British Open. What is the award in recognition of?

Mark Bousie: Thanks Malcolm. The award is in recognition of services for the teaching of young people in the brass band movement.
---
Malcolm Wood: Have you recovered from the shock?

Mark Bousie: Nearly! To be awarded the Mortimer Medal is not something I'd ever thought about and certainly never expected. It was a huge surprise when I received the letter from The Worshipful Company of Musicians.
I really didn't think I'd achieved enough to be considered for an award like this, and if I ever did it would be when I was a bit older with a few more grey hairs...or perhaps I'm in denial here!
Of course, I'm delighted and would like to thank the Worshipful Company for the honour.

I always look forward to the Open and this makes it a little bit more special.
---
Malcolm Wood: You teach music professionally so was working with youngsters away from the day job a natural extension of this?

Mark Bousie: I'm currently Head of Music at Glossopdale Community College in Derbyshire, where I've taught for 12 years.

There's been a fine tradition of brass playing at the school for many years, so I suppose the extracurricular activities I've been involved with have been a natural extension.
Working with young brass musicians is a real passion of mine, so I think things have gradually evolved the more I've got involved.

I'm also lucky to have been associated with two 'top flight' bands in Foden's and Sellers who have been innovative in their encouragement of the next generation of players.
---
Malcolm Wood: You're actively involved at the Junior RNCM in Manchester. What does this entail?

Mark Bousie: I'm the euphonium tutor at the Junior RNCM, which takes place every Saturday during term time.
At the moment I've three talented and enthusiastic students, who I teach for an hour each every week. I think the Junior RNCM is a very exciting place to study, as performance and learning opportunities are growing all the time.

There is an excellent line-up of brass tutors and the Junior RNCM Brass Band, only formed a few years ago, is now, under Les Neish, gaining rave reviews.
---
Malcolm Wood: In addition to playing and teaching, you've been a well known youth band conductor. How did that come about?

Mark Bousie: I started conducting youth bands in 2000 when I first started teaching.

I formed a wind band at Glossopdale College (which is still going strong) and assisted Nigel Fielding with the conducting of the school brass band.
I guess one of the most significant moments came though when I was appointed MD of Sellers International Youth Band in 2002.
Conducting and developing a youth band appealed to me, so when the vacancy arose it seemed ideal, especially as it was connected to the senior Sellers Band which I had been a member of for six years.
A lot of excellent foundation work had been done in the previous four years by my predecessors, David Essex and Richard Wilton, so I was fortunate to be able to build on that.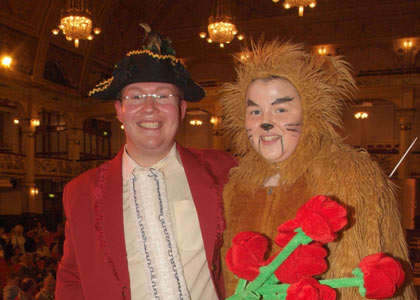 Youthful inspiration at the Action Research Championships
---
Malcolm Wood: Did you seek ongoing advice from anyone, or did you find yourself learning as you went along?
Mark Bousie: I've always tried to learn from others as I've gone along.

I was fortunate to have worked with people who have been massive influences: Lynda Nicholson at St Helens Youth Band, where I worked as a brass tutor between 2000 - 2004 before returning as conductor in 2008, and Chris Wormald at Smithills School, where I completed a teaching placement in 2000.
It seemed to work, with Sellers gaining success at The Action Medical Research contest, with the high point seeing being declared Advanced National Youth Champions of Great Britain in 2009.
---
Malcolm Wood: Did you find the players relished the opportunity to perform new and challenging repertoire?
Mark Bousie: Yes. I've always found that young players enjoy these opportunities.
They have relatively few, if any, preconceived ideas about composers, styles and repertoire, so throw themselves into new challenges with ease and enthusiasm.
At Sellers, we commissioned a number of new works, especially from my friend Pete Meechan. The players loved playing these pieces, which were not necessarily in a traditional brass band style.
Pete would take a very 'hands on' approach with the pieces he wrote for us, and I think they also loved working with a composer who wasn't too (!) much older than them and that they could relate to.

The eight years I spent conducting Sellers Youth were very special.
---
Malcolm Wood: From Sellers you went on to conduct St Helens Youth Band where you took over from Lynda Nicholson. Was this a different sort of challenge?
Mark Bousie: Of course. I was taking over from someone who had been hugely successful and who I respected immensely.
Fortunately, I inherited a cracking bunch of young musicians with a fantastic attitude and was given great support from a wonderful team of parent helpers.
These features are essential to having a successful and happy youth band. I spent three very enjoyable years as MD, although sadly I had to step down in July 2011 as my wife, Jayne, was expecting our first child. Something had to give!
I do miss conducting them, but I'm so pleased to see that they're achieving great things with their new MD, Anna Hughes-Williams.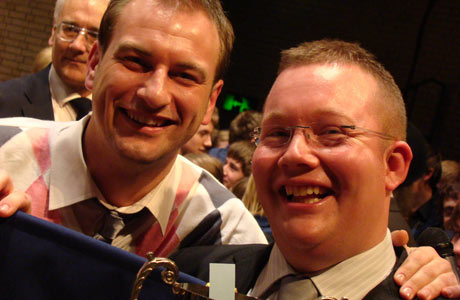 The winning MD at the National Youth Championships in 2009
---
Malcolm Wood: You've also conducted bands at Regional contests. Is that something you enjoy and can you see yourself doing more conducting on the senior competitive stage in the years to come?

Mark Bousie: I've really enjoyed my fairly limited (so far) experience of conducting 'senior' bands, especially at the Area contests.

The forensic process of preparing a test piece and working with a (mostly) different age group is a different challenge and requires a slightly different approach, but the basics are just the same.
I'd love to do more conducting on the competitive stage, if and when time allows.
---
Malcolm Wood: Having played under many of the finest conductor's of the modern era, have you found yourself incorporating some of their approaches into your own conducting style?
Mark Bousie: I think it's inevitable that any player who takes up the baton is going to be influenced by the conductors they have worked under.
I've been fortunate to play under some of the finest of recent times, and find their different approaches fascinating. I try to analyse their conducting styles, rehearsal techniques, man management and motivational skills, in the (perhaps vain!) hope that some of it will rub off on me!
Having said that, because conducting has so many facets you can learn something from virtually every conductor you work with.

They all have something to offer. It certainly isn't an easy job, despite what some may say!
---
Malcolm Wood: You are to be actively involved in the new Foden's Youth Band alongside Michael Fowles, which is due to perform for the first time later this year. Is this the next rung on the ladder conducting wise and how much are you looking forward to the role?

Mark Bousie: It will be a privilege to work alongside Mike. I've known him for nearly 20 years and he is someone I greatly admire and respect.
His approach to working with bands of all ages and abilities is a joy to behold and he is the ultimate professional - so in that respect I guess this is the next rung on the conducting ladder.
Everyone at Foden's is excited about the formation of the band due to the overwhelming response it has created.

We will be tackling some very challenging repertoire right from the word go, something that I know Mike, myself and the players will relish.
The band will only rehearse once every month or so, and we're therefore aiming to offer the players repertoire that they maybe haven't experienced in their own respective youth bands.
Alongside expert tuition this will benefit the young players and hopefully enhance the bands that they play with on a regular basis.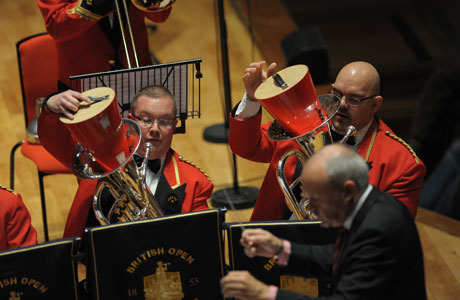 In action with Foden's under Allan Withington at the British Open
---
Malcolm Wood: What advice would you have for any aspiring conductor's out there?

Mark Bousie: Take every opportunity you can to learn, whether it's attending conducting courses or simply observing from other conductors in rehearsal and performance.
Never be scared to try something different, but never forget your players - the baton doesn't make any noise so it's better to have them on side!
---
Malcolm Wood: Thanks Mark and many congratulations on the award once again.