Adjudicators: Frank Renton & Kevin Wadsworth

Test Piece: Vivat! (Tom Davoren)

Sunday 23rd September
Commencing: After award ceremony for Third Section

Contest Controller: Peggy Tomlinson
---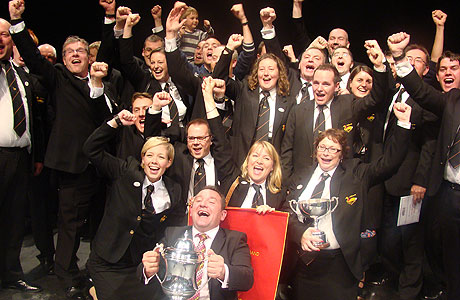 Viva celebrations for Aldbourne in 2011

As has become the custom, the weekend is rounded off by bands hoping that their players wake up on Monday morning nursing a sore head as they head into work crowned as First Section National Champions.
Compact pageantry

Tom Davoren's colourful set work 'Vivat!' will mean that the winners will get the chance to enjoy a few celebratory pints in the bar before they board the bus home, as its compact three movement evocation of royal pageantry packs a great deal into a relatively short space of time.
The composer starts with a royal death; although thankfully not the lachrymose mass hysteria surrounding Lady Diana, but the more restrained outpouring of grief that centred on the demise of George VI in 1952.
It harks back to a time when mourning was muted and respectful – not blubbed out amid a sea of garish soft toys and hastily rearranged karaoke versions of 'Candle in the Wind.'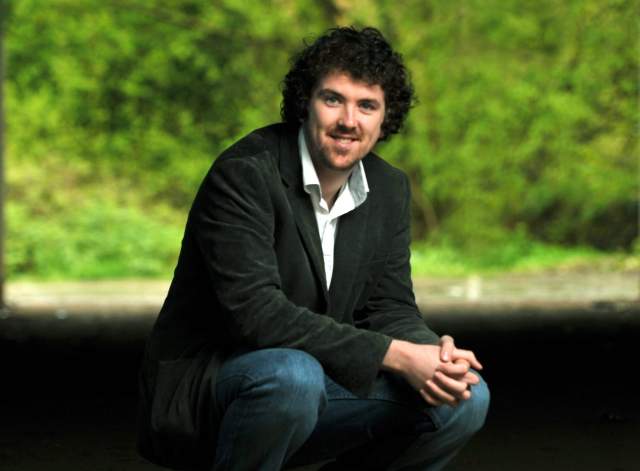 Expert craftsman: Composer Tom Davoren

Expertly crafted

'In Memoriam' is an expertly crafted study of noble sentiment and patrician affection – elegant, elegiac and one heck of a test of the potential top section credentials of 17 competing bands.
Thinly scored and delicately balanced, some may find their chances of title success buried with indecent haste if they succumb to early nerves or bad tuning.
Coronation

It leads into the pomp and splendour of a 'Coronation' – one that evokes the majesty of a ceremony that 60 years ago saw a heavy crown of responsibility placed on the head of a young Queen.
Full of sonorous timbres and crackling with a reminder of the excitement felt at the dawning of a new Elizabethan age, there is a sense of modernity to the rhythmic patterns and percussive interjections, even though the composer peers back through the prism of history.
Jubilee

To close, a joyous reminder of Jubilee street parties and the communal celebrations that perhaps reached its zenith in 1977, but made a welcome return to the national consciousness in 2012.
Bold and full of vitality, 'Jubilate' brings an impressive work to a powerful close with a neat reference to Charles Parry's, 'I Was Glad' - a homage to a composer who made his own musical mark on various royal occasions over a century ago.
Much is expected of the competing bands at this level – many of whom will start life in the Championship Section in 2013.

Are they really top level outfits in waiting or mere pretenders blind to the hard contesting realities of Championship life?
Answer

This test piece may not give a definitive answer, but it will certainly give Frank Renton and Kevin Wadsworth plenty of raw material on which to base their decision making in the box.
There is more than enough here to separate the gimlet eyed realists from the dewy eyed romantics, and given both their welcome reputations for straight talking – the pre-results speeches could be ones to savour.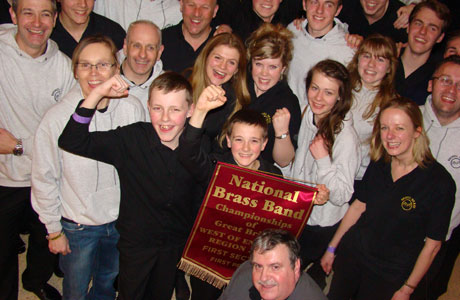 Can Brunel win another National title?

West of England
It was 'West is Best' last year with the top two places claimed by Aldbourne and Bournemouth, so a hard act to follow for Area champions Brunel Brass and Chalford.
However, given the region's recent record (at least one band in the top six), Brunel's remarkable rise through the rankings (they won the Second Section National title last year) and Chalford's impressive form, there is no reason to doubt that the duo's confidence is not misplaced.
One or both could feature in the mix come the announcement of the results.
Yorkshire
There is sure to be a great deal of hard earned Yorkshire brass being placed on Area champions Unite the Union (City of Sheffield) and Yorkshire Imperial Urquhart Travel at the Cheltenham branch of William Hill.

These are a brace of powerful, talented outfits whose top section credentials have already been tested against high class opposition as late as last weekend at the Doctor Martin Contest in Middlesbrough.
Hard to separate with a sheet of Bronco paper they are short odds to battle it out for a first Yorkshire victory since 2007.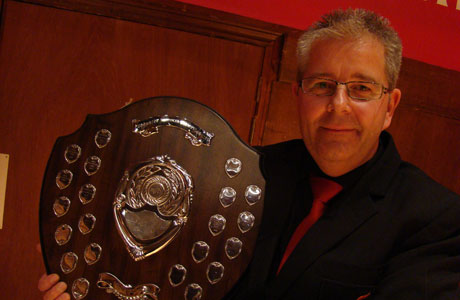 United we stand: Yorkshire champions look to add the National title

London & Southern Counties
The London Area bands have certainly held their own in the last few years, with Frairy Guildford posting a famous victory in 2010.
Hopes will be high that Becontree Brass, one of the form bands of 2012, and a resurgent MK Brass could head home with more than just a mention off the stage come the announcement of the results.
Both are led by talented MDs in Adam Cooke and Craig Patterson, so should travel across the M4 with ambitions of posting decent returns.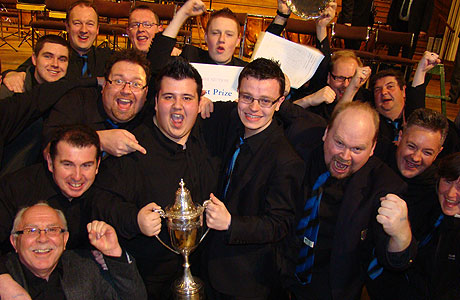 Port of call: Can Burry Port take the title back to Wales?

Wales
Welsh hopes are pinned on two strong contenders in Area champions Burry Port and Lewis Merthyr.
They qualified in some style at Swansea and have continued their improvement under the direction of Michael Thorne and Gareth Pritchard.

Wales has an excellent recent record with a brace of victories and consecutive top six finishes in the last five years, although both will need to be on top form to feature in the prizes, although a possible mention of the stage may be on the cards.
Scotland
No First Section triumph to celebrate for the Scots since the formation of the additional level in 1992, and it would be something of a surprise if that ended this year too.
Two solid, confident bands in champions Clackmannan & District and Dalkeith & Monktonhall make the long trip south, but they are up against some pretty strong opposition.
MDs Paul McKelvie OBE and Jim Chamberlain may have to be content with a possible mention off the stage at best.
North of England
BHK Horden's famous victory in 2003 seems a long time ago now, but there are hopes that Area champions Shepherd Group and Westoe Brass could be about to spring a repeat performance.
Both qualified with performances of solid merit and with two talented MDs in Richard Wilton and Jason Smith they have continued to improve as the contest year has unfolded.
Whether or not that improvement is enough to secure a top six finish or better for either of them we will have to wait and see.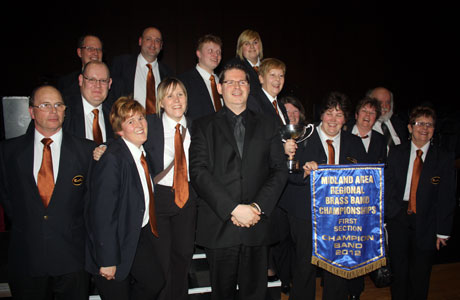 Title favourites? Ratby look to return for a wining return to Cheltenham

Midlands
A trio of competitive bands make the short trip to Cheltenham looking to claim a first Midlands victory since 2006.
Champions Ratby Co-operative and Phoenix West Midlands more than held their own last year and return again, with Ratby in particular being well backed by punters who have heard them in recent action under Michael Fowles.
Phoenix West Midlands and Foresters Brass 2000 are also solid outfits led by experienced conductors in Trevor Jones and Peter Collins, so there are realistic hopes for all three bands if they hit form.
North West
Surprisingly, the North West hasn't produced a First Section champion since Pemberton Old Wigan in 2004, although their qualifiers have posted top six finishes in four of the last five years.
This year they send two ambitious outfits in champions Rainford and Wardle Anderson Brass – both of whom have shown a desire to propel themselves to the elite level under MDs Neil Samuel and Steven Walsh (although Sean Conway led Wardle at Blackpool)
Both have a good balance of youth and experience throughout their ranks, so should be looking to push their way into the mix, even if an overdue victory could be a bit of a long shot.
---
Who will win?
The bookies will have a field day on this one with any number of fancied runners lining up in the parade ring.
We fancy a fight between Yorkshire and the Midlands on this one, with Ratby Co-operative just having the ability to win by a short head from the powerhouse Yorkshire duo of Yorkshire Imps and Unite the Union (City of Sheffield).
Behind them there could be one hack of a scramble between Brunel Brass, Becontree and Wardle with Burry Port as our dark horse.
4BR Prediction:
1. Ratby Co-operative
2. Yorkshire Imperial Urquhart Travel
3. Unite the Union (City of Sheffield)
4. Brunel Brass
5. Becontree
6. Wardle Anderson Brass
Dark Horse: Burry Port