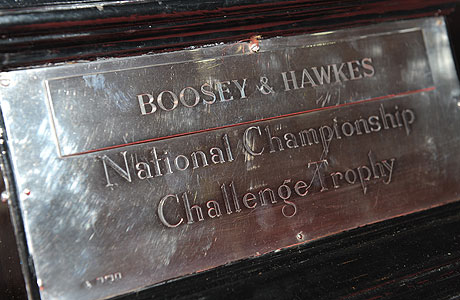 Who will engrave their name on the trophy this year?

One of the most eagerly anticipated National Championships will take place at the Royal Albert Hall on the weekend.

A combination of possible historic victories on a set work that has captured the imagination and overwhelming approval of the competitors has the potential of setting the old hall alight come Saturday night.

1970s return

In a week when there has been a great deal of debate to whether banding in the UK has been stuck in the 1970s, the contest could well see a welcome return to the days when there were queues of ticket hunters snaking the length of Kensington Gore looking for 'spares'.
The choice of 'Daphnis & Chloe' has certainly set the pulses racing: Howard Snell's masterful arrangement is a tour de force – a breathtaking construct that revels in its sumptuous musicality.

Mushroom pickers...

Pitch and toss

The very best performances could well receive the type of acclamation that could spin the famous mushrooms in the hall's ceiling like ten pence pieces in a game of pitch and toss.
With Howard Snell joined in the box by Paul Cosh and Ray Farr, there will be few crumbs of discomfort to argue over in the post contest watering holes around the famous Mews.

It's a line up of informed excellence that brings vast experience to bear as they seek to measure, compare and contrast the 20 competitors.
Exquisitely severe

Whoever emerges the deserved victor to clasp the great old silver cruet pot and the £2,000 first prize will have done so the hard way – for this piece that takes some playing:

Its demands are so exquisitely severe that the difference between success and failure could well be measured in the tiniest of artistic blemishes rather than blundered technical imperfections.
Squeaky bums

That said there can't be too many soprano players who will enjoy a peaceful night's sleep on contest eve: Even Sir Alex Ferguson will have sympathy with their 'squeaky bums' on this one.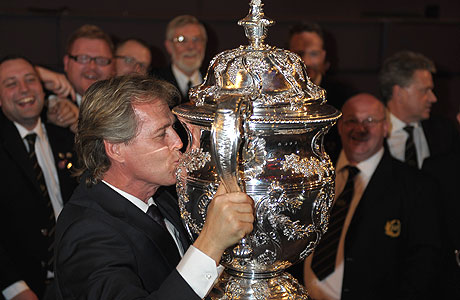 Will David King be celebrating once again?

Champions

Sympathies aside, there is so much to look forward to; with reigning champions Brighouse & Rastrick straining every musical sinew to claim their first ever National hat-trick under the inspirational David King.
After so many years when he couldn't sniff a victory, the Australian has found the magic formula.

As they showed at the British Open, they are a combination that revels in the risk taking game – and this piece could see them risk everything in pursuit of banding immortality.
Pantheon ambitions

Foden's also has ambition to join the pantheon of banding greats, after they also found a long awaited winning formula at the Open under Allan Withington.
With six victories already to his name, this could well be a combination that could be in seventh heaven come Saturday night if they perform to the very top of their game.
Overdue revenge

Even though Black Dyke's 'Grand Slam' ambitions were denied in Birmingham (second place gave the Queensbury juggernaut a dent in their 2012 no claims bonus) they will still head to Kensington confident of gaining their fifth victory under Nicholas Childs.
32 years ago Brighouse stopped a fifth consecutive Dyke win, so the thought of long overdue revenge against their oldest rivals could just be the extra little spur they need.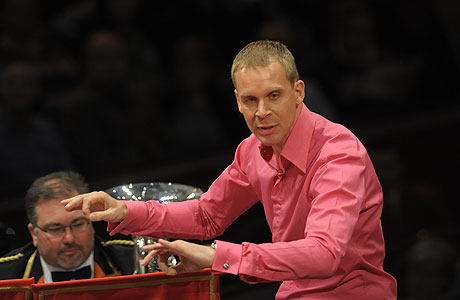 Can Philip Harper lead Cory to victory?

Thereabouts

Amazingly, Cory only gained one National title under the baton of Robert Childs (back in 2000), so they will travel in the belief that a sixth title success is long overdue.
Philip Harper's tenure got off to a cracking start at Symphony Hall, but it may be about to get a whole lot better if he can lead his band to victory here.

Always there or thereabouts, this could well be the year in which the National Trophy returns to the Rhondda once more.
Past winners

Most pundits are backing one of these heavyweights to lift the cup on Saturday evening, but two former winners may well have something to say about that.

2005 champion Leyland were tantalisingly close to producing a possible winning performance at the Open, with only a toxic surge of adrenaline scuppering their chances.
Michael Bach's ability to draw every last ounce of musicality out of a score could well find its perfect muse in the Ravel – and if it clicks the title could be heading back to the North West area for the first time since 2003.
Licking the lips

The band that did it then was Fairey, and whilst they were some way of the pace at the Open, Russell Gray in another MD who will be licking his lips at the thought of getting to grips with this kaleidoscopic score.
They do like it here (two podium finishes in the past two years), so if they can rid themselves of the high error count that blighted their chances in Birmingham, this could be their best of claiming a 10th title.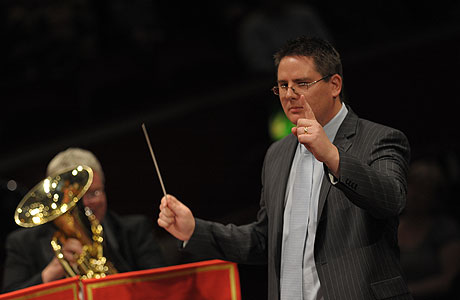 Dark Horse contenders: Paul Holland and Flowers

Dark horses

The list of potential dark horses is a pretty long and intriguing one.
Flowers really do look a good each-way bet for a first ever top six finish if they can just up their game from the classy levels on display earlier this year.
Paul Holland has a wonderfully compact ensemble under his command that is liberally sprinkled with some crafty signings.

They are a very confident bunch too - and it isn't misplaced either.
Thumping

Talking of which, Tredegar's took one heck of a thumping at the Open, so they will be keen to return to the form that saw them come 5th last year.
Ian Porthouse has one of the most vibrant sounding ensembles under his baton, so if they can just keep their error count to a minimum then they could well enjoy a timely boost to their contesting self esteem.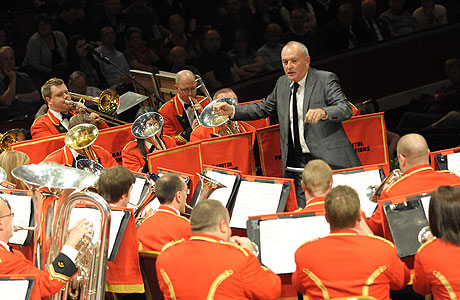 Seventh heaven for Withington?

Shock waves

There is no darker horse than Desford – a band that has the ability to send a shock wave through the opposition if their preparations have been going well.

Martin Winter, a musician who certainly knows how Howard Snell's musical mind ticks should ensure that, and if they don't try something too different as they did at the Open, they could sneak up on their rivals once more.
Scots reputations

For the first time in quite a while, the Scots have a pair of contenders that could well live up to their reputations.

Co-operative Funeralcare was unlucky that they didn't gain a mention off the stage at the Open, and if they perform anything like that under Allan Ramsay their name could well be on the lips of more than just their supporters.
Meanwhile Whitburn has shown its determination to regain lost contesting ground with the appointment of one of European banding's leading MDs in Erik Janssen.

If he has been able to mould their confidence together, then a top ten finish for the first time since 2007 could be on the cards.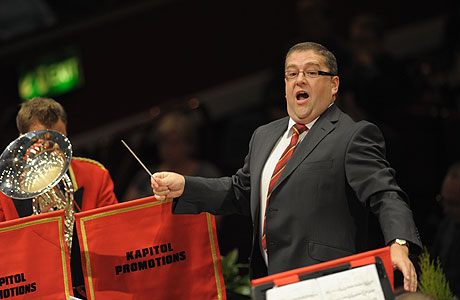 Growing by the contest: Gwyn Evans and Beaumaris

Exponential growth

The Welsh duo of Tongwynlais Temperance and Seindorf Beaumaris will also travel in hope as well as expectation of a top 10 finish or better.
Tongwynlais has showed glimpses or its emerging potential this year, whilst Beaumaris continues to mature at an exponential rate of contesting growth.
Last year's 4th place was an eye opener, but as they showed at the Open, they are no longer a surprise package and now feel more than comfortable on the biggest stages of all.
Radar

A band that may appear under the bookies radar is Rothwell Temperance, who hasn't been in the best of form of late, but can still mix it with the heaviest of heavyweights at the Albert.
If they have regained their confidence then they could be a band to watch out once more.
Long shots

There are quite a few long shots at the Kensington bookies, with the North of England pairing of debutants Felling and returnees Barton (after 107 years) looking to claim a scalp or two, whilst Bournemouth Concert Brass and Jaguar Land Rover may leave London happy if they can force their way into the midfield finishers.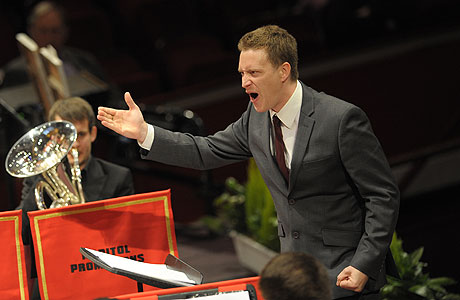 Making the most of it: Ruchard Ward and Zone One

Local interest

Local interest may also be confined midfield expectations too, although Richard Ward is a conductor who can make the most of the limited rehearsal opportunities he has with Zone One, whilst Melvin White's experience will surely see Staines take to the stage as well prepared as any of their rivals.
It all kicks off at 10.00am with the usual 4BR live coverage, so why not join us to see just which band will make the most of one of the finest brass band arrangements in history to claim the National title.

Iwan Fox
---
4BR Prediction:
1. Foden's
2. Cory
3. Black Dyke
4. Leyland
5. Brighouse & Rastrick
6. Fairey
Dark Horse: Flowers
Potential top 10 finishers: Desford, Co-operative Funeralcare, Tredegar
Possible midfielders: Whitburn, Rothwell Temperance , Seindorf Beaumaris, Tongwynlais Temperance, Zone One, Jaguar Land Rover
Probable bottom four: Bournemouth Concert, Felling, Barton, Staines