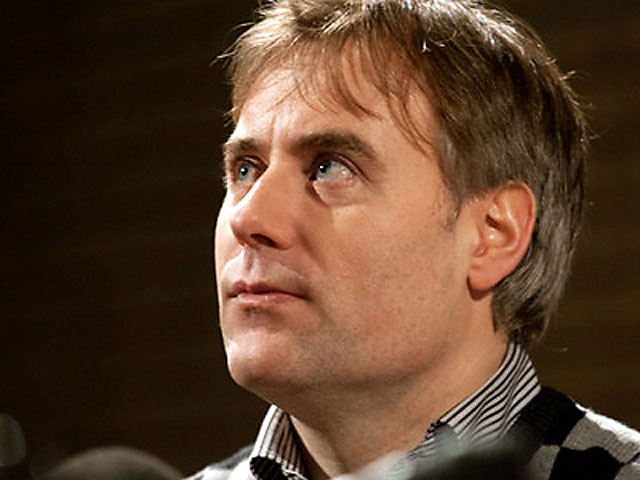 Given the opportunity, the wish list, the ability to mess about with the Space-Time Continuam like Doctor Who, and the skill to cook like Heston Blumenthal, who would you like to invite around to your place to enjoy a meal and chin wag with?

4BR started it all off a few days before Christmas 2007 with our 10 dinner guests, so we thought we had better ask a few more brass band personalities who would be on their all time dinner list too..

Celebrity dinner

This time we have asked Norwegian composer Torstein Aagaard-Nilsen - who has simply come up with one heck of a meal for the guests to enjoy talking about all things musical!

Torstein told us: "For this particular evening I will arrange a brass band celebrity dinner. I have invited several interesting people, who all have crossed my path and at the same time meant a lot to the Norwegian brass band scene.
I don´t know all of them personally, so this could be a good opportunity to get to know them better."

Traditional food

One thing is certainly a bit different however – the meal.
Torstein explained: "I like cooking, so it should not be a problem with the food. The only factor that could be a challenge is that I like to cook traditional food from the north of Norway.
For this very special occasion, the main course will be lutefisk (made of stockfish soaked in lye), then in pure water for a few days, served with potatoes, bacon, mashed peas and some mustard."
Whipped cream

He added: "We will drink cold beer and aquavit. As a starter, I will do a small dish of smoked whale meat, served with a light Riesling from Mosel. The dessert will be basically cloud berries with whipped cream and sugar, served with a Prosecco wine."
---
1. Lovisa Midtbø

I have known Lovisa since the late 1980´s. She is a former President of the Norwegian Band Federation and she was the first female to be elected.
I conducted the local school band for a few seasons. She was one of the organisers and her two sons played in the band. (The youngest, Odin, is known both as the solo trumpet player of the Stavanger Symphony Orchestra and for many years as principal cornet of the Stavanger Band.)

Lovisa knows a lot about the Norwegian band movement and brass bands in particular and always speaks about the real values of banding.
I will kindly ask her to say a few words and I know that the other guests - all men, will enjoy having a lady like her at the dinner table!
---
2. Tom Brevik
I have known Tom since he was the headmaster of Manger Folk High School. I joined the brass band course for one year and at the same time I started to play cornet in Manger Musikklag.
When Tom realised that I could do more than playing he encouraged me to arrange and compose.

Tom played a major role leading Eikanger-Bjørsvik Musikklag and Manger Musikklag to their first successes – especially by changing them from wind to brass in the mid 1970s, and conducting them with considerable success for some time too.
Both bands come from Nordhordland, a region that share a border with the northern Bergen area.
It is only 25km between the two bandrooms, so it should be interesting to discuss how and when MML and EBML became so different in playing style and organisation, despite being so close neighbours.
He will certainly have some interesting views on this matter, and a few others around the table certainly have, too, I believe.
---
3. Michael Antrobus
In 1980 Tom Brevik invited Michael to work with Manger Musikklag, and in 1981 he and his family moved permanently to Norway.
He was appointed professional conductor for Manger ML and at the same time he worked as a brass teacher and conductor at Manger Folk High School.
Michael was my first real trumpet teacher. As you can imagine, I was a late bloomer, being almost self taught until I was 19.
There were no trumpet teachers in the area where I grew up (the Lofot Islands), no composers and no professional conductors, so meeting Michael at this time was perfect for me - not just for his teaching, but with his views on music - particular contemporary music.
He was not a fanatic, but did not compromise. That meant a great deal to me as a member of Manger Musikklag.

He was an extremely inspiring conductor and person, and still is!
He turns 70 in April this year and I´ll make sure that I have written a crazy harmonized fanfare to be performed by members from Manger ML to salute him!
---
4. Elgar Howarth
I first met Mr. Howarth in Bergen in the late 1990´s.
He was in the Grieghallen when Stavanger conducted by James Gourlay gave the first performance of my 'Riffs and Interludes'.
He gave me some inspiring compliments and a couple of days later he commissioned a piece to be premièred by Eikanger-Bjørsvik Musikklag. I then wrote my largest brass band piece, 'Dynamis' for brass band and soloists.
Of course I knew several things about Elgar Howarth before I met him, and that he was such an important conductor of contemporary music.
Most importantly though was his desire to commission and perform music from composer's which were not familiar to brass bands.

Michael Antrobus took some of this new music to Norway – one of which was 'Altitude' by George Benjamin which he recorded with Manger ML on their very first LP recording.
---
5. Allan Withington
Some people I wish I could speak to more often – rather than a quick, 'Hello' or 'How are you?'
One of them is Allan Withington.

I am a great admirer of Allan´s conducting skills and his ability to produce great musical performances.
I have followed his career and watched him getting better and better: finally to become one of the great conductors in the banding world.
He and Stavanger have celebrated many victories both at SIDDIS and the Norwegian Championship, and one of the most extraordinary was the National victory with Manger Musikklag in 2002.
He gave the band the confidence they needed to start believing in themselves once more after a number of years without success. It takes a few years to realise that you have to create your own future, but Alan just brought things all together so magically that weekend.
---
6. Viggo Bjørge
I have known Viggo since we both attended a brass band course at Manger Folk High School, when we were just 19.
I was 'Mr. Nobody', but Viggo was already 'Mr Eikanger-Bjørsvik' - playing in the percussion section and running the band like a successful business, culminating in their European wins just a few years later.
I think Viggo and I have different views upon a few things, but he is one of the few people who know exactly how to build a strong banding culture and how to gain success from hard work.
I always find it interesting to listen to him. He, of course, knows all the other guests very well!
---
7. Rune Gundersen
When I first joined Manger Musikklag, Rune was a promising soprano player.
A few years younger than me, he became the greatest cornet player I had ever heard playing in the same room as myself - and I was lucky to sit next to him as his bumper-up for a time.
We also played together in the National Youth Brass Band of Norway in the mid 1980´s and did a few blues gigs together at the Bergen Night Jazz Festival. In 1993 I wrote my 'Cornet Concerto' for him which he premièred together with Manger ML.
Rune still plays at the highest level in Norway and is one of those rare talents that could have become a professional musician but chose to get a proper job instead so that he could continue playing in the best Norwegian bands, like MML, Stavanger and Sola.
He continues to inspire younger players just by being a great player and a very social person!
---
8. Ulf Rosenberg
I have known Ulf for many years - first as a member of Stavanger Band playing trombone.
When SBB commissioned 'Riffs and Interludes' in 1997, Ulf organised the whole thing, and when they recorded my first CD 'Awakening' conducted by James Gourlay in 1998, Ulf was there, still playing and still organising things brilliantly!
He has been President of the Norwegian Band Federation and is currently the President of EBBA.
He knows everything about Stavanger Band and just about everything about Norwegian and European banding too. I think he will have plenty to talk about then during our dinner!
---
9. Harald Eikaas
Harald was the Artistic Director of the Norwegian Band Federation from 2003 to 2008.
I consider him the most important Artistic Director they have ever had.
He shares exactly the same thoughts about music that Michael, Elgar Howarth and I hold, and he brought these ideas into practice by selecting new, modern works as test pieces for the Norwegian Championship.
He also commissioned several works and wholeheartedly supported the important Brass Wind Festival. He is also a very fine conductor and great company.
---
10. Jan Eriksen
Nobody knows more about banding history in Norway than Jan. He is a fantastic journalist and academic.
He has retired from his work in the Norwegian Broadcasting Company where he did an extremely important job producing radio programmes about brass bands. All kinds of bands could be featured if they had a good project that he felt was worthy of promotion.
He was, without him knowing it, one of the reasons that I chose to go to Manger.
His live broadcasts from Grieghallen reached my radio 1500km further north, and I was stunned by the level of playing.
Jan also went to England to send programmes from the National Finals at the Royal Albert Hall and when Siddis Brass was run for the first time he produced a live programme from the event.
Oddly, he actually loves old style marches played by military bands more than anyone I know!
He was the radio host when my first piece was broadcast live and also produced MML´s CD 'Circius', named after my first brass band piece.
---
Previous dinner guest lists:

Previous guests have included the 4BR selection; Chris Wormald; David Read; Pete Meechan; Alan Jenkins; Derek Broadbent; Philip Harper; Peter Roberts; Frank Renton; James Shepherd; Dr Roy Newsome; Paul Lovatt-Cooper; Bramwell Tovey; Kevin Crockford; Morvern Gilchrist and Lesley Howie; Richard Evans; Simone Rebello; Ian Porthouse; David Daws; Alan Morrison; Alan Wycherley; Mark Bousie; Steven Haynes; Simon Dobson; Ian Buckley;, John Roberts; Cai Isfryn; James Stretton; Harmen Vanhoorne, Bad Ass Brass, Lewis Musson, Tom Hutchinson, Jeremy Wise, Mark Harrison, Brett Baker, Ian Brownbill, Mark Wilkinson, Craig Patterson, Allan Withington and Howard Snell.