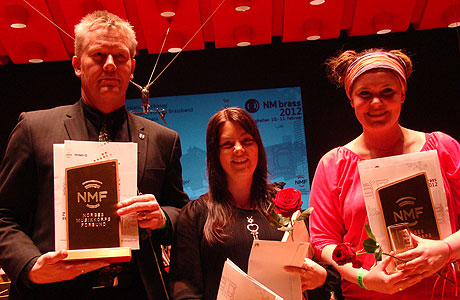 Third Division:
Adjudicators: Erik Janssen & David Thornton
Friday 8th February (16.00)

This could be the most difficult contest of all to call this weekend.
Not for the first time it is packed to the gunnels with classy contenders – nearly all of whom can put forward a pretty persuasive case for a possible podium place finish come the results.
Smorgasbord

Much then for Erik Janssen and David Thornton to sit back and enjoy in the Peer Gynt Hall on Friday afternoon as 15 bands provide a real smorgasbord of tasty musical delights to try and claim the KR15,000 first prize.
What makes this such an intriguing contest is that 12 of the 15 rivals competed at the Siddis championship in Stavanger last November – with many in the Second Division.

That shows the scope of their contesting ambitions if nothing else.
Past winners

There are also the past three winners of Fourth Division National titles, the 2011 Third Division champions and the Second and Third Division 2012 Siddis winners. No wonder this could well be a cracker.
Runners

It all kicks off with Stangaland Brass under Jacob Vilhelm Larsen, as they look to improve on last year's solid 5th place finish following their 2011 relegation.

Bruce Broughton's 'California Legend' is the own choice selection to hopefully make a mark this time around.
2012 Fourth Division winner Tysnes follow directed by the experienced Yngve Nikolaisen, as they seek to build on their solid Siddis form with the classic 'Epic Symphony', whilst Lindas Brass opt for the popular 'The Present Age' as they look to bounce back following their Second Division relegation and lowly Sididis finish.
Promoted

Promoted Lyshornet Brass go with Alan Fernie's 'Landscape and Journey' as they seek to build on a decent Siddis result, whilst Skui Brass will hope to deliver another big leap in National form as they did last year, despite coming a disappointing 11th in the Second Division at Siddis.

They will perform 'Variations on a Chord' by Jan de Haan.
The solid Agder Brass also goes with Leslie Condon's 'The Present Age', as they seek a second successive top six finish, whilst the ambitious Grenland Brass keeps faith with the music of Philip Harper and his 'Olympus', as they look to gain a third promotion in four years under Arild Ovrum.
Confident

A confident Fjell should be looking forward to the weekend after coming runner-up at Siddis in the Second Division, as the multi talented Sven Henrik Giske leads on Peter Graham's 'Blazon', whilst Fla Musikkorps is another band to choose the Scotsman's repertoire as the 2010 Fourth Division champion looks to improve on last year's 12th place courtesy of 'The Dawning'.
Right Rong

One contender to look out for is Rong Brass – a band that has tended to do things very right or very wrong here in the past few years!
12 months ago it was a real a downer as they were relegated from the Second Division - after winning this title the year before.

However, they should be confident of doing well this time around under Eirik Gjerdevik with their ambitious selection of 'A London Overture' after winning the Second Division title at Siddis.
Confident

Another confident rival will be Folleso after they won the Third Division Siddis title, although they haven't enjoyed too much luck here in the past few years.

They have chosen to play 'Kaleidoscope' by Philip Sparke to see if it can ignite their title challenge this time around.

Gjesdal Brass will be hoping for a bit of a change of luck as they aim to improve on last year's 9th place with their selection of 'Chorale and Variations' by Leighton Lucas, whilst the improving Nes Musikkforening will look for another step up the results ladder with a bit of saintly musical help from 'Paritia on St Theodulph'.
Local favs

Local favourites Bergen Brass delivered a solid account of themselves following their promotion last year and showed considerable form in claiming 4th place at Siddis in the Second Division.
They opt for Edward Gregson's 'Laudate Dominum', whilst Hordvik Musikklag is another rapidly improving band that showed fine form in gaining promotion under Eikanger euphonium star Patrick Randafalk.
They have chosen 'The Land of the Long White Cloud' as their ambitious own choice selection.

Iwan Fox
---
As for a winner?
Take your pick on this one – as there are so many contenders that could easily take the title.
Despite the obvious pun, we think it could well be Rong's year if they get things right, although they will be pushed all the way to the finishing line by the likes of Fjell Brass, Bergen Brass and Skui.
Lyshornet and Agder look decent bets to claim a top six finish, whilst our dark horse is Tysnes Musikklag.

4BR Prediction:
1. Rong Brass
2. Fjell Brass
3. Bergen Brass
4. Skui Brass
5. Lyshornet Brass
6. Agder Brass
Dark Horse: Tysnes Musiklag
---
2012 Result:
1. Flesland Musikklag
2. Trondheim Politi's Brassband,
3. Gjøvik Bybrass
4. Skui Brass
5. Stangaland Brass
6. Agder Brass
7. Nes Musikkforening
8. Fjell Brass
9. Gjesdal Brass
10. Bergen Brass
11. Follesø Musikklag
12. Flå Musikkorps
13. Hornorkesteret Stavanger;
14. Fræna Musikkorps
15. Randaberg Musikkorps
Last five winners:
2012: Flesland Musihhlag
2011: Rong Brass
2010: Bjorsvik Brass
2009: Tromso Brass
2008: Rong Brass
---
Stangaland Brass
Conductor: Jacob Vilhelm Larsen
2013 Draw: 1
Own Choice Selection: California Legend (Bruce Broughton)
National Record:
2012: 5th (Jacob Vilhelm Larsen)
2011: 13th in Second Division (Jacob Vilhelm Larsen) (rel)
2010: 8th (Reid Gilje)
2009: =8th (Reid Gilje)
2008: 4th (Reid Gilje)
2007: 6th (Yngve Nikolaisen)
2006: 9th (Eirik Gjerdevik)
2005: 6th (Morten E. Hansen)
2004: 10th (Morten E. Hansen)
2003: 12th
2002: 4th
2001: 10th
2000: Joint 5th
Last Year: 5th
Own Choice Selections:
2012: Princethorpe Variations
2011: The Saga of Haakon the Good
2010: Quintessence
2009: Rhapsody in Brass
2008: The Forest of Dean
2007: Variations on a Ninth
2006: Trittico
2005: Tallis Variations
---
Tysnes Musikklag
Conductor: Yngve Nikolaisen
2013 Draw: 2
Own Choice Selection: An Epic Symphony (Percy Fletcher)
National Record:
2012: Winners of Fourth Division (Morten Fagerjord) (prom)
2011: =13th in Third Division (Yngve Nikolaisen) (rel)
2010: 2nd in Fourth Division (Eirik Gjerdevik) (prom)
2009: Did not compete
2008: 11th
2007: 9th (Yngve Nikolaisen)
2006: 3rd (Eirik Gjerdevik)
2005: 2nd in Third Division (Yngve Nikolaisen) (prom)
2004: 12th (Yngve Nikolaisen) (rel)
2003: 5th
2002: 11th
2001: 12th
2000: Winners of Third Division (Yngve Nikolaisen) (prom)
Overall Record:
Third Division Champions: 2000
Fourth Division Champions: 2012
Last Year: Winners of Fourth Division (prom)
Own Choice Selections:
2012: Portrait of a City
2011: Harmonious Variations
2010: Kaleidoscope
2009: DNC
2008: Diversions
2007: The Year of the Dragon
2006: A London Overture
2005: The Plantagenets
---
Lindås Brass (Austrheim- Lindås Musikklag)
Conductor: Oddvar Nostdal
2013 Draw: 3
Own Choice Selection: The Present Age (Leslie Condon)
National Record:
2012: 13th in Second Division (Helge Haukas) (rel)
2011: 5th (Helge Haukas)
2010: 3rd in Third Division (Helge Haukas) (prom)
2009: 9th (Hogne Holmås)
2008: 5th (Hogne Holmås)
2007: 4th (Hogne Holmås)
2006: 9th (Pål Magne Austnes)
2005: 5th (Age Torsvik)
2004: 7th (Age Torsvik)
2003: 9th in Second Division (rel)
2002: 8th
2001: 11th
2000: 12th
Last Year: 13th in Second Division (rel)
Own Choice Selections:
2012: Tournament for Brass
2011: Spectrum
2010: Trittico for Brass Band
2009: Tallis Variations
2008: Kaleidoscope
2007: Royal Parks
2006: Rhapsody in Brass
2005: Firestorm
---
Lyshornet Brass
Conductor: Karl Ole Midtbo
2013 Draw: 4
Own Choice Selection: Landscape and Journey (Alan Ferbie)
National Record:
2012: 3rd in Fourth Division (Karl Ole Midtbo) (prom)
2011: =10th (Trond Madsen)
2010: =17th (Jan Arne Pupe)
2009: =16th (Knut Harald Rydland)
Last Year: 3rd in Fourth Division (prom)
Own Choice Selection:
2012: David of the White Rock (Trad) & The Call of the Righteous
2011: Anglian Dances
2010: Triptych for Brass Band
2009: Partita
---
Skui Brass Band
Conductor: Henrik Dalhaug
2013 Draw: 5
Own Choice Selection: Variations on a Chord (Jan de Haan)
National Record:
2012: 4th (Henrik Dalhaug)
2011: =11th (Henrik Dalhaug)
2010: 11th (Henrik Dalhaug)
2009: 11th in 2nd Division (Philip Hannevik) (rel)
2008: 9th (Michael Antrobus)
2007: 3rd in Third Division (Henrik Dalhaug) (prom)
2006: 10th (Henrik Dalhaug)
2005: 12th (Trond Nilsen)
2004: 3rd in Fourth Division (Trond Nilsen) (prom)
2003: 3rd
2002: DNC
2001: DNC
2000: DNC
Last Year: 4th
Own Choice Selections:
2012: Introduction and Toccata
2011: Psalms & Alleluias
2010: Triumphant Rhapsody
2009: Aspects of Praise
2008: Connotations
2007: Symphony of Marches
2006: Renaissance
2005: Partita - Postcards from Home
---
Agder Brass (Kristiansand Brass Band)
Conductor: Bjorn Breistein
2013 Draw: 6
Own Choice Selection: The Present (Leslie Condon)
National Record:
2012: 6th (Bjorn Breistein)
2011: =11th (David Tellefsen)
2010: 5th (Morten E. Hansen)
2009: 3rd in 4th Division (David Tellefsen) (prom)
Last Year: 6th
Own Choice Selection:
2012: Spectrum
2011: Victorian Snaphots – On Ratcliffe High
2010: The Holy War
2009: Princethorpe Variations
---
Grenland Brass
Conductor: Arild Ovrum
2013 Draw: 7
Own Choice Selection: Olympus (Philip Harper)
National Record:
2012: 11th in Second Division (Christopher Roedvang) (rel)
2011: 3rd in Third Division (Christopher Roedvang) (prom)
2010: 3rd in Fourth Division (Gwyn Evans) (prom)
2009: 14th in Third Division (Sigurd Grov Skramsett) (rel)
2008: 6th (Morten E Hansen)
2007: =4th (Morten E Hansen)
2006: 5th in Fourth Division (Rune Hansen) (prom)
2005: 6th (Magne Rutle)
Last Year: 11th in Second Division (rel)

Own Choice Selection:
2012: The Kingdom of Dragons
2011: The Saga of Haakon the Good
2010: A Salford Sinfonietta
2009: Diversions
2008: The Dark Side of the Moon
2007: Forest of Dean
2006: Kaleidoscope (Five Variations on the Brugg Song)
2005: Tryptich for Brass
---
Fjell Brass
Conductor: Svein Henrik Giske
2013 Draw: 8
Own Choice Selection: Blazon (Peter Graham)
National Record:
2012: 8th (Svein Henrik Giske)
2011: 4th (Svein Henrik Giske)
2010: 8th (Svein Henrik Giske)
2009: 5th (Svein Henrik Giske)
Last Year: 8th
Own Choice Selections:
2012: Voyage of Discovery
2011: Purcell Variations
2010: The Land of the Long White Cloud
2009: Blazon
---

Flå Musikkorps
Conductor: Odd Steinar Mørkved
2013 Draw: 9
Own Choice Selection: The Dawning (Peter Graham)
National Record:
2012: 12th (Odd Steinar Mørkved)
2011: =7th (Odd Steinar Mørkved)
2010: Winners of Fourth Division (Odd Steinar Mørkved) (prom)
2009: =5th (Odd Steinar Mørkved)
2008: =11th (Odd Steinar Mørkved)
2007: =6th (Odd Steinar Mørkved)
2006: DNC
2005: 8th
2004: 8th
2003: 5th
2002: DNC
2001: DNC
2000: DNC
Overall Record:
Fourth Division Champions: 2010
Last Year: 12th
Own Choice Selection:
2012: Royal Parks
2011: Renaissance
2010: Dimensions
2009: Music for a Festival
2008: St Austell Suite
2007: Northern Landscapes
2006: DNC
---
Rong Brass
Conductor: Eirik Gjerdevik
2013 Draw: 10
Own Choice Selection: A London Overture (Philip Sparke)
National Record:
2012: 12th in Second Division (Eirik Gjerdevik) (rel)
2011: Winners of Third Division (Eirik Gjerdevik) (prom)
2010: 12th in Second Division (Stian E. Svendsen) (rel)
2009: 3rd (Stian E. Svendsen)
2008: Winners of Third Division (Reid Gilje) (prom)
2007: 6th (Reid Gilje)
2006: 3rd (Reid Gilje)
2005: 6th (Reid Gilje)
2004: 11th (Hogne Haugsda)l
2003: 3rd
2002: 11th
2001: 7th
2000: 9th
Overall Record:
Third Division Champions: 2008, 2011
Last Year: 12th in Second Division (rel)
Own Choice Selections:
2012: Trittico
2011: The Forest of Dean
2010: Tallis Variations
2009: The Forest of Dean
2008: Kenilworth
2007: Kaleidoscope
2006: Purcell Variations
2005: Partita - Postcards from Home
---
Follesø Musikklag
Conductor: Egil Magnussen
2013 Draw: 11
Own Choice Selection: Kaleidoscope (Philip Sparke)
National Record:
2012: 11th (Egil Magnussen)
2011: 6th (Egil Magnussen)
2010: 13th in Second Division (Reid Gilje) (rel)
2009: 3rd in 3rd Division (Reid Gilje) (prom)
2008: 12th in Second Division (Rune Hannisdal) (rel)
2007: 10th in First Division (Eirik Gjerdevik) (rel)
2006: Winners of Second Division (Egil Magnussen) (prom)
2005: 9th (Jan Arne Pope)
2004: 3rd in Third Division (Jan Arne Pope) (prom)
2003: 6th
2002: 10th
2001: 6th
2000: DNC
Overall Record:
Second Division Champions: 2006
Last Year: 11th
Own Choice Selection:
2012: Firestorm
2011: Prisms
2010: Partita on St. Theodulph
2009: Purcell Variations
2008: The Plantagenets
2007: Royal Parks
2006: Kaleidoscope
2005: Firestorm
---
Gjesdal Brass Band
Conductor: Jonas Skartveit Rogne
2013 Draw: 12
Own Choice Selection: Chorale & Variations (Leighton Lucas)
National Record:
2012: 9th (Jonas Skartveit Rogne)
2011: 5th (Jonas Skartveit Rogne)
2010: 6th (Jonas Skartveit Rogne)
2009: 12th in 2nd Division (Jonas Skartveit Rogne) (rel)
2008: 10th (Jonas Skartveit Rogne)
2007: 8th (Reid Gilje)
2006: 2nd in Third Division (Christian Tenfjold) (prom)
2005: 8th (Russell Gray)
2004: 10th (Russell Gray)
Last Year: 9th
Own Choice Selections:
2012: Sinfonietta –The Wayfarer
2011: Psalms & Alleluias
2010: Purcell Variations
2009: Blazon
2008: The Present Age
2007: Firestorm
2006: Festivity
2005: The Long Ships
---
Nes Musikkforening
Conductor: Andres Halla
2013 Draw: 13
Own Choice Selection: Partita on St Theodulph (Kevin Norbury)
National Record:
2012: 7th (Andres Halla)
2011: =9th (Andres Halla)
2010: 4th in Fourth Division ( Andres Halla) (prom)
2009: 8th (Andres Halla)
2008: =7th (Andres Halla)
2007: 13th in Third Division (Andres Halla) (rel)
2006: 11th (Andres Halla)
2005: 11th (Andres Halla)
2004: =8th (Andres Halla)
2003: 4th
2002: 6th
2001: 16th
2000: 14th
Last Year: 7th
Own Choice Selections:
2012: Renaissance
2011: A Little Light Music
2010: Saint-Saens Variations
2009: Prelude & Jubilate
2008: Harmonius Variations
2007: Ancient Monuments
2006: Firestorm
2005: Northern Landscapes
---
Bergen Brass Band
Conductor: Sturle Berntsen
2013 Draw: 14
Own Choice Selection: Variations on Laudate Dominum (Edward Gragson)
National Record:
2012: 10th (Sturle Bernsten)
2011: Winners of Fourth Division (Sturle Bernsten) (prom)
2010: 15th in Third Division (Kim Lofthouse) (rel)
2009: 7th (Bjorn Breistein)
2008: 4th (Trond Elnes)
2007: 13th in Second Division (Helge Haukas) (rel)
2006: 5th (Stian Svendsen)
2005: 3rd (Stian Svendsen)
2004: 5th (Stian Svendsen)
2003: 10th
2002: 14th in Second Division
2001: 2nd
2000: 7th
Overall Record:
Fourth Division Champions: 2011
Last Year: 10th
Own Choice Selection:
2012: Klotho
2011: Occasion
2010: Purcell Variations
2009: The Forest of Dean
2008: Variations on a Chord
2007: Diversions on a Bass Theme
2006: A London Overture
2005: The Land of the Long White Cloud
---
Hordvik Musikklag
Conductor: Patrick Randafalk
2013 Draw: 15
Own Choice Selection: The Land of the Long White Cloud (Philip Sparke)
National Record:
2012: 2nd in Fourth Division (Patrick Randafalk) (prom)
2011: 17th (Knut Emil Mjos)
2010: 13th in Third Division (Knut Emil Mjøs) (rel)
2009: 12th (Knut Emil Mjøs)
2008: 5th in Fourth Division (Knut Emil Mjøs) (prom)
2007: =8th (Knut Emil Mjøs)
2006: =6th (Knut Emil Mjøs)
Last Year: 2nd in Fourth Division (prom)
Own Choice Selection:
2012: Dimensions
2011: Chorale and Variations
2010: Firestorm
2009: Toccata Festiva
2008: Images for Brass
2007: Laudate Dominum
2006: Triptych for Brass Band - Philip Sparke