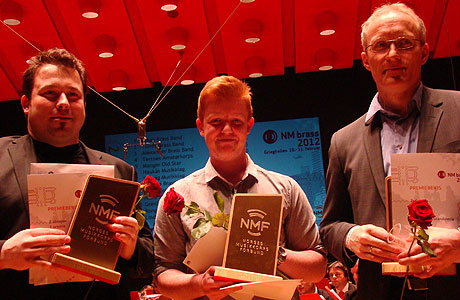 2012 Second Division prize winners

Second Division:
Adjudicators: Robert Childs & Arsene Duc
Friday 8th February (10.30)

The flames of latent of ambition are fanned here at the Grieghallen each year in the Second Division.
This is where banding starts to get serious in Norway; with contenders just a possible step or two away from the Elite level of competition:

It is invariably high quality, solid contesting of a sort that shows off the underlying strength of Norwegian banding to great effect.
Ambition

That sense of ambition is most clearly shown in some of the choices of repertoire (although some are a little over ambitious at times it must be said) with Robert Childs and Arsene Duc able to compare and contrast the likes of 'English Heritage', 'Spectrum' and 'Lowry Sketchbook' against 'Forest of Dean', 'The Holy War' and 'Tallis Variations'.
Not a contest to miss then on Friday morning in the main Grieghallen auditorium, with a host of confident bands all in with a chance of claiming the KR30,000 first prize.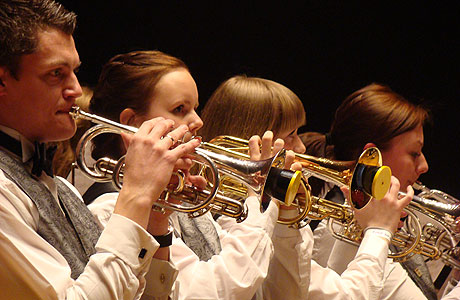 2012 champions Askoy in action

Runners

It all kicks off with Hasle Brass as they look to carry on their contesting improvement on the former European Championship set work, 'Tallis Variations', whilst they are followed by Trondheim Politi's Brass who gained promotion last year after a few seasons in the Second Division.

They have opted to for 'Variations on a Chord' by Jan de Haan.
Immediate impression

2007 champion Jolster Musikklag will be looking to make an immediate impression with 'The Present Age' following their relegation from the First Division after a five year stay, whilst the same applies to Lakesvag Musikkforening who also fell through the trap door last year after half a decade there.
They have opted to try their luck with 'Forest of Dean' by Derek Bourgeois, as they look to build on a solid 6th place finish at Siddis.
Former champion

Meanwhile, the last band before the first comfort break will be the solid contenders and twice former champions of Haukas Musikklag.

They hope to improve on last year's 6th place finish and 5th at Siddis courtesy of Philip Sparke's 'Endeavour'.
Sagvag Musikklag certainly showed they had made the step up in class last year after spending a decade in the Third Division, as they look to continue their improvement under the experienced Yngve Nikolaisen and Jan Van der Root's exciting 'Excalibur'.
Wonderman

Good to see the wonderful Tom Brevik with a baton in his hand this year, as he leads 2012 Third Division champion Flesland Musikklag.

They produced a solid showing at Siddis where they came 8th, and have chosen James Curnow's 'Trittico' as their own choice selection.
Confident

Meanwhile, Gjovik Bybrass is sure to make the journey from the Oppland region full of confidence after claiming two successive National promotions under the baton of Martin Schadlish.

This time they have opted for Gordon Langford's 'Harmonius Variations' to see if they can make it three in a row.
After their relegation in 2011 Tertnes Amatorkorps made a solid impression in coming 4th last year and will look to build on a very good finish at Siddis with 'English Heritage', whilst after the second comfort break, Manger Old Stars tackle 'The Holy War' in their bid to claim their first National title (although many of the players have plenty of National honours themselves).
Dust off

Tromso Brass will dust off the classic Gilbert Vinter challenge of 'Spectrum' as they look to claim a top six place or better after two solid years in the section following their 2010 relegation, whilst Borge Brass will hope to reverse their fortunes after falling away last year to end 9th.

They have chosen Kenneth Downie's, 'Purcell Variations', whilst twice former champion Brottum Brass will round off what promises to be an exciting contest with Philip Wilby's 'A Lowry Sketchbook' as they seek to make an immediate mark following their relegation from the First Division.

Iwan Fox
---
As for a winner?
Bob Childs and Arsene Duc should really enjoy themselves here – but will be faced with a difficult task of separating out the bands we are sure.
Don't know if we can be of much help though – but we have opted to give the dreaded 4BR 'Kiss of Death' to Laksevag Musikkforening, with Tertnes Amatorkorps close behind and Manger Old Stars in third.
The top six for us could well be completed by Hasle Brass, Gjovik Bybrass and Brottum, with our darkest of dark horses in the shape of Flesland Musikklag.
4BR Prediction:
1. Laksevag Musikkforening
2. Tertnes Amatorkorps
3. Manger Old Stars
4. Hasle Brass
5. Gjovik Bybrass
6. Brottum
Dark Horse: Flesland Musikklag
---
2012 Result:
1. Askøy Brass
2. Tomra Brass
3. Alexander Brass
4. Tertnes Amatørkorps
5. Manger Old Star
6. Haukås Musikklag
7. Sagvåg Musikklag
8. Tromsø Brass
9. Borge Brass
10. Hasle Brass
11. Grenland Brass
12. Rong Brass
13. Lindås Brass
Last five winners:
2012: Askoy Brass
2011: Bjorsvik Brass
2010: Orskog Brass
2009: Kleppe Musikklag
2008: Orskog Brass
---
Hasle Brass
Conductor: Robert Solberg Nilsen
2013 Draw: 1
Own Choice Selection: Tallis Variations (Philip Sparke)
National Record:
2012: 10th (Robert Solberg Nilsen)
2011: 2nd in Third Division (Robert Solberg Nilsen) (prom)
2010: 10th (Robert Brekke Nilsen)
2009: 10th (Frode Amundsen)
2008: =8th (Michael Antrobus)
2007: 9th (Michael Antrobus)
2006: 5th (Michael Antrobus)
2005: 7th (Tarjei Gilbrant)
2004: 6th (Tarjei Gilbrant)
2003: 10th Second Division (rel)
2002: 5th in Third Division (prom)
2001: 8th
2000: 20th
Last Year: 10th
Own Choice Selections:
2012: Chivalry
2011: Tallis Variations
2010: Trittico for Brass Band
2009: Kaleidoscope
2008: Firestorm
2007: John O' Gaunt
2006: The Land of the Long White Cloud
2005: English Heritage
---
Trondheim Politis Brassband
Conductor: Espen Andersen
2013 Draw: 2
Own Choice Selection: Variations on a Chord (Jan de Haan)
National Record:
2012: 2nd in Third Division (Espen Andersen) (prom)
2011: =9th (Peter Hadfield)
2010: 9th (Peter Hatfield)
2009: 13th in 2nd Division (Peter Hatfield) (rel)
2008: 3rd in Third Division (Peter Hatfield) (prom)
2007: =10th (Odd Steinar Morkved)
2006: 12th in Second Division (Odd Steinar Morkved) (rel)
2005: =4th (Odd Steinar Morkved)
2004: 3rd (Odd Steinar Morkved)
2003: 5th
2002: 11th in First Division (rel)
2001: 7th in First Division
2000: Joint 5th in First Division
Last Year: 2nd in Third Division (prom)
Own Choice Selections:
2012: Firestorm
2011: Tam O'Shanter's Ride
2010: Rhapsody in Brass
2009: Dances & Arias
2008: Resurgam
2007: Royal Parks
2006: Ballet for Band
2005: St Theodulph
---
Jølster Musikklag
Conductor: Arvid Anthun
2013 Draw: 3
Own Choice Selection: The Present Age (Leslie Condon)
National Record:
2012: 12th in First Division (Arvid Anthun) (rel)
2011: 4th (Arvid Anthun)
2010: 9th (Arvid Anthun)
2009: 4th (Arvid Anthun)
2008: =7th (Arvid Anthun)
2007: Winners of Second Division (Arvid Anthun) (prom)
2006: Winners of Third Division (Arvid Anthun) (prom)
2005: 4th (Arvid Anthun)
2004: 2nd in Fourth Division (Arvid Anthun) (prom)
2003: 9th in Third Division (rel)
2002: 7th
2001: 4th
2000: 6th
Overall Record:
Second Division Champions: 2007
Third Division Champions: 1993, 2006
Last Year: 12th in First Division (rel)
Own Choice Selections:
2012: Frontier
2011: Dances & Arias
2010: A Kensington Concerto
2009: Ballet for Band
2008: Pageantry
2007: The Lord is King
2006: Voyage of Discovery
2005: Nautalis
---
Laksevåg Musikkforening
Conductor: Helge Haukas
2013 Draw: 4
Own Choice Selection: Forest of Dean (Derek Bourgeois)
National Record:
2012: 11th in First Division (John Philip Hannevik) (rel)
2011: 7th (John Philip Hannevik)
2010: 8th (Tom Brevik)
2009: =7th (Tom Brevik)
2008: 11th (Tom Brevik)
2007: =4th (Tom Brevik)
2006: 4th in Third Division (Tom Brevik) (promoted to First Division)
2005: 3rd (Tom Brevik)
2004: 5th (Tom Brevik)
2003: 7th
2002: 12th in Second Division (rel)
2001: 6th in Second Division
2000: 2nd
Last Year: 11th in First Division (rel)
Own Choice Selections:
2012: Ballet for Band
2011: Chivalry
2010: Paganini Variations
2009: Tallis Variations
2008: Festival Music
2007: A Kensington Concerto
2006: The Land of the Long White Cloud
2005: Salute to Youth
---
Haukås Musikklag
Conductor: Jan Egil Jorgensen
2013 Draw: 5
Own Choice Selection: Endeavour (Philip Sparke)
National Record:
2012: 6th (Thor-Arne Pedersen)
2011: 10th (Thor-Arne Pedersen)
2010: 4th (Thor-Arne Pedersen)
2009: =6th (Thor-Arne Pedersen)
2008: 12th in First Division (Thor-Arne Pedersen) (rel)
2007: =8th (Thor-Arne Pedersen)
2006: 7th (Thor–Arne Pedersen)
2005: Winners of Second Division (Thor–Arne Pedersen) (prom)
2004: Winners of Third Division (Thor–Arne Pedersen) (prom)
2003: 11th in Second Division (rel)
2002: 4th
2001: 13th
2000: =9th
Last Year: 6th
Overall Record:
Second Division Champions: 1993, 2005
Third Division Champions: 2004
Own Choice Selection:
2012: Excalibur
2011: Tallis Variations
2010: Trittico for Brass Band
2009: Swedish Festival Music
2008: Journey into Freedom
2007: Dances and Arias
2006: Tallis Variations
2005: Connotations
---
Sagvåg Musikklag
Conductor: Yngve Nikolaisen
2013 Draw: 6
Own Choice Selection: Excalibur (Jan Van der Roost)
National Record:
2012: 7th (Havard Kroka)
2011: =8th (Marieka Gray)
2010: 10th (Havard Kroka)
2009: 10th (Havard Kroka)
2008: 7th (Havard Kroka)
2007: 10th (Havard Kroka)
2006: 7th (Havard Kroka)
2005: 10th (Michael Fowles)
2004: 8th (Michael Fowles)
2003: 9th in First Division (rel)
2002: 5th
2001: 9th
2000: 8th

Overall Record:
First Division Champions: 1995
Last Year: 7th
Own Choice Selections:
2012: Firestorm
2011: Nautalis
2010: The Saga of Haakon the Good
2009: Dances & Arias
2008: Tallis Variations
2007: A London Overture
2006: Blitz
2005: Music for the Common Man
---
Flesland Musikklag
Conductor: Reid Gilje
2013 Draw: 7
Own Choice Selection: Trittico (James Curnow)
National Record:
2012: Winners of Third Division (Reid Gilje) (prom)
2011: 11th in Second Division (Patrick Randefalk) ((rel)
2010: 6th (Patrick Randefalk)
2009: 5th (Patrick Randefalk)
2008: 2nd in Third Division (Svein Henrik Giske) (prom)
2007: 12th in Second Division (Svein Henrik Giske) (rel)
2006: 10th (Bengt Florvag)
2005: 7th (Yngve Nicolaisen)
2004: 9th (Egil Magnussen)
2003: 11th
2002: 5th
2001: 7th
2000: Joint 9th
Last Year: Winners of Third Division (Reid Gilje) (prom)
Own Choice Selection:
2012: Excalibur
2011: Rise of the Phoenix
2010: Norwegian Landscapes
2009: Endeavour
2008: Sinfonietta –The Wayfarer
2007: Dampsanger
2006: The Land of the Long White Cloud
2005: Viking Saga Opus 3
---
Gjøvik ByBrass
Conductor: Martin Schadlish
2013 Draw: 8
Own Choice Selection: Harmonious Variation (Gordon Langford)
National Record:
2012: 3rd in Third Division (Thorbjorn Lunde) (prom)
2011: 3rd in Fourth Division (Thorbjorn Lunde) (prom)
2010: 6th (Thorbjorn Lunde)
2009: 15th in 3rd Division (Trond Elnes) (rel)
2008: 7th (Thorbjorn Lunde)
2007: = 10th (Trond Elnes)
2006: 8th (Roar Bjerkehagen)
2005: 10th (Roar Bjerkehagen)
2004: 12th in Second Division (Roar Bjerkehagen) (rel)
2003: 2nd in Third Division (prom)
2002: Joint 13th
2001: 12th
2000: DNC
Last Year: 3rd in Third Division (prom)
Own Choice Selections:
2012: Psalms & Alleluias
2011: Firestorm
2010: Rhapsody in Brass
2009: The Essence of Time
2008: Resurgam
2007: Festivity
2006: The Plantagenets
2005: Kaleidoscope
---
Tertnes Amatørkorps
Conductor: Magnus Brandseth
2013 Draw: 9
Own Choice Selection: English Heritage (George Lloyd)
National Record:
2012: 4th (Yngve Nikolaisen)
2011: 12th in First Division (Tormod Flaten) (rel)
2010: 5th (Tormod Flaten)
2009: 9th (Martin Winter)
2008: =7th (Tormod Flaten)
2007: 2nd in Second Division (Tormod R. Flaten) (prom)
2006: 8th (Tormod Flaten)
2005: =4th (Tormod Flaten)
2004: 4th in Third Division (Tormod Flaten) (prom)
2003: Winners of Fourth Division (Tormod Falten) (prom)
2002: DNC
2001: DNC
2000: DNC
Overall Record:
Fourth Division Champions: 2003
Last Year: 4th
Own Choice Selections:
2012: Essay
2011: Dances & Arias
2010: The Essence of Time
2009: Pageantry
2008: Salute to Youth
2007: Coventry Variations
2006: Quintessence
2005: Rhapsody in Brass
---
Manger Old Stars
Conductor: Knut Emil Mjos
2013 Draw: 10
Own Choice Selection: The Holy War (Ray Steadman-Allen)
National Record:
2012: 5th (Johannes Mangersnes)
2011: =8th (Johannes Mangersnes)
2010: 2nd in Third Division (Johannes Mangersnes) (prom)
2009: 6th (Johannes Mangersnes)
2008: 3rd in Fourth Division (Johannes Mangersnes) (prom)
2007: DNC
2006: DNC
2005: 2nd in Fourth Division

Last Year: 5th
Own Choice Selections:
2012: The Lord is King
2011: Excalibur
2010: Salute to Youth
2009: Triumphant Rhapsody
2008: The Lord is King
---
Tromsø Brass
Conductor: Tor Kristian Innbjor
2013 Draw: 11
Own Choice Selection: Spectrum (Gilbert Vinter)
National Record:
2012: 8th (Tor Kristian Innbjor)
2011: 7th (Tor Kristian Innbjor)
2010: 11th in First Division (Tor Kristian Innbjor) (rel)
2009: Winners of Third Division (Tor Kristian Innbjor) (double promotion)
2008: 12th (Robert Jensen)
2007: 11th in Second Division (Robert Jensen) (rel)
2006: 11th in First Section (Robert Jensen) (rel)
2005: 2nd in Second Division (Robert Jensen) (prom)
2004: 4th (Robert Jensen)
2003: 7th
2002: 8th
2001: N/K
2000: 3rd
Overall Record:
Second Division Champions: 1998
Third Division Champions: 1990, 2009
Last Year: 8th
Own Choice Selections:
2012: Trittico
2011: Bitz
2010: Paganini Variations
2009: Myte
2008: Journey into Freedom
2007: Dances and Arias
2006: Babylonian Tablets
2005: Blitz
---
Borge Brass Band
Conductor: Clive Zwanswiniski
2013 Draw: 12
Own Choice Selection: Purcell Variations (Kenneth Downie)
National Record:
2012: 9th (Oddvar Nostdal)
2011: 4th (Oddvar Nostdal)
2010: 4th in Third Division (Oddvar Nostdal) (prom)
2009: 8th (Oddvar Nostdal)
2008: =8th (Torstein Aagaard-Nilsen)
2007: =7th (Torstein Aagaard-Nilsen)
2006: 13th in Second Division (Torstein Aagaard-Nilsen) (rel)
2005: Winners of Third Division (Torstein Aagaard-Nilsen)
2004: =8th (Torstein Aagaard-Nilsen)
Overall Record:
Third Division Champions: 2005
Last year: 9th
Own Choice Selections:
2012: Resurgam
2011: The Present Age
2010: A Salford Sinfonietta
2009: Variations on Maccabeus
2008: Laudate Dominum
2007: Connotations
2006: Partita – St. Theodulph
2005: The Present Age
---
Brøttum Musikkforening
Conductor: Thorbjorn Lunde
2013 Draw: 13
Own Choice Selection: Lowry Sketchbook (Philip Wilby)
National Record:
2012: 10th in First Division (Thorbjorn Lunde) (rel)
2011: 3rd in Second Division (Michael Antrobus) (prom)
2010: 3rd (Michael Antrobus)
2009: 4th (Erling Myserth)
2008: =5th (Erling Myserth)
2007: 4th (Thorbjørn Lunde)
2006: 10th in First Division (Thorbjørn Lunde) (rel)
2005: 6th (Thorbjørn Lunde)
2004: 9th (Thorbjørn Lunde)
2003: Winners of Second Division (prom)
2002: 8th in First Division
2001: 3rd
2000: 9th in First Division
Overall Record:
Second Division Champions: 1999, 2003
Last Year: 10th in First Division (rel)
Own Choice Selection:
2012: The Year of the Dragon
2011: Sounds
2010: Five Blooms in a Welsh Garden
2009: Tallis Variations
2008: Trittico for Brass Band
2007: Diversions on a Bass Theme
2006: Chivalry
2005: Montage