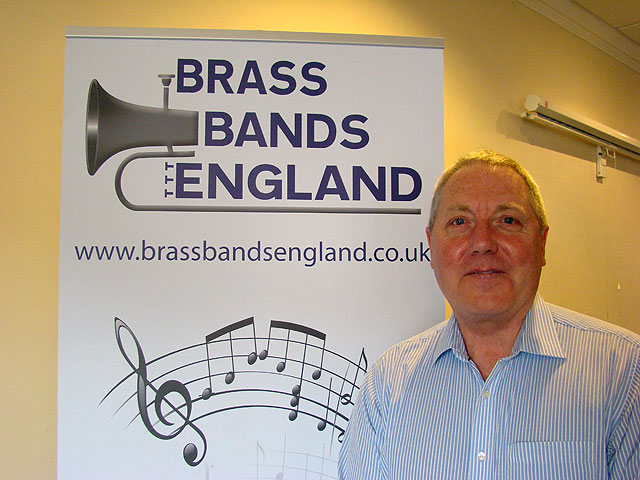 A new message from the new Chairman: Mike Kilroy is here...

There could have been no clearer message of future intent than that given at the recent Brass Bands England Annual General Meeting by incoming Chairman Mike Kilroy.
It was stark, simple and to the point: "I see Brass Bands England as being a supportive not controlling interest. The acid test will be that everything we do must always be in the best interests of the bands. Not maybe or possibly – but always."
Crystal clear

The subtext was also crystal clear.
After the recent years of external and internal strife, of over ambition and under achievement, BBE will focus on a return to its core aims and objectives.
It underlined an impressive debut performance by one of the movement's most respected personalities – someone whose 50 years of banding experience is balanced by three decades of high level professional business acumen.
Immediate impact

He had set out his stall in an initial address prior to his unopposed election. It made an immediate impact.
The methodologies of his leadership will encompass clarity of vision, purpose and culture. Openness and transparency will prevail. Consultation, co-operation and consensus will become the modus operandi of a man who knows what is required to once again make BBE an organisation fit for purpose.
As he added: "My aim is to place an effective commercial framework on a voluntary organisation."
Major changes

There was no need to mark the message out in ten foot high letters either. Be in no doubt - major changes to the way in which Brass Bands England operates will now occur.
The new Chairman wasn't being cryptic when he answered. "We don't need to do the things we would like to do, but we must to do the things we need to do."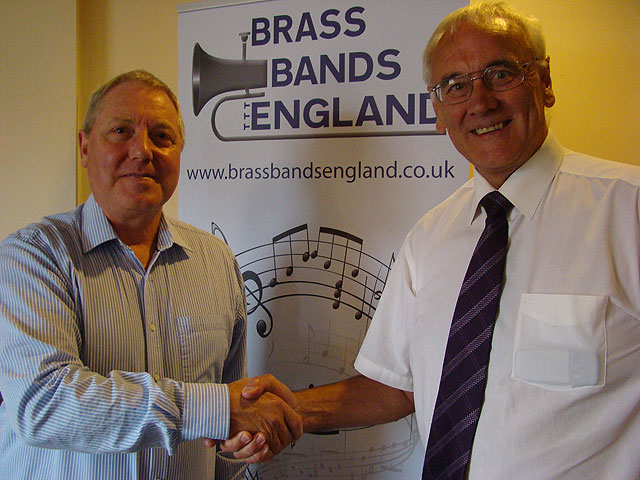 Passing over the leadership reins: Mike Kilroy and Robert Morgan MBE

And work has already started.
The Arts Council (who had a representative at the meeting) had already been contacted to initiate consultation and a possible review of existing key performance indicators and objectives. This at a time when funding will drop by 1% and then 2% in coming years – with no guarantee of future monies.
What did emerge however was that brass bands had benefitted directly or indirectly from around £120,000 of Arts Council money in the past year – a figure that Mike Kilroy hoped would be increased significantly by the return to those primary aims and objectives.
Reviews

Meanwhile, a Human Resources company will provide a free review of the organisation's structure, whilst there will be much needed investment in a radical overhaul of the organisation's internet presence.
Bands will be consulted over the future of the English National Championship and an economic appraisal will be taken on the future of the British Registry.
Contest organisers and stakeholders in the movement will be met in constructive dialogue, local association's contacted and informed, commercial opportunities explored.
People will be brought together.
Plan of action

It was clear. This was not a wish list: It was a realistic plan of action.
Gone will be the fantasy of a band in every postcode. That is to be replaced by members (around 250 at present) given the real opportunity to gain from the benefits of practical help and advice.
Measure

Asked what he hoped to bring to the next AGM in twelve months time, Mike Kilroy paused just for a second or two.
"A sense of belonging for our members and a measureable degree of innovation that BBE is engaging directly with the creative arts sector for their benefit," he said.
It was the final impressive answer in what had been an enlightening question and answer session with the new man at the helm.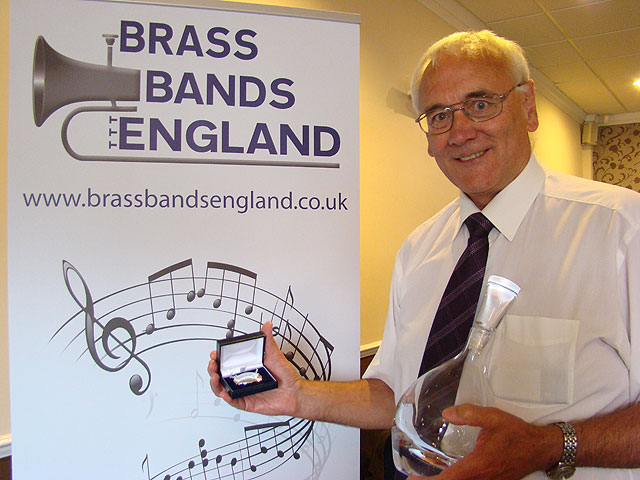 Last report: Robert Morgan MBE

Earlier, the twelve year Chairmanship of Robert Morgan MBE came to close with his last report; which was heard by 28 people from organisations, bands, executive members, interested parties and the banding press at the Holiday Inn near Barnsley.
Dignified departure

Happily, unlike the trio of cat fighting women who made an ugly pugilistic exit from the hotel at 9.50am, his was a much more dignified departure.
He handled the questions posed to him surrounding membership figures, the Norman Jones Trust Fund and support to the Brass Band Archive with good grace and a touch of pointed humour.
He was proud of the achievements the BFBB (now BBE) had made, and although recognising that there had been difficulties (it was revealed that legal costs from a successful VAT appeal and other matters amounted to around £7,000) he praised the work and support he had been given by his colleagues over the years – in particular Nigel Morgan as Treasurer.
Upbeat

His report, and that which he gave on Nigel's his behalf due to his ill health, was upbeat.
It acknowledged the success of the Norman Jones Trust Fund and the implementation of policies such as the free Disclosure and Barring Service that had a direct benefit to member bands.
His criticism of the formation of the Brass Band Players Registry and the failure of the English National Championship to attract the majority of top ranked bands was muted – perhaps a realisation that this was not the time to resurrect old arguments and that their futures were now to be decided by others.
Deserved

He received his well deserved retirement present with a smile backed by a number of warm acknowledgements for his service to the banding movement, led by his predecessor David Stanley.
Finally, he offered his support to his successor before leaving his role as Chairman with his personal ledger of achievement with the organisation very much in credit.
Optimistic

Reports from the Liaison Officer Rachel Veitch-Straw (given in her absence by Sally Coleman) and of Development Officer Philip Watson were also optimistic in tone, if a little hazy in focus, whilst appointments to the Executive Committee saw Arnold Tattersfield, Sally Coleman, Shirley Woodward and Gary Walczak take up roles along with Carol Tattersfield as General Secretary.
At present there was no BBE Treasurer in post, with the retirement of Nigel Morgan.

Meeting the press: Mike Kilroy's first interview with 4BR

As one era closed another opened for Brass Bands England - one that holds promise thanks to a clearly defined message of realism from its new figurehead.
And as representatives departed, Mike Kilroy took the opportunity to speak to as many people as possible – the first public show of proactive engagement by the new BBE Chairman.
It is hoped it will be the first of many more to come.
Iwan Fox