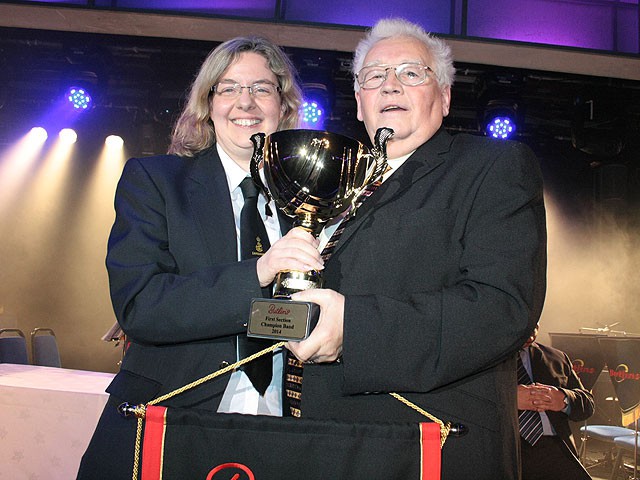 Attention. Sandhurst claim thier first Butlins title

First Section:
There were certainly a few raised eyebrows when it was announced a year ago that Paul Lovatt-Cooper's popular concert work, 'Vitae Aeternum' was to be used as the test piece for this event.
However, by the time a long and variable six hour contest had come to its conclusion, there was no doubt it had done the job it was selected for.
Found out

When you take into account that the 22 bands on show here should harbour future Championship Section aspirations, it shouldn't have been the toughest of tests: Yet there was little doubt it found them out to varying degrees.
Perhaps many mistakenly took its transparent musical and technical challenges too much for granted, as misplaced confidence, sloppiness and lack of ensemble diligence (especially with tempos) saw them fall foul of the taxing standards expected in the box from Frank Renton and Derek Southcott.
Clear

The duo was clear what they didn't want to hear: aggressive ensemble sounds, intonation issues, over egged dynamics and rhythmic inaccuracies to name but a few. In all honesty you couldn't help but agree with them. At times it was disappointing.
Those who contained their contest enthusiasms gained reward. And whilst some will have left the Reds venue after the announcement of the results a little perplexed, they couldn't say they had an unquestionable case to challenge the findings on the grounds of misrepresentation.

They had rather left themselves open to the criticism that had come their way.
Boxes ticked

It was Sandhurst Silver with the experienced Ian McElligott at the helm who executed the type of performance that ticked every available box on the Renton/Southcott wish list.
There was little doubt they were well in the hunt, but their performance in a rather nondescript segment of the draw didn't readily jump out and hit you between the eyes.
However, it did for the men in the box though thanks to its control and touch of elegant finesse - and that was all that mattered.

They left Skegness £2,000 richer, boasting a first Butlins title to their name. It will be interesting to see if they can now add the Regional title to their CV at Stevenage.
High class benchmark

With the impressive VBS Poynton setting an early high class benchmark that eventually ended second thanks to a noticeable adherence to dynamic control, quickly followed by the trio of Thundersley, Longridge and City of Coventry showing their uncomplicated maturity to end third, fourth and sixth respectively, the contest seemed to offer rich promise.
Unfortunately it wasn't to be for the judges, as up until Sandhurst at 15, performance after performance failed to register in the box - although the likes of Haydock and Cornerstone (who played 3) could perhaps count themselves a little unlucky that they didn't quite gain reward for persuasively shaped accounts.
In addition to Sandhurst, the only other 'second half' band to feature in the top six was Leicestershire Co-operative SMW, from what was the penultimate performance of the day.
Final swathe

The final swathe of fancied contenders such as Strata, Shirebrook, Uppermill, Morecambe and Becontree found their approach gained little reward - a mystery to some, but not to the men that mattered most.
Some of these conductors will still be trying to wonder why they failed - but you suspect that if they shared their written remarks they would find a common enough thread.
Now these bands have other challenges to ponder.

A number of them will emerge triumphant - but they will surely have learnt that to do so they won't under estimate, 'Cry of the Mountain' as too many did PLC's set work.
Malcolm Wood
---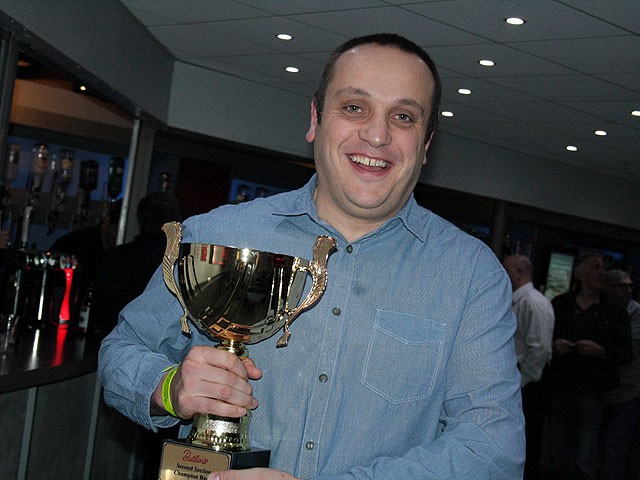 Four in a row for Duncan Byers and Mossley

Second Section:
If 'Energy' proved to be something of a technical nightmare to overcome in the Championship Section, then 'Kenilworth' was its diametric opposite - a musical delight.
However, the ultimate conundrum it posed was the same: Like Simpson's iconic work it was also on the edge of the contesting comfort zone for the majority of the competing bands.
Resisting pensioner

It wasn't their fault: It was just that despite its age (nearly 80) the Bliss medieval homage still manages to behave like a pensioner resisting the threat of being packed off into a nursing home for long forgotten brass band classics.

Not many kept it sedated.
Stubborn

Each of the three linked movements did not hide its stubbornness lightly; from the opening entrance to the castle gates, which required a sense of regal majesty, to the languid expressiveness of the lakeside serenade (which at times seemed more inspired by the Butlins venue than a royal bit of real estate) and the brisk bravura of the final march.
Oddly, it was the intrinsic elements that caused the greatest problems - from the opening motif with its rushed semi quavers, to the final two in a bar climax that required a subtle increase in pace. In contrast, the taxing solo work (especially for principal cornet) was well handled.

Notable efforts

There were plenty of notable efforts - and one outstanding performance from Mossley that recalled the rousing scores to accompany the films of Errol Flynn in all their glory.
They claimed their fourth successive Butlins victory with the poise of a band destined for a year to remember.
In particular, Duncan Byers' admirable musical direction and sense of tempo was first rate, with the attention to detail (the semi quavers in the opening bar motif were razor sharp, whilst the gradual accel to the end was perfectly paced) delivered with such noticeable assuredness. They were a class part.
The Areas at Blackpool will define their season.
Solid graft

Behind them came a plethora of solid artisan graft - from North West rivals Eccles Borough, Pemberton Old Wigan DW B and Middleton (what a contest is in store at the Winter Gardens) to the youthful Cornish challenge of third placed St Keverne and the Yorkshire duo of Kippax and Old Silkstone.
None quite captured the sense of regal poise in the opening, the bucolic beauty of the central interlude or the breezy bombast of the finale quite like the winners, but each just about had all the essential 'Kenilworth' elements under their control.
Ductile

These were ductile performances stretched close to the limit from bands that had responded to their MDs instructions with determined purpose. All deserved their reward, and all should be outfits to keep an eye out for at the various Areas.
If there were a few unlucky bands to leave Skegness then perhaps Dodworth's account of strong musical character just missed out, whilst further down the results table both Epsom & Ewell and Fulham Brass certainly opted for stylish intent, despite the high minor error count.
Litany

Elsewhere, John Berryman and Brian Rostron had to compare and contrast the usual litany of unforced errors, variable tuning and ensemble precision.

There was little to choose between the midfield finishers, with only the bottom two bands struggling to cope, despite bold efforts.
The top six or so though were more readily identifiable, whilst the judges would have had little problem differentiating between the winners and the podium finishers as Mossley rewrote the record books with their fourth consecutive title success.
On this form they won't be back next year in this section to try for a fifth.
John James