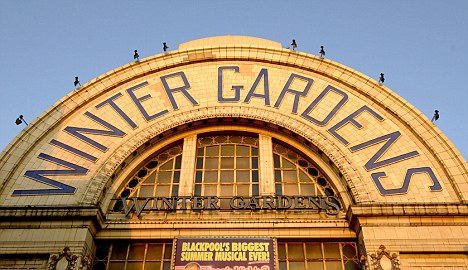 A great venue for a great contest

Blackpool hosts a landmark celebration this weekend as one of the most prestigious major youth titles around reaches the age of 30.
You may have to have to pinch yourself to think where the last ten, let alone thirty years have gone, but its testament to the popularity of this competition that literally hundreds of youngsters have gone on to enjoy fulfilling brass band careers after first dipping their toes in the contesting waters here.
The only worrying thing is though that some of them may now have children or even grand-children taking part this weekend! How time flies!
Special place

The Action Medical Research Youth Entertainment Championships of Great Britain retains a special place in the contesting hearts of those who take part - thanks greatly to the dedicated hard work of its army of volunteers under the leadership of Gary Walczak.
The competitive element of the day is keen, but equally as important are the large sums of money raised every year for a wonderful charitable cause.
Strong field

Youth banding is not immune to the current financial constraints, but it's great to see once again a strong field taking to the stage at the Winter Gardens.
More bands do want to compete, but as it is half term in some parts of the country, some possible contenders have to contend with players participating in other things.

For instance, Wardle High School, who came runner-up at the recent Butlins Youth Championship, has players enjoying a school skiing trip.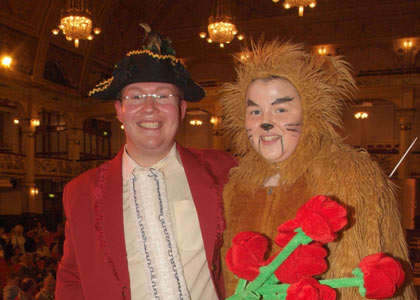 Where are they now? A certain Mark Bousie in disguise in 2008...
Staggering

The amount of time, energy and commitment that is put in by each of the competitors is staggering - and that's not forgetting the army of mothers and fathers, siblings, friends and relatives who support them.
Once again then, the famous Opera House will echo to the sounds of a host of brilliant contenders on what promises to be an exciting day of high class, inspiring entertainment.
Innovative approach
The innovative approach and friendly atmosphere helps the bands immensely, and this year three contenders will already know their draw to help with travel arrangements.
A lunch break has been allocated after band number 5, whilst the production of a successful DVD package of highlights, provides lasting memories of the day.
Whilst the results are being collated, Simone Rebello and students from the RNCM in Manchester will entertain the audience.
Judges
The adjudication this year is in the experienced hands of Michael Fowles (music) and Colin Hardy (entertainment) - Mike in the box and Colin out.
Both judges know all the tricks of the trade of how to put an innovative entertainment programme together, so they will miss nothing - rest assured about that.
They will also have plenty to enjoy - with old and new themes reinvented through a combination of fun and fantastic playing.

Once again, the link with the Brass in Concert Championship gives an added incentive to claim victory, with the winners gaining an invite to perform at The Sage, Gateshead in November.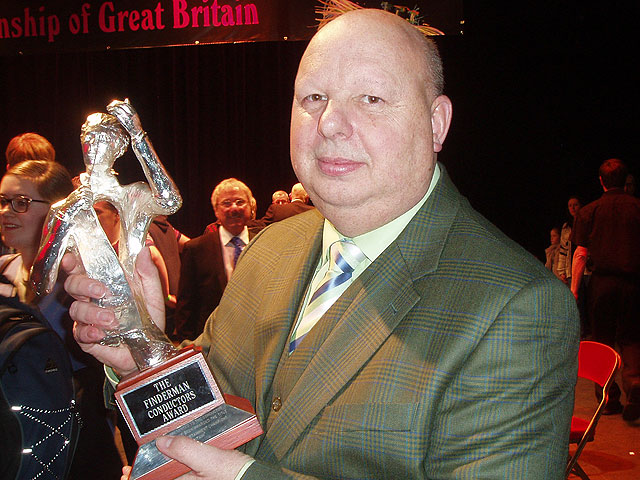 I am the music man: Chris Jeans leads reigning champions Youth Brass 2000

In search
Reigning champion Youth Brass 2000 returns in search of a sixth title, but will be up against a strong field of rivals, most notably the experienced trio of Elland Silver Youth, Rochdale Borough Youth and Enderby Youth.
Meanwhile, making the trip over the Pennines alongside Elland will be the fast developing Hammonds Youth Brass under Jamie Smith, whilst North East challengers, Houghton Area Youth will once again be making the lengthy trip across the M62, joined by Egglescliffe School.
It's great to see the Welsh sending a raiding party over Offa's Dyke, with Seindorf Beaumaris Youth under Gwyn Evans planning to extend Welsh banding supremacy.
Locals
Local favourites are plentiful, with Louise Renshaw's Macclesfield Youth looking to build on their highest placing ever last year, whilst near neighbours, Poynton Youth will be led once again by Fairey's flugel player, Mike Eccles.
Finally, there are Rochdale's two contenders. Life after Eric Landon's wonderful tenure at Rochdale Borough Youth is in the very capable hands of well known tuba player, Steve Walsh, with the reigning Butlins Junior Ensemble winners, Wardle Junior Academy, intent on showing once more what they can do against their elder counterparts.
Tickets

Ticket prices are as follows: Adults £9:00, OAP, £7.00 Children £5:00, with a family ticket available @ £30 for 2 Adults and 2 Children, including a programme
As always, 4BR will be there to enjoy and bring you a taste of the action as it unfolds on the day.
---
Who will win?
Picking the winner gets tougher each year - simply because the standard gets higher and higher.
If Youth Brass 2000 can maintain their splendid early season form then they could take some stopping. If they are off their game just a tad though, then Elland Silver Youth or Rochdale Borough Youth could well be celebrating success.
Dark horses contenders can be found everywhere - including Seindorf Beaumaris Youth and Enderby
4BR Prediction:
1. Youth Brass 2000
2. Elland Silver Youth
3. Rochdale Borough Youth
Dark Horses: Seindorf Beaumaris Youth/Enderby Youth