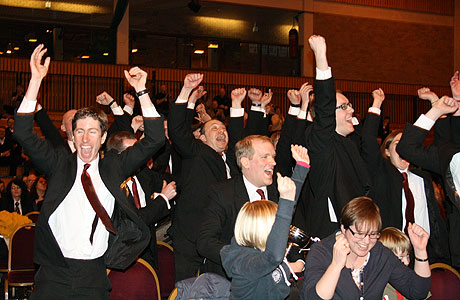 Proud & passionate: Can the North East become a compact centre of excellence?

The North East may be the smallest area in terms of numbers, but it remains fiercely proud of its rich brass band heritage, as well as determined to secure for itself a future built on a solid foundation of grass roots growth.

However, that may be difficult for a hard pressed and hard working Regional Committee to enjoy if they endure any more of the internecine squabbling which has rather undermined their ability plan ahead of late.
Passionate

There are a lot of fine, passionate banding people in these parts - all wanting things to succeed. If they can all work together the Area can once again become a compact powerhouse of excellence: If not - then the writing may already be on the wall. And what a disaster that would be.
Only 39 bands make it to the starting line ups this year (down 1 from 2013 and dipping below the 40 band mark for second time in four years), whilst the region can only boast two National Champions since 1992 and came away from Cheltenham last September drawing a top six blank.
However, there is real hope that things are starting to turn around; with the back biting thankfully at an end, a number of long term initiatives being pioneered by individual banding organisations, 10 contenders in the Fourth Section and a growing strength in depth in the top flight.
All the ingredients are there for prosperity - and added to a splendid contest atmosphere and the warmest of welcomes for visitors, the Dolphin Centre in Darlington is always a great place to be on an Area contesting weekend.
---
Fourth Section:
Sunday 16th March
Main Hall
Draw: 8.30am
Start: 10.00am
Adjudicator: David Hirst
Great to see a solid line up of ten bands take to the stage to perform 'Three Spanish Impressions' on Sunday morning; a work that has been one of the real success stories of the regional series this year.
Numbers may be down, but with the other sections being better aligned numerically, the foundation level remains in a decent state of health, with bands from all parts of the region taking part.
They should all enjoy the challenge of Alan Fernie's expertly written work; the dark opening leading into a wonderful Basque waltz that requires a great deal of musical nous from the MDs to come to life, and a Toreador inspired bit of Carmen to rounds things off with a flourish.
Adjudicator David Hirst has bags of top flight experience to fall back on (and maybe even a Spanish holiday or two under his belt) and certainly knows just what it takes to put together a performance worthy of a place at Cheltenham.
Who will win?
Always a hard one to call, but we think the likes of Bearpark & Esh and North Skelton may the bands to beat on this occasion, whilst Jayess Newbiggin, Swinton & District Excelsior, Barton Community and Craghead could push them close.
Our dark horse is Penrith Town
4BR Prediction:
1. Bearpark & Esh
2. North Skelton
3. Jayess Newbiggin
4. Swinton & District Excelsior
5. Barton Community
6. Craghead
Dark Horse: Penrith Town
---
Third Section:
Saturday 15th March
Main Hall
Draw: 10.30am
Start: 12.00 noon
Adjudicator: Kevin Wadsworth
Another cracking set work to enjoy for the nine competitors, and one that has taken a bit of playing around the Areas so far this year.
As we have said before, Philip Wilby is very specific about what he wants bands to try and achieve with his score directions, so MDs who pay his musical intentions the respect they deserve will surely find favour with Kevin Wadsworth in the box.
He is a musician who has gained a well deserved reputation for giving detailed and transparent reasoning behind his decisions - and one who certainly knows when bluff and ambition is trying to hide detail and reality.
The imposing 'Towers & Chimneys' and fleet footed 'Lord of the Dance', have generally been well handled by competing bands, but it's the lilting beauty of 'Sunday Afternoon' that has proved troublesome - with MDs either losing the flow of the music or nerves and poor intonation causing havoc.
By the time the breezily patriotic 'Coronation Day' finale comes around, qualifying success or failure may have already been decided.
Who will win?
Another hard one to call, especially as there are a number of bands that fancy their chances of impressing.
East Riding of Yorkshire and Dunston may just have the edge on rivals this time around if they play to form, with Ellington Colliery snapping at their heels to gain a Cheltenham spot.

Ferryhill, Houghton Brass and promoted Trimdon Concert could be in with a shout too, with our dark horse of Marske Brass.
4BR Prediction:
1. East Riding of Yorkshire
2. Dunston Silver
3. Ellington Colliery
4. Ferryhill
5. Houghton Brass
6. Trimdon Concert
Dark Horse: Marske Brass
---
Second Section:
Saturday 15th March
Main Hall
Draw: 1.30pm
Start: After completion of Third Section results
Adjudicator: David Hirst
David Hirst should have a very enjoyable (if rather short) contest to judge in the Second Section on Saturday afternoon, as just six bands compete for the two qualification places for Cheltenham.
That won't make it any easier for him though on 'Chaucer's Tunes', especially if these competitors and their MDs have been inspired like so many this year by Michael Ball's wonderful work.
The refined writing and beautiful construction has certainly rewarded those who have sought to bring musical character from the score rather than rely on contest bluff and thunder, with control of dynamics and tempo the key to enabling MDs to add a touch of warmth, wit and waspishness to their efforts.
The dislocated rhythms of the opening 'Intrada' lead into the simple beauty of the hymnal 'Alma Redemption Mater', before the troubling, but whimsical tale of promised fidelity in the 'Wife of Bath' segues into the bold splendour of 'Es ist ein' Ros' entsprungen' and the chase for home.
Sounds so easy doesn't it - but only if the conductor's use their noggins. Thankfully, this sextet appears to know their Chaucer from their elbows.
Who will win?
Short and sweet it may be, but this could be a tasty little gem of contest.
We are going for Lockwood Brass from NASUWT Concert to claim the two qualifying spots, but if either slip up then Ripon City, Murton Colliery, Billingham Silver and Durham Miners Association may well take their opportunity to bag a trip south in September.
4BR Prediction:
1. Lockwood Brass
2. NASUWT Concert
3. Ripon City
4. Murton Colliery
5. Billingham Silver
6. Durham Miners Association
---
First Section:
Sunday 16th March
Main Hall
Draw: 12.00 noon
Start: After Fourth Section results
Adjudicator: Kevin Wadsworth
Kevin Wadsworth certainly knows the difficulties of trying to make Howard Lorriman's 'Cry of the Mountain' come to contesting life after directing Stannington in the First Section in Bradford a couple of weeks ago.
He will have plenty of sympathy for these six hard working bands then - although he won't be giving the two qualification places out to those that come with lofty ambition and nothing else to back up their claims.
As we have already heard around the country, the piece should certainly be within the technical parameters of these competitors, yet so many have still found a way of making their trek up its rather underwhelming slopes sound as if they are tackling the north face of the Eiger.
The opening in particular has created knee trembling havoc - either through nerves, or MDs trying to use all sorts of weird and less than wonderful 'atmospheric' fixes - from duvet covers and bath towels to bespoke state of the art mutes.
As a result, by the time they get to the high speed 'Avalanche' some qualification chances have been going downhill faster than Franz Klammer, so tempering ambition on this occasion may be the key to success through the opening 'Awakening' and craggy 'Snow, Ice & Glaciers', to the panoramic views of 'Vistas & Distant Peaks' and that unstable snowbound finale.
Who will win?
Six solid and doughty rivals - each with a real chance of claiming the title.
Of those we think it could be GT Group Peterlee who plants their flag on the peak of this particular summit, to be joined in the less oxygen deprived environment of Cheltenham by York Railway Institute.
Any tiny slip, even with the top in sight may well see South Milford, Cockerton Prize, Kirbymoorside and Ashington Colliery just pip them to glory.
4BR Prediction:
1. GT Group Peterlee
2. York Railway Institute
3. South Milford
4. Cockerton Prize
5. Kirbymoorside
6. Ashington Colliery
---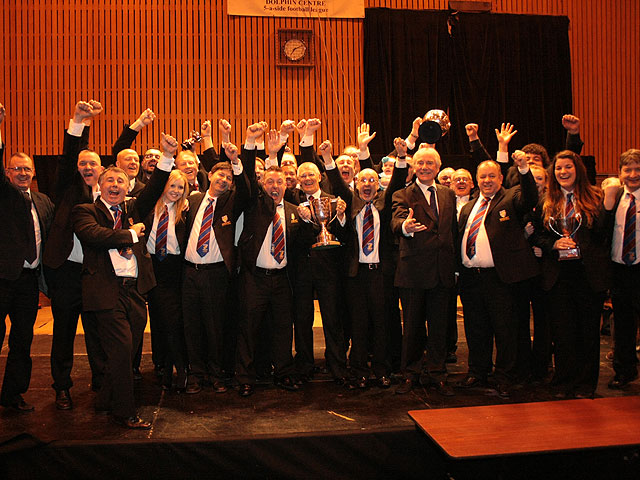 Can NASUWT Riverside retain the title this year?

Championship Section:
Sunday 16th March
Draw: 1.30pm
Start: Following First Section results
Adjudicator: David Hirst
The final action of an enjoyable weekend comes in what promises to be a keenly fought Championship Section contest, with at least five bands all with realistic title ambitions.
Over the last couple of years the perennial Reg Vardy contesting hegemony has been challenged by the likes of Felling and last year, NASUWT Riverside, whilst others such the rapidly improving EYMS and Fishburn have their sights firmly set on lifting the Area Trophy too.
First though, they all have to try and overcome the immense 'St Magnus' - a work whose reputation as one of the toughest of all major test pieces has grown more quickly than the pile of discarded 'forgeries and fixes' that have been hastily concocted to try and meet it exceptional technical challenges.
Adjudicator David Hirst knows the piece very well, having both played and conducted it (he directed Unite the Union at Bradford), so he will be fully aware of all the little fixes, traps and problems it poses.
Who will win?
Despite not winning here for two years Reg Vardy still comes to the contest as the favourite to lift a 34th title, although they are not perhaps quite in the dominant form of old.
On the other hand, EYMS seems to be a band on the rise - and quickly too, and if they show the type of all round quality that was in evidence at Butlins then they could be the band to beat.
Reigning champion NASUWT Riverside was an excellent winner last year and will be determined to hang onto their title, whilst Felling is another band that can more than hold its own and more against top flight opposition.
If these five play to form then David Hirst may have an enjoyable headache in the box, with the emerging Harrogate and Easington Colliery also in with shout.

4BR Prediction:
1. EYMS
2. Reg Vardy
3. NASUWT Riverside
4. Felling
5. Fishburn
6. Harrogate
Dark Horse: Easington Colliery