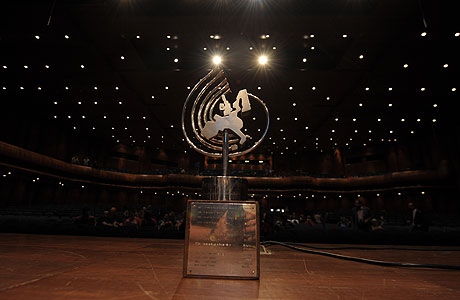 Who will raise the European Trophy in Perth this weekend?

The 37th European Brass Band Championship, to be held in the attractive Scottish city of Perth, could well become the fundamental turning point in the future direction and purpose of both its host and governing body.
The Scottish Brass Band Association's hard earned, and fully deserved reputation for being one of the best run, financially astute national bodies in the banding world is under the most severe of scrutinising spotlights in the coming days, whilst EBBA's own laissez-faire attitude to corporate governance will also be open to forensic examination.
Troubled event

That is because - and make no mistake about it - up until now, this has been one heck of troubled event.
All major competitions have their problems - but four years on from the high hopes, promises and aspirations of Scotland's successful bid, the rumours that it has been teetering on the edge of both organisational as well as financial disaster have grown almost by the week.
Insignificance

Forget the concerns over the test piece, 'Muckle Flugga'. Questions over its musical suitability pale into insignificance to those that will be asked during and after this 'Festival of Brass' if things do not work out as hoped.
Despite exceptionally hard work in some quarters, SBBA's vision to offer a series of widespread events that would provide national support to a compact contesting hub in Perth has seemingly disappeared like mist off Scottish moors, to revel a landscape of occasional concerts and attractions.
Rumours

Rumours of some pretty amateurish dealings with local and national government bodies will be very difficult to deny.

It has led to a lot of fingers being crossed in Perth.
Reputation

SBBA'S reputation is certainly on the line like no other organising body in the history of the event, but EBBA's role in setting out a vision for pan-European banding also looks like it has reached a fundamental tipping point too.
With little or no progress made on its ambitious plans for gaining financial backing from the European Union, and with Freiburg to organise and pay for in just 12 months time, one question arises.
Is EBBA really a body that offers governance over any aspect of European banding, or is it just an organisation with a contest title to offer to those wishing to take on the financial culpability?
Scotland 2014 may well give the stark and uncomfortable answer.
Fine line up

In the meantime, both SBBA and EBBA will be heartened that once again the contest has a fine line up of qualifying bands, all hoping to leave the compact surroundings of Perth Concert Hall crowned as the 2014 Champion Band of Europe.
In addition, the European Soloist's competition has attracted performers from far and wide, whilst the European Youth Band once again provides a wonderful opportunity for young players to meet and make music, this year under the baton of Russell Gray.
The much maligned B event has been resurrected as the 'Challenge Section' - which is essentially the same thing under a different name, whilst the European Youth Brass Band Contest takes its first fledgling steps with eight bands from five countries taking part on the Sunday to round off the 'Festival' week.
Blockbuster premieres

As always, there will be plenty of fine music to enjoy (keep an open mind on the Championship set work - it may surprise you), with the usual batch of eye popping blockbuster premieres to dizzy the senses on the Saturday.
Meanwhile, the Gala Concert looks to be short and sweet (through accident if not design), the bar at Perth Concert Hall isn't as expensive as the ones found in Oslo, and if you can't make the trip, you can enjoy the action either by spending £7.95 to sign up to the British Bandsman's live broadcast coverage or by following things through 4BR.
We have the whole team out in force in Perth, asking questions, getting opinions, giving our views, providing interviews, taking images and providing the results as soon as they are announced.
There may or may not be trouble ahead for SBBA and EBBA, but whatever happens, you can be sure it will all be revealed on 4BR.
Iwan Fox
---
List of events:

http://www.europeanfestivalofbrass2014.com/festival-events/perth-based-events
http://http://www.gkdev2.nl/index.php
Thursday 1st May:
20.00: Perth Concert Hall - Gala Concert Finals and awards ceremony of 6th European Solo Competition for Brass and Percussion with performances from the 3 finalists with the Kirkintilloch Band and presenting the 2014 European Youth Brass Band.

Friday 2nd May:
10.00: Opening of the 2014 European Brass Band Association Conference
12.30: Opening ceremony and official reception (Scone Palace)

Order of play draw for the 2014 European Brass Band Championships (EBBC)
Concert by the European Youth Brass Band 2014
14.00: Press Conference
15.30: Perth Concert Hall (Main Auditorium)
Talks by the Scottish composers of the commissioned works to be performed by participating bands
15.45: Jury Meeting - MC of the European Brass Band Association (EBBA)

17.00: Perth Concert Hall - EBBC: Commencement of the Championship Section (commissioned work)
Saturday 3rd May:
09.00: Perth Concert Hall - 2014 EBBC: Commencement of the Challenge Section Championships (own choice/commissioned test piece)
13.00: Perth Concert Hall - 2014 EBBC: Commencement of the Championship Section (own choice test piece)
20.15: Perth Concert Hall - Grand gala concert and festival awards ceremony with The Cory Band, The Co-operative Funeralcare Band and the 2014 European Youth Brass Band.
22.45: The European Brass Band Festival 2014 celebration party with live music

Sunday 4th May:
General Meeting of EBBA followed by press conference
10.00: Perth Concert Hall - European Youth Day Morning Concert with Eikanger-Bjørsvik Musikklag band and 2014 European Youth Brass Band.
12.00: Perth Concert Hall - European Youth Brass Band Contest
17.00 approx: Perth Concert Hall - Pre-Awards Ceremony - concert performance by the King's Division Brass Band of the British Army.