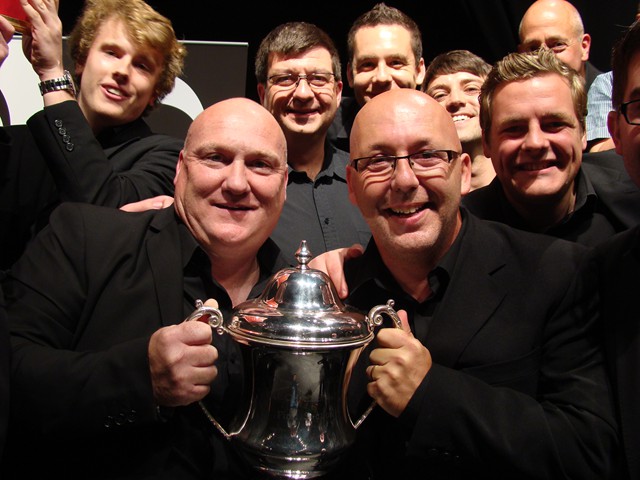 Project those smiles - Filton players celebrate their win
The era of the 'project band' has arrived.
For supporters, it is the realistic approach to the modern day needs of busy players; an attractive form of banding for priorities that lie first and foremost with professional careers and family lives before the commitment required submitting to an increasingly demanding hobby.
In contrast, critics argue that it is the ultimate fad consequence of relaxed registration rules and a mercenary approach to the honorable chivalry of contesting.
Specific job

However, as Filton Concert showed in winning the First Section National title in splendidly committed fashion under Tom Davoren: It is also simply how best you prepare your players for the specific job in hand.
Traditionalists may indignantly splutter that Filton practices just once a week (usually with reduced numbers), doesn't readily enter other domestic contests (one outing at Wychavon in 2012 in the last 10 years), and relies on a flexible approach to player commitment.
That though would completely miss the point of them as a banding organisation. It is exactly what they have been about ever since they were formed by the wonderfully eccentric Jim Scott, forty odd years ago.
It is also why Filton has persuaded a very talented MD to lead them, and continues to attract quality players who are more than happy to be part of a band that offers the opportunity to enjoy their hobby without it corroding other more important aspects of their lives.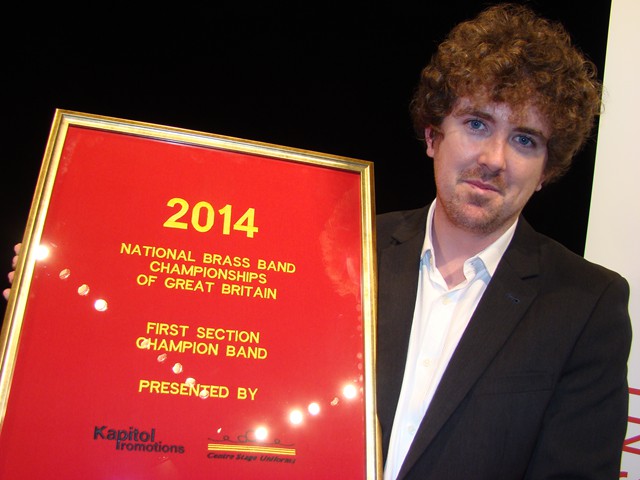 It's all in writing: Tom Davoren looks for somewhere to hang the evidence
As Filton showed - 'project banding' certainly has a great deal going for it under the right circumstances.
The approach may ruffle a few feathers, but the timeless brass banding ethos remains the same: It's all about musical excellence; and in winning on Sunday evening on a demanding set work, you couldn't say they were anything other than that.

Throat grabber

Theirs was a performance rich in contrast and texture (at times subtle at others more forceful), driven at a tempo that flowed with viscosity, underpinned with a level of vibrant understanding from the MD that had you grabbed by the throat from the word go and never let go.

There was no doubting its class, insight or worthiness of its title winning aspirations. Tom Davoren could succesfully project manage the next Olympic Games on this form.

Colourful promise

It also won an engaging contest that certainly fulfilled its colourful promise.
That was in no small part to a filmatic score from Stan Nieuwenhuis that although not quite in the Erich Korngold class of helping along a tale of medieval forbidden love, evil Kings and great escapes, still brought the best out of a host of swashbuckling MDs who certainly adhered to the Errol Flynn school of sword wielding baton work.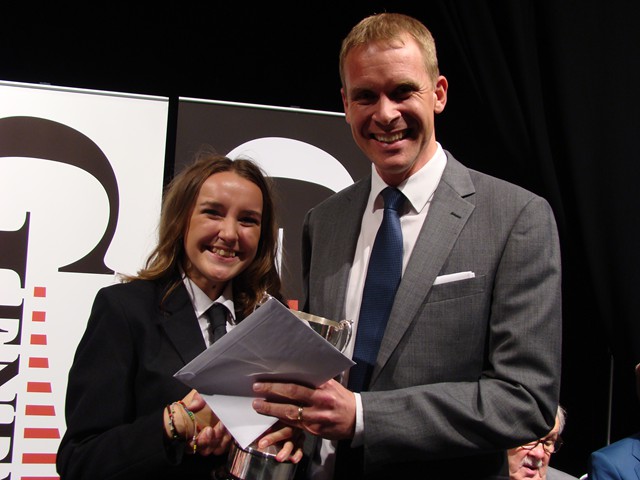 A number 1 smile for Oldham (Lees) as runner-up

Sabre rattling

It was also an approach to 'A King's Lie' that found favour in the box with the adjudicators, Philip Harper and Michael Fowles; two MDs well known for being able to engage in their fair share of exciting sabre-rattling.
They knew what they wanted to hear, and stuck admirably to their guns (or their swords in this case) in reaching their decision: a bit contentious in places, but ramrod straight in terms of consistency.
The audience, the players, the MDs and the press were also told why. You can't ask for more than that.
Pimped up

As a result, those who took risks, enhanced the technicolour vistas, pimped up the dynamic contrasts and soaked themselves salivated excitement won the day - or at least got into the prizes.
In contrast, those who opted for a restrained telling of the tale of Floire and Blancheflor (more 'Mills & Boon' than '50 Shades of Grey') found themselves out in the cold - although to be fair, those who also tried to make it into a sexed up Hammer horror film version of 'When Harry Met Sally' also paid a price.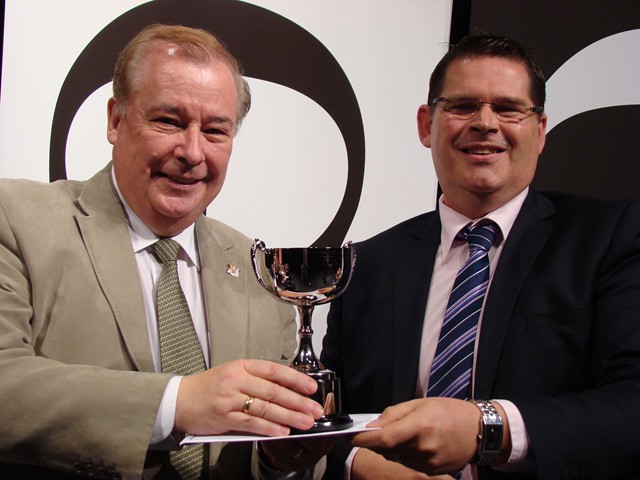 Great news at 10 for City of Bradford in third place

For the judges, the top three rivals stood out - the contest seeing a cracking opening scene stealer from Oldham (Lees) under John Collins (aided by the fine flugel playing of Toni Heywood) that very nearly held its own until Filton's action packed climax snatched the title from their grasp.
Carrie

Even then, there was just enough time for Lee Skipsey and City of City of Bradford to do a 'Carrie' and thrust a last minute graveyard shift grab around the ankles of Tom Davoren (they ended their performance after 10.00pm) just as he was perhaps thinking of heading to the bar with the First Section trophy tucked under his arm.
Few would argue that this trio were battling for the podium glory, but whereas a youthful Goodwick found appeal just about everywhere except in the box in the Centaur auditorium, with their compact, clearly defined take under Matthew Jenkins, it was left to the more robust interpretations from Ashton under Lyne, Thundersley and Hatfield to force their way into the top six reckoning.
Well worth mentions

Although they didn't have the sheer bravura vividness of the eventual podium finishers (and had slightly higher minor error counts) they were well worth their mentions off the stage in a contest that saw each of the 17 contenders deliver performances of merit.
The experienced musical heads of Phil Chalk, Nigel Taken and Stan Lippeatt showed that they still now how to stir the melting pot of emotions to tickle the fancy of the men who hand out the filmatic gongs.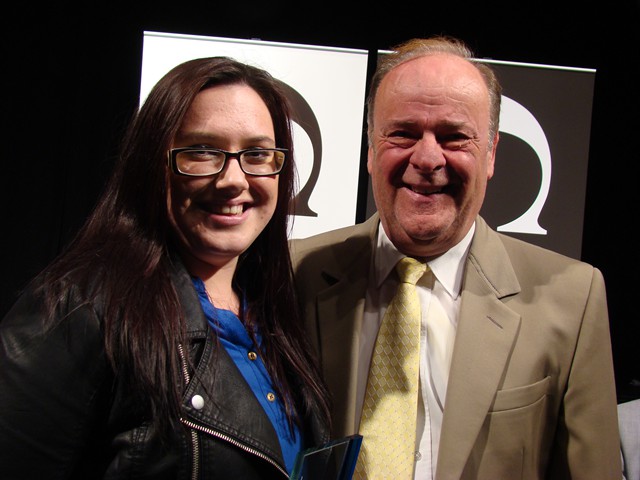 Best Instrumentalist Award winner: Toni Heywood of Oldham (Lees)

Tearjerker

Blidworth, Staffordshire, St Austell and Goodwick may well argue their cases against that, but given the strongly held opinions of the men in the box, you suspect they wouldn't get far by taking it to appeal.
Goodwick in particular won't want reminding of this particular performance on a Christmas wish lit box-set of their 2014 greatest contest hits. You suspect this was a tearjerker for all the wrong reasons.
Enjoyable

What did make for enjoyable listening though was the way in which 'A King's Lie' brought different director's cuts from the MDs - from the brilliantly all guns blazing approach of Chris Hirst with York Railway Institute to the passionate undercurrents of Chris Turner with Llwydcoed.
Those who filled the remaining places also had their moments - good, bad and indifferent at times, but overall, well worth the admission price of a Sunday afternoon matinee ticket to the hall.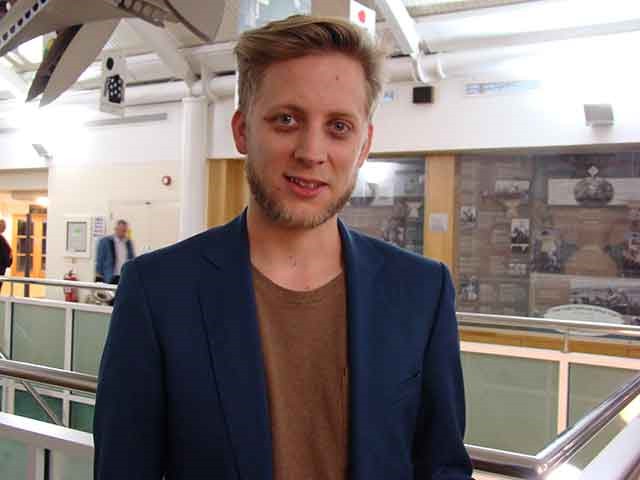 Stan's the man: The composer enjoys his time at Cheltenham...

Pick & mix

That was due to players being engaged with the pulsating tuba rhythms and free flowing cornet lines that certainly kept the score's plot line ticking away, whilst the cleverly entwined magpie 'pick & mix' shiny motifs (from what sounded like the start of 'Send in the Clowns' to the build up to 'It's Raining Men') coupled to some lovely lyrical melodies ensured that there was more to 'A King's Lie' than just being yet another John Williams/Hans Zimmer pastiche.
None better

It also meant that those who captured the composer's sense of youthful vigour, fearless drive and intense, excitable passion were the ones that caught the ears of the men in the box - and none on the day came any better than Filton Concert.
Their next project is now how to make the same impression on judges in the Championship Section.
Iwan Fox