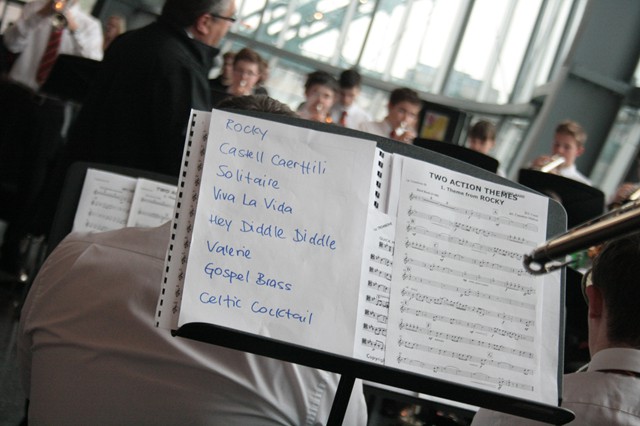 There were plenty of great musical treats on the menu at The Sage this year

The ambitious Brass in Concert move to The Sage Gateshead over the past decade has seen what was once a contest for hard core brass band supporters, develop into a much more enjoyable but equally engrossing family orientated festival.
The hard working BiC organising team led by Paul and Jackie Beere have carefully widened the appeal of the event, making it a showcase not just for exclusive top flight entertainment excellence, but also as a shop window for inclusive music making at all levels.
Seen again

That was certainly seen once again with the BiC Workshop Band that now performs music on the concourse on Saturday lunchtime after a hard morning of tuition and tips led by the likes of Black Dyke and this year, Cory under MD, Philip Harper.
Similarly, through a link up with the Action Research Youth Entertainment Championships, the invitation issued to their 'champion band' to perform twice over the weekend has seen young players enjoy a brilliant chance to be a part of what their brass banding futures could hold for them.
Mind you, if Seindorf Beaumaris Youth under Gwyn Evans was anything to go by this year, many of the competing bands at Brass in Concert may want to see if they could travel back in time themselves. They were superb.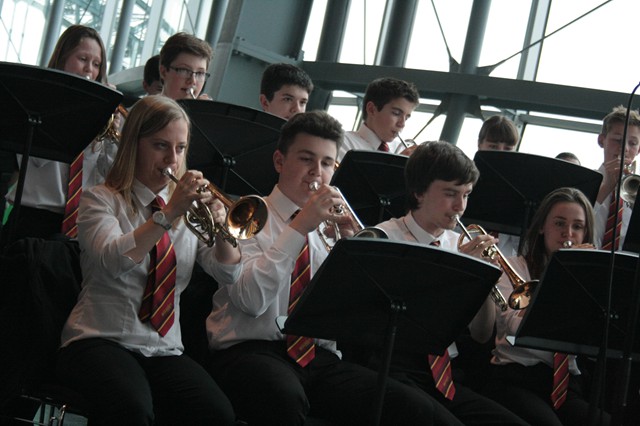 Back to the future: What a a fantastic band from Beaumaris

Sheer enjoyment

Philip Harper led the 90 strong Workshop Band of all ages and abilities. From around 9.00am, he and his Cory stars put the players through their paces for the concert just a few hours later.
From the opening bars of Dr Roy Newsome's march, 'Belmont', through to the ubiquitous 'Happy' by Pharrell Williams to close, the sheer enjoyment was there for everybody to see and hear - especially when it came to featuring the 'Sage Superstars'.
These six youngsters (who'd not been playing long) delivered a trio of numbers under MD Laura Jackson, supported by two players from Cory that raised the roof of the iconic building with the cheers of a packed crowd perched on just about every vantage point that could be grabbed.
Quite some band

They were followed by the Beaumaris Youth Band - the 2014 Action Medical Youth Champions of Great Britain, whose compact sound was in evidence throughout as Gwyn Evans let his players showcase their talents in full.
Led with distinction by Pippa Scourse on principal cornet, a set that included the famous 'Rocky' fanafre, the march, 'Castell Caerffili' and the MD's own composition 'Celtic Cocktail' left everyone wide eyed in admiration and with equally broad smiles on their faces.
They were equally as good in their pre-results set the following day. My word, they are quite some band.

Too good to miss
In previous years, that would have been the end of the entertainment until the evening Gala Concert, but with the overseas contingent of Schoonhoven and Brass Band of Central Florida taking part in the main contest, the opportunity to showcase their very particular talents was too good an opportunity to miss.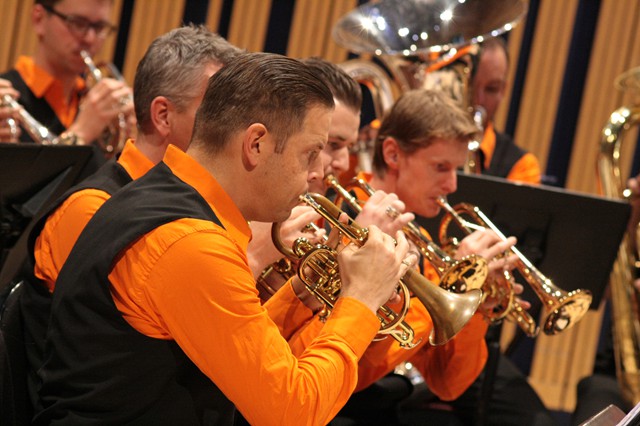 Orange musical treats and tasty cookies from Schoonhoven

Dutch Treats

With free coffee and Dutch cookies up for grabs (brought over by Schoonhoven themselves) the informal atmosphere of the 'Dutch Treats' concert in the Northern Rock Hall was a delight.
It was high quality playing too, as the band in their orange shirts delivered music from the likes of William Himes, Andrew Duncan and Andy Scott interspersed with hints of their 'South African Symphony' themed programme the following day. The band even got the assembled masses singing 'Tulips from Amsterdam'.
There may have been something 'extra' in those cookies after all...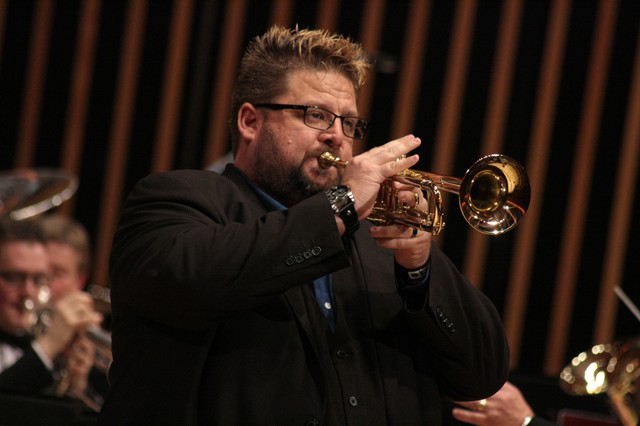 Swing master: Chad Shoopman on ear wax clearing form...

American swing

A little later it was the turn of Brass Band of Central Florida under Chad Shoopman to deliver a guide on how to interpret and perform 'swing'.
Using different pieces including 'Rhapsody in Blue' (which was part of their entertainment programme), it was a fascinating (and invaluable) insight, aided by brilliant ear-wax clearing trumpet playing from the MD.
Look forward

It rounded off a highly enjoyable day of free events, and it will be interesting to see what the organisers come up with in the years ahead.
Whatever it is, it will be something to look forward to I'm sure.
Malcolm Wood