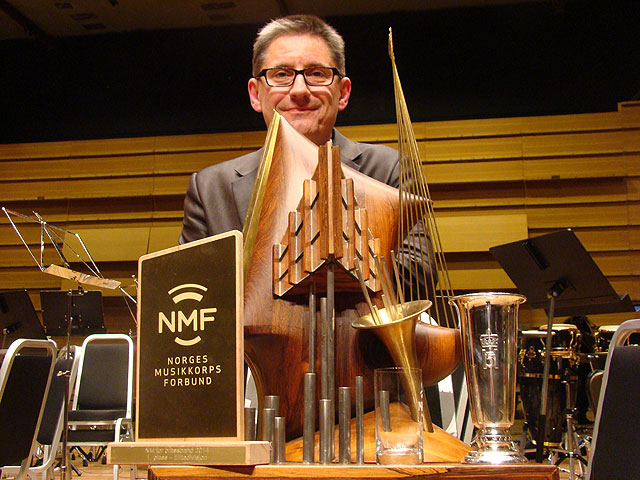 Familiar smile of success for four in a row winner Eikanger Bjorsvik
Elite Section:
Set Work: Of Distant Memories (Edward Gregson)
Friday 6th February (15.30)
Adjudicators: Florent Didier, Håkon Berge & Tijmen Botma
Own Choice:
Saturday 7th February (14.45)
Adjudicators: Preben Nørgaard Christensen, Dávur Juul Magnussen & Lito Fontana
---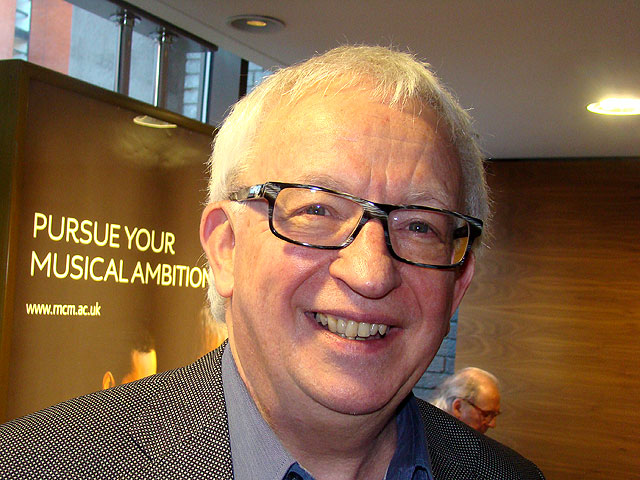 The Mastercraftsman of Manchester: Composer Edward Gregson

The musical core of the entire Bergen weekend will see 10 top class rivals battle for the right to be crowned 2015 Norwegian Champion, as well as gain the honour of representing their nation at the European Championships in Lille in 2016.
With the bands winning the collective bargaining rights to replace the original choice of set work with Edward Gregson's 'Of Distant Memories' (Music in an Olden Style), you would think everything in the garden would be rosy for those who take to the stage hoping to eventually clasp the imposing National Trophy in celebration.
Curious appreciation

However, as we have said before, the Norwegians do have something of a curious musical appreciation of any brass band repertoire written before this event started in 1979 - especially by long defunct British composers.
In its way it's something of an exact opposite of what the British tend to think about anything written after the same date by foreigners who obviously don't understand Imperial measurements or the LBW rule of cricket.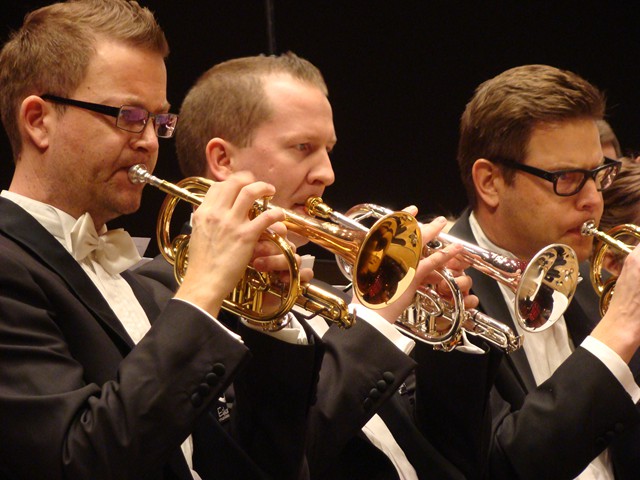 Can Eikanger make it five in a row?

Googly

We have heard some pretty remarkable (and we do mean that in the pejorative sense) interpretations of Ball, Fletcher, Howells, Holst and their like over the years here - with some pretty horrible renditions of 'A Kensington Concerto' a decade ago that would have had old Eric spinning like a Shane Warne googly in his grave.
What they will make of Edward Gregons's remarkable work of affectionate façadism remains to be seen then (given they threw out the opportunity to play 'Resurgam' two years ago) - although you would have thought that with more than a handful of highly experienced British (and one Australian) conductors at the helm, they won't fall into the trap of thinking that if they play all the notes in the right place nothing could go wrong.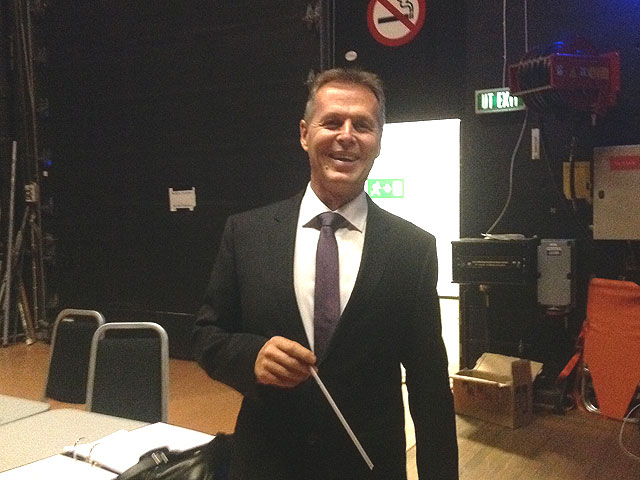 The one Australian with an eye on Lille...

Musical language

As technically brilliant as many of these Norwegian bands are at times, they don't half sound musically illiterate when it comes to understanding a musical language written in pen and ink on yellowing old parchment.
'Of Distant Memories' may have come to them freshly off the Sibelius programme laser jet printer, but the writing still bears the hallmarks of a mastercraftsman able to install wi-fi fibre optics into the Houses of Parliament.
None come better in doing that than Edward Gregson - and as a result 'Of Distant Memories' is a superb work of immense innovation, expertly concealed in the nooks and crannies of what on the face of its appears to be pretty familiar Victorian Gothic architecture.
---
So who will emerge triumphant?
It's certainly a closer one to call this year than it has been for a while, with Eikanger knowing that they will have to be at the peak of their considerable powers if they are to repel the challenge of Manger, Stavanger and even the likes of Bjorsvik Brass and Olso Brass.
Florent Didier, Håkon Berge and Tijmen Botma have been given the hard task of separating out the bands on 'Of Distant Memories', but it's Preben Nørgaard Christensen, Dávur Juul Magnussen and Lito Fontana you may feel have been given the short straw in trying to compare and contrast some pretty formidable own choice selections.
Own choice selections

Eikanger and Stavanger are both playing 'Audivi Media Nocte', Manger have opted for 'Perihelion', Oslo go with 'The Promised Land' and Bjorsvik will give it showtime with 'Paganini Variations' - not forgetting 'As If A Voice Were in Them' from Molde, 'Sketches from Nowhere' the choice of Kleppe and Ila, Krohnengen playing 'Myth Forest' and Jaren giving a world premiere to 'Yggdrasil'.
It could well come down to the narrowest of margins - much like last year when Eikanger took the title by 0.5 of a point.
And that's what we think may just happen again…
4BR Prediction:
1. Eikanger Bjorsvik
2. Manger Musikklag
3. Stavanger
4. Olso Brass
5. Bjorsvik Brass
6. Ila Brass
Dark Horse: Krohnengen
---
2014 Result:
1. Eikanger-Bjørsvik Musikklag
2. Manger Musikklag
3. Stavanger
4. Bjorsvik
5. Krohnengen
6. Jaren Hornmusikkforening
7. Oslo
8. Ila Brass
9. Sola Brass
10. Tertnes
---
Last five winners:
2014: Eikanger-Bjørsvik Musikklag
2013: Eikanger-Bjørsvik Musikklag
2012: Eikanger-Bjørsvik Musikklag
2011: Eikanger-Bjørsvik Musikklag
2010: Manger Musikklag
2009: Eikanger-Bjørsvik Musikklag