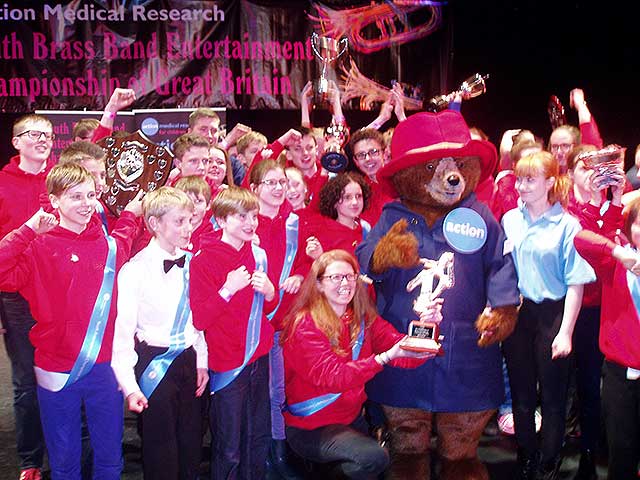 Inspired champions: Elland Silver Youth and MD Sam Harrison

Inspiration can come in many forms, but it says a great deal when it derives from the specific excellence of a rival.
In 2014, Seindorf Beaumaris produced a simply stunning performance to win this Championship title - one that left no one in any doubt that they had taken competitive youth banding to a new level.
Resonate

However, its positive impact that day resonated much further than the immediate confines of Blackpool's Opera House - and especially with the MD and players of Elland Silver Youth.
Realising that they would have to totally re-evaluate their approach if they were to once again be crowned Action Research champion, Samantha Harrison and her remarkable young players set about doing just that - and some 12 months later, they reaped the reward for their dedication and commitment to their goal.
Some achievement

It was some achievement - especially as it saw them claim their third victory in five years by beating the very band that had provided that renewed ambition. Not only that - but what Elland did this year should now provide the ignition spark of inspiration for others to emulate them too.
Theirs was a victory based upon undoubted talent being linked to clever thinking and rigorous commitment. It was richly deserved - and Samantha's recognition of the role Beaumaris played in kick-starting that journey on the long road to success, showed a great deal of humility and class.
Any programme that can balance a Charlie Chaplin storyline with playing of Charlie Parker excellence deserves to succeed. It all rather neatly summed up their victory.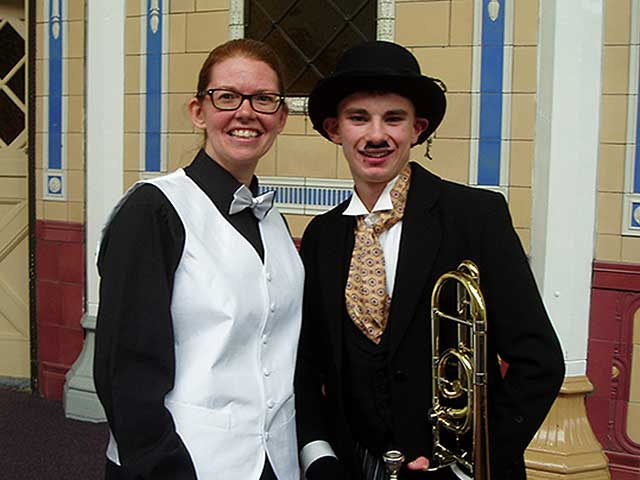 Chaplin excellence for Elland

Contest inspiration

However, where this leaves this contest is also a matter concerning future inspiration: If the bands can become ever more progressive and inventive, then so can the contest itself.
Curiously, it also left Seindorf Beaumaris in something of predicament.
Stunning

The North Walians were once again musically stunning (with Pippa Scourse showing remarkable musical maturity in claiming the 'Best Soloist award for a second successive year) - a good margin ahead of the rest of the field.
But despite their polished presentation, a lack of integrated choreography (although it was hard to see how it could have been implemented to the same levels as rivals given the musical content) meant that they ended third in the entertainment category.
It was also enough to see them beaten - although you suspect that adding unnecessary choreography and a bit of fancy dress would not have made them perform better, or made their programme any more enjoyable.
So how do they improve as a band in future?
That may not quite be the immediate problem faced by other rivals, but the question remains.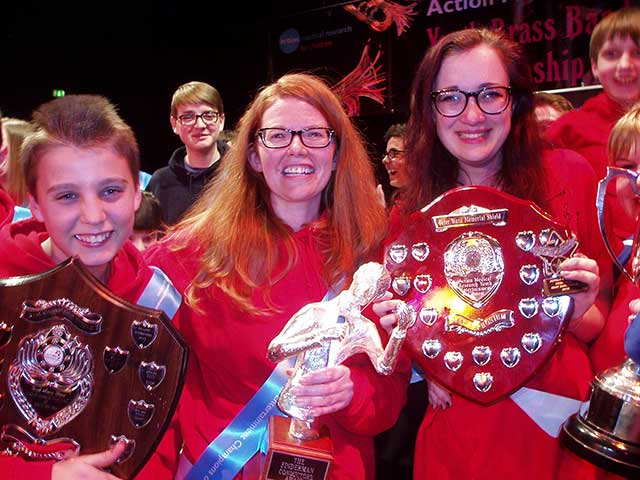 Time to celebrate...

Adjudication formula

It also showed that the current adjudication formula - one that sees musical quality and entertainment as equal elements, to be somewhat out-dated. With the contest linked to the Brass in Concert Championship, couldn't a version of the adjudication system used there, be implemented here?
The equality between the judging elements meant that Houghton Area Youth (who are fast emerging as a very impressive band) came third overall (although they were fifth in quality of music), with Butlins champion Youth Brass 2000 in fourth (after bring placed third in the music category by Frank Renton).
Harnessed

Elsewhere it was good to see the obvious progress made by the likes of Macclesfield, Wardle Academy, Enderby Youth and Egglescliffe School - all brilliantly led by MDs bursting with enthusiasm and inventiveness, and all packed with players oozing eagerness and talent.
How that can be harnessed to keep this important contest driving forward in terms of quality, rather than just in terms of enjoyable variations on thematic material, is a matter for the hard working organisers to grapple with.
But with an ever increasing backdrop of demands on young players (including more and more early season contests to go with exams) keeping the adjudication process relatively simple (although with a positive weighting towards musical quality) could see the event attract even more competitors if they have the same mindset as Elland.
Encouragingly, on the day, it certainly looked they were not alone in taking inspiration from their Welsh rivals.
So much good

The Action Medical Research Championship has done so much good (for both bands and for the fund raising for the charity itself) over the years, but it cannot afford to stand still.
The quality of the playing has arguably never been better, but once having had 14 bands in 2008, the numbers have started to fluctuate - and eight (with one dropping out at late notice) this year is starting to get borderline.
The enthusiasm and dedication of Gary Walzack and his excellent team in running the day is outstanding, with the fund raising for Action Medical Research (which this year topped £1300) being central to its overriding ethos.
Reach out again

It was however, interesting to note that despite over 70 bands having participated over the years, the contest now relies more on a loyal hard core of competitive support. Somehow it has to reach out geographically once more to the likes of Scotland, South Wales, the West of England and the Home Counties.
Some simple rule changes may help - but so too must a new sense of inspired thinking.
Shep the dog

And with the greatest of respect to Frank Renton (who spoke wise words indeed before the announcement of the results) and Barrie Chappell - that applies to the people who judge their efforts too.
It was great to hear that the Blue Peter television programme wants to do a feature on the winners - but it wouldn't be doing so with presenters the same age as John Noakes and Valarie Singleton - however much we (of a certain age) love and admire them.

Even Shep the dog is pushing up the daisies now.

The BBC's iconic flagship of children's entertainment ensured it remained relevant by ditching the Christmas advent calendar and decorations made out of tinsel and wire coat-hangers. Youngtsers are much, much more discerning and sophistcated nowadays in who they identify with and admire. Ask anyone under the age of 18: Kanye West or Paul McCartney? The Beatle doesn't get a look in...

This contest needs to do the same.
A fantastic event gained a fantastic winner this year - let's hope it inspires everyone to even greater heights in time for 2016.
Malcolm Wood