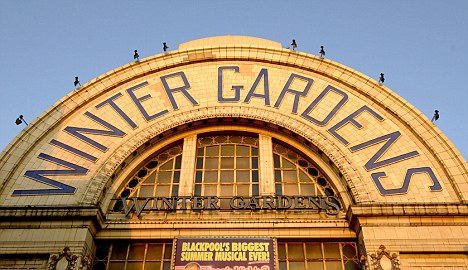 It all starts here...

The largest and most exciting qualification competition in the banding world kicks off in Blackpool this weekend, when the first of 509 challengers takes to the stage at the Winter Gardens hoping to try and find favour with judges who could stamp their musical passports with a finals date at Cheltenham or London.
Get things right here - followed by Bradford, Bedworth, Perth, Durham, Torquay, Stevenage and Swansea and the rest of 2015 holds the enticing prospect of perhaps being crowned National Champion: Get things wrong - and a long old season of slog awaits.
Bumper audience

Traditionally, it's been Yorkshire that starts the process rolling, but this time it's the North West - with a bumper audience expected in each of the halls at the ornate Winter Gardens for a Sunday of enticing, passionate contesting.
Expect quite a few spies and scouting parties from all corners of the country to be booking into the local B&Bs on Saturday night, as rivals look for any tell tale sign of what tickles the judge's fancy.
Powerhouse

To borrow a well worn George Osborne phrase - the North West retains its position as one of the powerhouse regions of UK banding - as shown by a line up of 75 contenders in its five sections.
And although the 2014 Finals didn't see any top flights bands force their way into the pre-qualification places at the Albert Hall (meaning there are only two slots up for grabs), Cheltenham once again saw representatives deliver a strong challenge - topped by Marple's wonderful victory in the Second Section. There are quite a few contenders who will fancy their chances of National success if they get through.
Distilled miasma

As always there is a vibrant atmosphere to be enjoyed - a great day of distilled expectation, emotion and ecstasy filtering through the miasma of the smell of warm pies and beer in the bars. The playing is invariably pretty good in all the sections too.
Regional Secretary Peter Bates and his hard working team do a cracking job in keeping things flowing (but they do need help - so please volunteer to help out if you can) and whoever gets through to Cheltenham and London will certainly have deserved it.
On hand

4BR will be on hand to cover each of the sections live, as well as give our opinions and those all important results - so plenty to look forward to...
Just think - after all the bands have played here, there are only another 434 performances to go....
---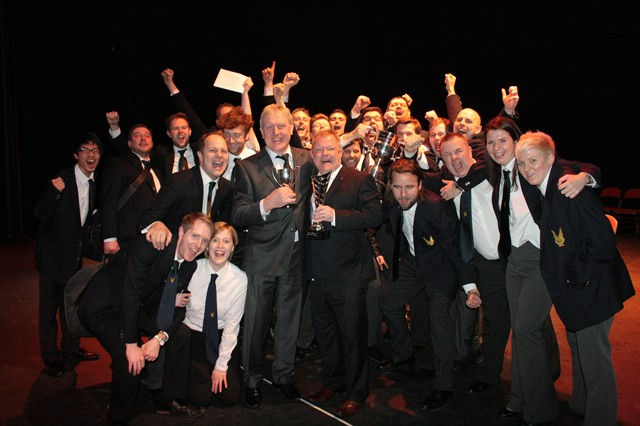 Reigning champion: Fairey
Championship Section:
Test Piece: The Torchbearer (Peter Graham)
Opera House
Draw 1.45pm
Commence after Third Section results
Adjudicators: David Hirst & Alan Morrison
The Championship Section contest on Sunday afternoon promises to provide a fascinating battle on Peter Graham's affection homage to the beauty of Eric Ball's compositional craft.
But despite all that elegiac elegance, the brutal truth is that for the second year in a row there will be a fair amount of pugilistic claret spilt in pursuit of the minimum brace of qualification places up for grabs: This is a bare knuckle 'Tournament for Brass'.
Doughboy
What is certain, is that at least one of the traditional heavyweight challengers of reigning champion Fairey, Foden's and Leyland (who have enjoyed a triptych stranglehold on the title since 1995) will be crestfallen for sure - especially if they are suckered into taking a few too many liberties with a score, that although not overtly fearsome, can still land a doughboy punch on an unsuspecting chin.
Gnarled
All three are experienced enough (and are led by gnarled old cornermen in Garry Cutt, Allan Withington and Michal Bach) to ensure that doesn't happen - but as a hat-trick seeking Leyland found out last year, a round 1 draw and a few early slips can't be overcome by a whiff of smelling salts.
Smell of blood
The trio will undoubtedly be the bookies favourites once more, but other cruiserweights, such as Milnrow or the in-form Wingates may also fancy their chances if they can smell a bit of blood.
That said, the field of 13 is also packed out with journeymen contenders too (as are the vast majority of top sections Areas), who will perhaps be looking to survive rather than pose a real threat to what could be a rather predictable outcome.
Co-operative Funeralcare may want to challenge that assumption given their fine podium finish last year, whilst Blackburn & Darwen, and the ambitious brace of Rainford and Oldham (Lees) could spring a few surprises if a little luck and things go their way.
The same goes for the solid, if rather unspectacular contenders of Ashton, Pemberton Old, Morecambe (making their top flight debuts) and VBS Poynton.
Buster Douglas
However, given the power, precision and quality of the main protagonists, that would be a bit like Buster Douglas knocking out Mike Tyson (which occurred 25 years ago almost to the day) if any of those were to end up on Sunday night sporting a North West Regional Championship belt to their name.
---
Who will win?
This contest seems to have the feel of predictability about it - to a certain extent.
If Fairey, Foden's and Leyland play to form then the title will be a three way squabble that may come down to the judge's score card preference rather than a huge winner takes all knockout blow.
Fairey could just have the edge if that's the case, just pipping their old rivals Foden's with Leyland the band to miss out.
A confident Wingates will be the band to watch out for with the likes of Milnrow and Rainford close behind alongside our dark horse of Blackburn & Darwen.
4BR Prediction:
1. Fairey
2. Fodens
3. Leyland
4. Wingates
5. Milnrow
6. Rainford
Dark Horse: Blackburn & Darwen
---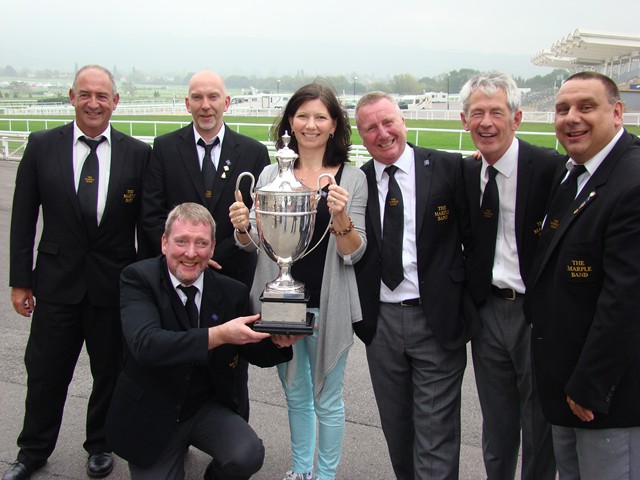 Can Marple add the North West title to their CV this year?
First Section:
Test Piece: A London Overture (Philip Sparke)
Empress Ballroom
Draw 9.00am
Commence: 10.00am
Adjudicators: Jim Davies & Michael Fowles
There is always one test piece each Regional year that tends to draw a sharp intake of breath from even the most seasoned observers of the contesting world - and there was certainly a wry smile and puffed out cheeks when 'A London Overture' was announced as the First Section set work.
Not under estimated
Time will tell over the next four weeks just how tough a nut it is to crack, but it's certainly not a piece to be under estimated - especially for the main soloists: If a band can really deliver on this expertly written bit of Sparke then they certainly deserve their place at Cheltenham - and perhaps even in the Championship Section.
It's a work that has the ability to inflict a heavy toll of casualties almost from the word go - with a cadre of fearsome cadenzas placed early doors to test the mettle of key players. That was certainly the case when it was used at the Europeans back in 1991 (ask any trombone player that day), and it hasn't lost any of its ability to inflict a nasty bite or two, since.
Triage
The main ensemble work comes later; and is precise and detailed right to the end, so Jim Davies and Michael Fowles may well have to create a form of musical triage system to sort out the potential survivors from the already dead and buried.
The eventual champion will wear their scars from this one with pride.
---
Who will win?
Last year's qualifiers (Oldham and Ashton) showed their quality at the Finals in posting top six finishes, so we could be in for a cracking battle this time around with 13 well matched performers with solid track records of local, regional and national achievements to their name.
Picking a favourite is far from obvious, but Haslingdon & Helmshore along with Longridge will both have benefited from their recent Preston exploits, whilst Marple and Mossley (both promoted from the Second Section) alongside the experienced Roberts Bakery may also expect to have a say in the destination of those all important brace of qualification places.
Freckleton is another band that bobs between the top two sections and could be due an upswing again, whilst our dark horse on this occasion is the ambitious Poulton-Le-Fylde.
4BR Prediction:
1. Longridge
2. Haslingden & Helmshore
3. Roberts Bakery
4. Marple
5. Mossley
6. Freckleton
Dark Horse: Poulton-le-Fylde
---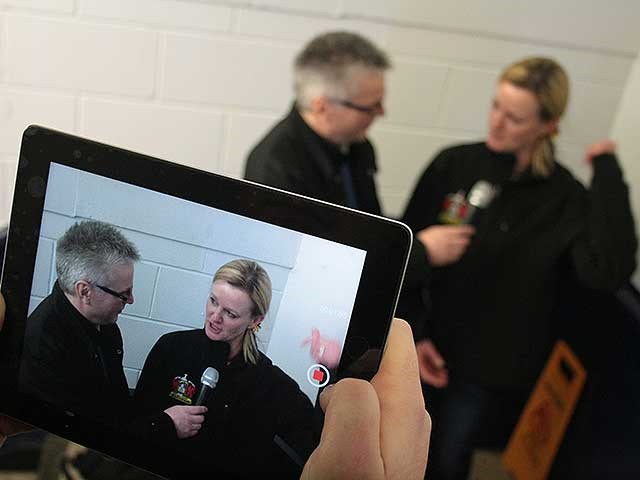 Will 4BR be interviewing a winning Eccles MD Mareika Gray again?
Second Section:
Test Piece: Variations on Maccabeus (Kevin Norbury)
Pavilion Theatre
Draw: 11.00am
Commence 12 noon
Adjudicators: Gordon Higginbottom & Simone Rebello
You do have to say that the Kapitol Promotions Music Panel certainly haven't made it easy to get to Cheltenham with their choices of music this year - with Kevin Norbury's enjoyable, but demanding, 'Variations on Maccabeus' a substantive test for the Second Section contenders.
Conquering Hero
The structure of the work is straightforward - but the intelligent way in which the composer develops his set of variations on one of the most famous of all ceremonial-style choruses, 'See, the Conquering Hero Comes', from Handel's oratorio, is a delight (although not perhaps for the Scots with long memories of battles lost)
Last year's qualifiers did the region proud - with Marple sauntering away with a classy National title victory and Mossley ending sixth.
Ambitious
The Second Section may have become a rather non descript level of contesting in some parts of the UK, but not here in the North West, where it continues to produce a host of ambitious, well organised, and well directed bands. Whoever gets through may well be short priced contenders to emulate Marple once again.
---
Who will win?
This could well be the most closely contested battle for qualification places all weekend, with a host of contenders in pretty good shape to give Gordon Higginbottom and Simone Rebello and enjoyable headache or two.
Eccles Borough and Haydock have been in top form and led by two experienced MDs in Mareika Gray and Mark Quinn, they could just pull away from the rest of a quality field.
If they do trip up though then there are plenty of rivals that will be snapping at their heels – led we think by the likes of Tyldesley, Delph, Uppermill, Farnworth & Walkden and our dark horse challengers of Delph.
4BR Prediction:
1. Eccles Borough
2. Haydock
3. Tyldesley
4. Farnworth & Walkden
5. Besses Boys
6. Uppermill
Dark Horse: Delph
---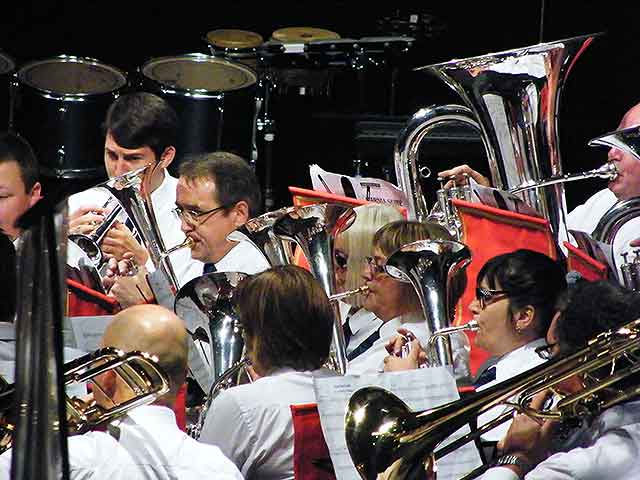 Can Stacksteads return to Cheltenham?
Third Section:
Test Piece: Evolution - Five States of Change (Philip Sparke)
Opera House
Split Draw: 8.30am and 10.45am
Commence 9.30am
Adjudicators: Mike Kilroy & Brian Rostron
Sunday's marathon contesting day commences with a tasty battle in the Third Section, with 19 bands looking to claim one of the three qualification places that will be up for grabs if they can master the challenge of Philip Sparke's engaging, 'Evolution - Five States of Change'.
Cracking test
Originally commissioned for the Fourth Section of the Dutch Nationals, the piece was used as the set work in the Championship Section at the 2014 National Youth Championships, and proved itself to be a cracking test of musical and technical character.
Wu Xing
The composer admitted its inspiration came when reading an article about a branch of Chinese philosophy, shortened to 'Wu Xing', which can translate to 'Five Elements' - each carefully, and expertly linked to each other like a delicate, but unbreakable chain by a master-craftsman composer.
Plenty to ponder
Mike Kilroy and Brian Rostron will certainly have plenty to ponder, compare and contrast in each of the 19 performances, but you suspect they will enjoy the experience - as should the bands and their MDs.
Last year's trio of qualifiers didn't quite set the Cheltenham world on fire (the best of the three coming 4th), but looking at this line-up, you suspect there may be a few contenders who will pose a much more substantial threat come September.
---
Who will win?
The local favourites Blackpool Brass were in fine form at Preston to give themselves a great early season boost of confidence, whilst Rivington & Adlington, Golborne and Boarshurst Silver are bands that have certainly showed their contest winning credentials over the last couple of years.
The rapidly improving Stacksteads made it to Cheltenham a year ago in the Fourth Section and could well make another impression this time around, while Lostock Hall Memorial and our dark horse of Pilling Silver Jubilee may just sneak up on the rails and book a place at Cheltenham Racecourse come September.
4BR Prediction:
1. Blackpool Brass
2. Golborne
3. Rivington & Adlington
4. Boarshurst Silver
5. Stacksteads
6. Lostock Hall Memorial
Dark Horse: Pilling Jubilee Silver
---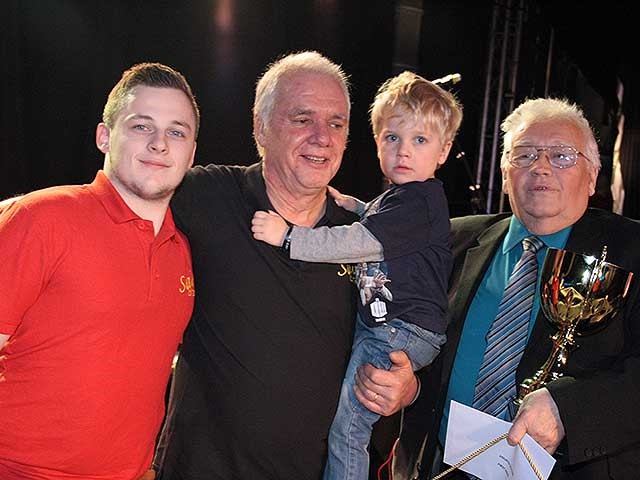 Can Sale Brass add an Area title to their recent Butlins success?
Fourth Section:
Test Piece: An English Pastorale (Dean Jones)
Empress Ballroom
Draw: 12.30pm
Commence after results of First Section
Adjudicators: Ian Brownbill & Sarah Groarke-Booth
'An English Pastorale' is the type of well crafted work that certainly finds out who can provide the basic building blocks on which to construct a good quality contest performance.
Dean Jones has produced a descriptive composition in five neatly packaged movements - from the majesty of the short opening through to the waspish energy of the finale.
Free rein
It asks straight forward questions of the players and the MD, but also allows just enough free rein for those who wish to add an extra sheen of musical quality - as long as they don't get too ambitious in the process.
Bands that have read Sarah Groarke-Booth's excellent analysis, along with those who picked up a few tips from the recent 4BR test piece workshop broadcast will perhaps fancy their chances of doing well, but they should be careful of trying to second guess the two experienced musicians in the box.
Quality in depth
The region has a well earned reputation for quality in depth at this level - although last year's qualifiers didn't quite show their best form at Cheltenham.
Over the years though there have been some cracking bands that have shown the first signs of their potential here (just look at Oldham (Lees), Hazel Grove etc) and a quick glance through this line-up shows quite a few who could well become contenders for honours at higher levels in the years to come - let alone on Sunday afternoon.
Fourteen bands have made the starting line up - and the majority are in good form after strong showing at Butlins and Brass at the Guild Hall.
---
Who will win?
Sale Brass didn't go to Preston but the Butlins champion will surely head to Blackpool full of confidence. So too Skelmersdale who have also shown excellent early season form at both Skegness and Preston.
The young charges of Valley Brass (Haydock) made it to Cheltenham last year and should be confident of making a return trip, whilst Stalybridge Old, under direction of the wiliest of old foxes, David Ashworth, could also be a serious contender for victory.
The solid looking Tarleton and Blackley look like potential top six contenders alongside our dark horse of Rode Hall Silver.
4BR Prediction:
1. Sale Brass
2. Skelmersdale Prize
3. Valley Brass (Haydock)
4. Stalybridge Old
5. Tarleton Brass
6. Blackley
Dark Horse: Rode Hall Silver