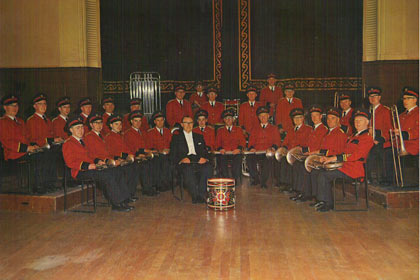 Those were the National days: The great GUS Band in 1965
It's always something of a pity that the Midlands Regional Championship no longer takes place on a weekend all of its own.
Despite the wonderful turnout (79 bands this year, with only the West of England and London & SC, marginally having more), the competitive action somehow continues to play second fiddle to the goings on elsewhere.
Excellently run

Last year it was Perth, Blackpool and Torquay - this time around it's the battle for supremacy in Yorkshire: As a result, one of the great heartlands of brass banding in the UK goes a little unnoticed and a little unappreciated at times - which as we have said, is a great pity, because this excellently run event has such a great deal going for it (including a good mix of youth and experience in the various adjudication boxes).
Much of the credit goes to Lesley Bentley and her Regional Committee who have rejuvenated things in the past couple of years since the move to the modern surroundings of Bedworth Civic Hall and the Nicholas Chamberlain Technology College.
Cholesterol memory

The infamous greasy chip van catering may now be a distant cholesterol memory - but its passing hasn't been mourned too much: These new venues may be substantially more antiseptic, but they don't half do their job well.
The Area also continues to produce a host of solid, well directed bands at every level - even if you have to go back a fair old while to remember the days of Desford's hegemony at the Royal Albert Hall.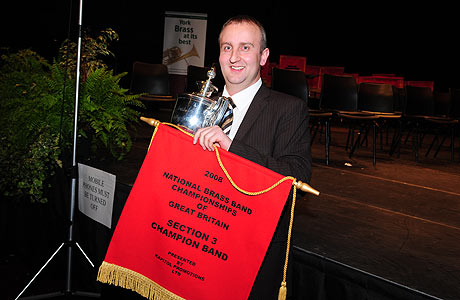 Duke of Wellington: Harrogate triumph back in 2008 for Wellington (Telford)

Since then it's been pretty barren pickings at London, but quite a bit more rewarding at Harrogate and subsequently, Cheltenham.
Section victories

There have been victories since 2000 in the First (Kibworth, Staffordshire and Thoresby), Second (Hathern), Third (Wellington Telford, Long Eaton) and Fourth (Shirland Welfare) - and with a busy regional contesting scene of a high quality, it's a bit of a puzzle that there haven't been more National titles to celebrate.
That may well change this year, although in 2014 only Fairfied (Buxton) returned home with a podium finish, despite some pretty good efforts all round.
13 places

Thirteen bands will gain the qualification places on offer this time around and 4BR will be there to bring you our updates, live comments, opinions and the all important results when we get them - even if we have to make do without a greasy bag of chips...
---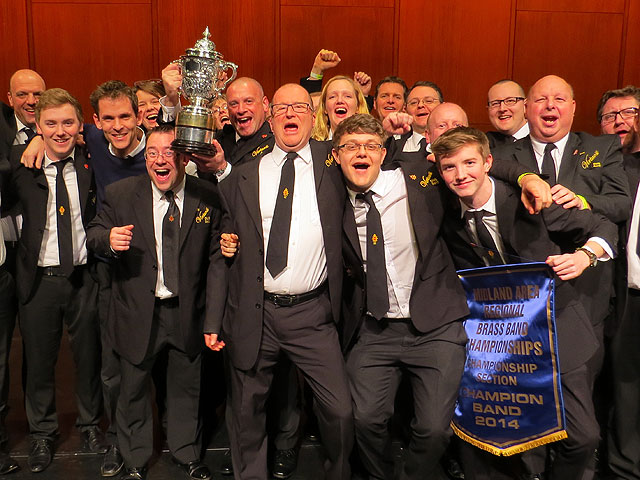 Defending champions Virtuosi GUS

Championship Section:
Test Piece: 'The Torchbearer' - Peter Graham
Civic Hall
Sunday 8th March
Draw: 12.00 noon
Commences after Second Section
Adjudicators: Alan Morrison & Paul Holland
It's now close on a quarter of a century since the great Desford under James Watson became the last Midlands band to lift the National Champion trophy.
Although nobody knew it at the time, it signalled the end of an era of regular Albert Hall podium success for Midlands qualifiers that stretched back well to the re-emergence of the event after the Second World War.
Desford did claim a top three finish in both 1992 & 1995, but since then it's a little surprising to discover that the region has only managed to come in the top six on four occasions.
Come a cropper

It has meant that since 2002 only two bands have been able to book their place at Kensington Gore - resulting in a qualification battle that has a keen edge, especially as the likes of the usual heavyweight favourites of Desford and Virtuosi GUS occasionally come a cropper.

And with 'Torchbearer' already showing that is can stick a spanner in the works almost from the very first note of its deceptively simple looking opening, last year's top two won't want to leave anything to chance.
Humming chorus

The communication lines from Blackpool would have been humming like a Madam Butterfly chorus after the 'Torchbearer' travails of the top section bands there - especially as Alan Morrison (who is in the box here with Paul Holland) made it abundantly clear that he had been 'disappointed' at what he had heard at the Winter Gardens.
As always there is a great deal of pressure on the leading soloists, but it may come down to the interpretations of the MDs too, after Alan also pointed out that those who over indulge in slow paced sugar coated lachrymose lyricism may be faced with a bitter pill to swallow come the results.
---
Who will win?
If Desford and Virtuosi GUS play to the top their form (and both have been a little inconsistent of late) then they should have enough about them to battle it out for the title.
If they don't then the likes of Derwent Brass, Jaguar Land Rover and Thoresby may also have enough about them to prosper, with Newstead and our dark horse of Staffordshire not too far behind.
After that it's hard to see anyone else really making a mark (are there really a dozen true top flight bands in the Midlands?), but you never know.
4BR Prediction:
1. Desford (LCIWTF)
2. Virtuosi GUS
3. Derwent Brass
4. Jaguar Land Rover
5. Thoresby Colliery
6. Newstead
Dark Horse: Staffordshire
---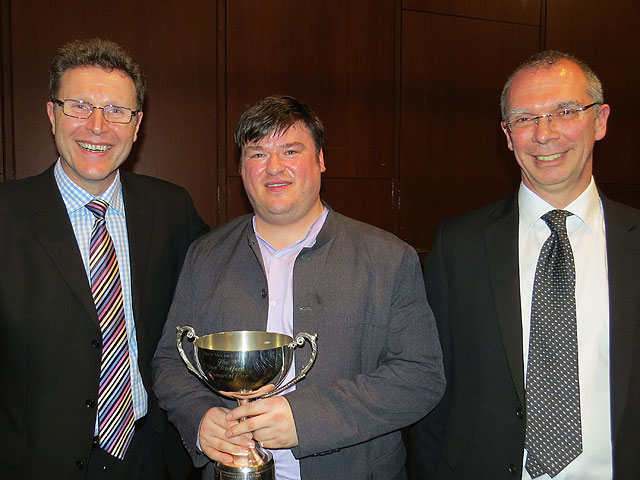 Can Enderby make it two in a row?

First Section:
Test Piece: Test Piece: 'A London Overture' - Philip Sparke
Civic Hall
Saturday 7th March
Draw: 10.00am and 12.00 noon
Commence: 11.00am
Adjudicators: John Doyle & Mike Kilroy
An evenly matched looking field of 17 bands will head to the Civic Hall on Saturday morning in the hope of conquering the tough challenge of 'A London Overture' if they are to claim one of the three qualification places on offer from John Doyle and Mike Kilroy in the box
Spies and squeaky bums

The spies and MDs that made the trip to Blackpool last week will certainly have confirmed what perhaps they already knew about Philip Sparke's test piece - that it ain't half troublesome; from the fearsome solo cadenzas that will have quite a few backsides squeaking on stage, to the precise ensemble work which requires a great deal of respect given to both dynamics and tempo.
Decent shout

Those taking on board Michael Fowles' excellent stage remarks at the Empress Ballroom (and he is the type of bloke who speaks a great deal of musical sense) should be in with a decent shout - if cadenza nerves and ensemble over-excitement doesn't get the better of them.
---
Who will win?
With defending champion Enderby being the only top three qualifier from 2014 remaining in the section, they will fancy their chances of a return to Cheltenham (where they ended in 15th place), especially after coming 4th at Butlins earlier in the year.

The solid looking Jackfield (Elcock Reisen), who also enjoyed Skegness success and the ambitious Bilton Silver (Rugby) could be the bands to join them, although Shirebrook MW Unison and Leicestershire Co-operative will be all the better for a pre-contest boost at the NEMBBA contest a couple of weeks ago.
Daventry and our dark horse of Langley could also be bands to watch out for too.
4BR Prediction:
1. Enderby
2. Jackfield (Elcock Reisen)
3. Bilton Silver (Rugby)
4. Shirebrook
5. Leicestershire Co-operative
6. Daventry
Dark Horse: Langley
---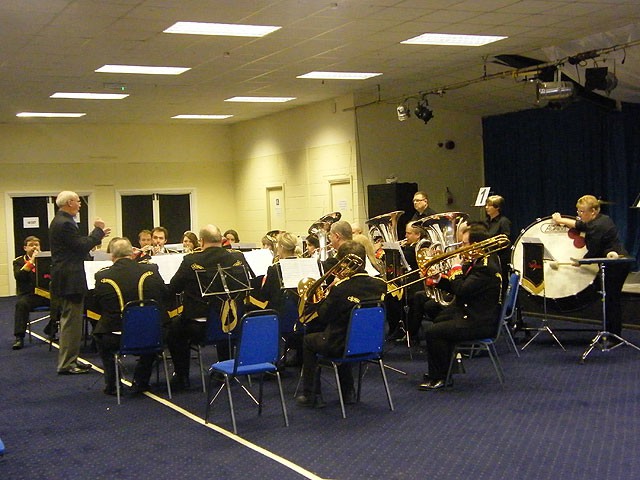 Can Amington claim the Second Section title?

Second Section:
Test Piece: 'Variations on Maccabeus' - Kevin Norbury
Civic Hall
Sunday 8th March
Draw: 9.00am
Commence: 10.00am
Adjudicators: John Berryman & Mark Wilkinson
A dozen bands will be looking to impress John Berryman and Mark Wilkinson on Sunday morning on Kevin Norbury's tasty Cumberland inspired sausage of a test piece.
Conquering hero

It's one of those works that does exactly what it says on the musical tin: the composer taking a well known theme (and they don't more well known than this old conquering hero) and simply enjoying himself with the way in which he crafts four extended variations and a neat coda.
Style and detail

Each contrasts style, as well as technical detail - from the twin elements of the 'Allegretto scherzando' of Variation 1, though the transformation of the 'Larghetto quasi chorale' in Variation 2, with its quote from Handel's 'Thou Wilt Keep Keep Him in Perfect Peace', to the Viennese waltz of Variation 3 and the all embracing Baroque inspired Variation 4 and triumphant coda.
It is also a pretty severe test of character too at this level - making telling demands on both soloists and ensemble throughout, so whoever gets the nod from the box will have undoubtedly deserved it.
---
Who will win?
Tintwistle and Avonbank (Evesham) featured in the top six last year and may well fancy their chances again, but they could be all looking to try and catch the rapidly improving Amington, who posted a fine fourth place finish at Butlins earlier in the season.
Carlton Brass is also in good form following their win at the NEMBBA contest, whilst Rushden Town and Brackley could be bands to push into the top six if things go their way alongside our dark horse of Burbage (Buxton)
4BR Prediction:
1. Amington
2. Avonbank (Evesham)
3. Carlton Brass
4. Rushden Town
5. Tintwistle
6. Brackley & District
Dark Horse: Burbage (Buxton)
---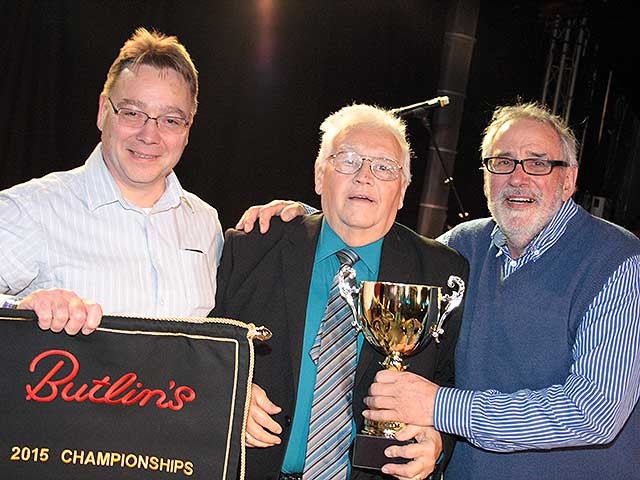 Can Stamford make it a Butlins/Bedworth double?

Third Section:
Test Piece: Test Piece: 'Evolution, Five States of Change' - Philip Sparke
Saturday 7th March
Nicholas Chamberlaine Technology College
Split Draws: 10.00am and 12.00 noon
Commence: 11.00am
Adjudicators: John Berryman & Mark Wilkinson
Philip Sparke's evolutionary test piece, that in turn encompasses a wonderful quintet of thematic elements inspired by meditation, sorrow, fear, anger and joy, is already proving to be a cracking test of musical and technical character for competing bands.
Clearly written
It is so clearly written that many an inexperienced MD may be forgiven for thinking there is some sort of hidden message to discover if you are going to master its well defined complexities to reach Cheltenham.
However, as with the vast majority of pieces written so expertly by the composer, there is nothing of the sort to try and work out - it's all there on the page; from dynamic markings to tempo directions (ranging from 104 - 166), stylistic nuance motifs to simple instructions of what to do and when...
Number 72

Get the balance right, the speed in check and the dynamics under control and you could well find yourself booking a September trip to the races.

Try to go all Chinese existentialist and you may as well book yourself a number 72 egg fried rice and chop suey from the local takeaway in commiseration.
---
Who will win?
Stamford enjoyed a well deserved victory at Butlins and have hit form at just the right time under the experienced Rob Prew, whilst Foss Dyke will once again pose a serious threat and will want to return to the finals where they were perhaps a little unlucky not to have come in the top six on the day.
Hucknall & Linby and Ifton Colliery are two very solid looking competitors and will surely be up and around the podium places, whilst Resdev Market Rasen and Newhall may be our other two that could well challenge for glory alongside our dark horse of Wellington (Telford)
4BR Prediction:
1. Foss Dyke
2. Stamford Brass
3. Hucknall & Linby MC Brass
4. Ifton Colliery
5. Resdev Market Rasen
6. Newhall
Dark Horse: Wellington (Telford)
---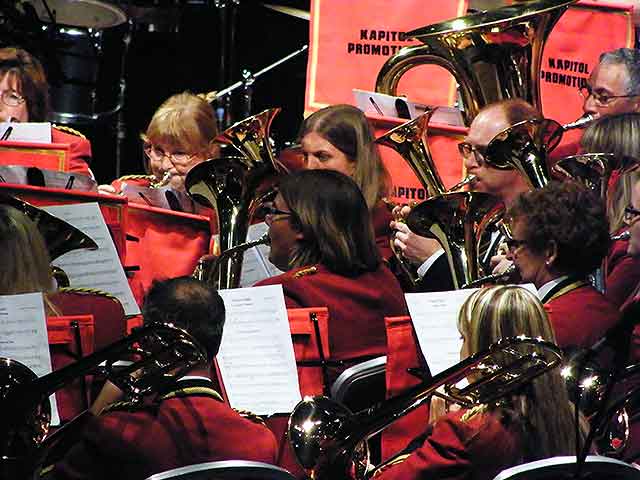 Will Stourport return to Cheltenham again?

Fourth Section:
Test Piece: Test Piece: 'An English Pastorale'- Dean Jones
Sunday 8th March
Nicholas Chamberlaine Technology College
Draw: 10.00am and 12.00pm
Commence: 11.00am
Adjudicators: Mike Kilroy & John Doyle
Although the era of a Fourth Section contest in the Midlands Area that had more competitors than the first round of the FA Cup is long gone, it's still good to see that the event still attracts a healthy number of entrants, with 19 hard working bands battling it out for the three qualification places up for grabs.
Lucky stars

Both Mike Kilroy and John Doyle may be thanking their lucky stars they won't be doing an eight hour shift in the box sorting out the contenders, but time will surely fly by for them thanks to Dean Jones' excellent set test, 'An English Pastorale'.
Transparent

It's a work that knows what it wants to portray and does it without recourse to artifice or cheap theatrics; from the dignified opening statement of 'Heralding the Dawn' through a breezy 'Autumn on the Plains', the austere beauty of 'Winter in the Dales', the lilting serenity of 'Spring on the Lakes' and the up tempo dynamism of the 'Summer on the Quays' rounded off with a touch Elgarian nobility.
It's transparent and understandable, technically tricky, but within the comfort zone of the best MDs and players. Everyone should emerge from the process a better band.
---
Who will win?
Someone will also emerge as the 2015 champion too - although picking someone from this well matched field is a hard bit well informed guess work.
There are a lot of busy contesting outfits on show here - with the likes of Whitwell Brass (who came fourth), Pleasley and Syston picking up top ten finishes at Butlins, whilst Kirkby Colliery Welfare made sure they enjoyed a good work out at the recent NEMBBA contest.
The quartet of Stourport-on-Severn (who qualified for Cheltenham last year), Bestwood Welfare Black Diamonds, Audley Brass and Cubbington Silver are well led outfits who could be fancying their chances, alongside our dark horse of Croft Silver.
4BR Prediction:
1. Whitwell Brass
2. Stourport-on-Severn
3. Bestwood Black Diamonds
4. Audley Brass
5. Pleasley Colliery
6. Cubbington Silver
Dark Horse: Croft Silver